9 Free Things to Do on Saturday July 13
July 12, 2013 6:26 am Last Updated: July 12, 2013 5:16 am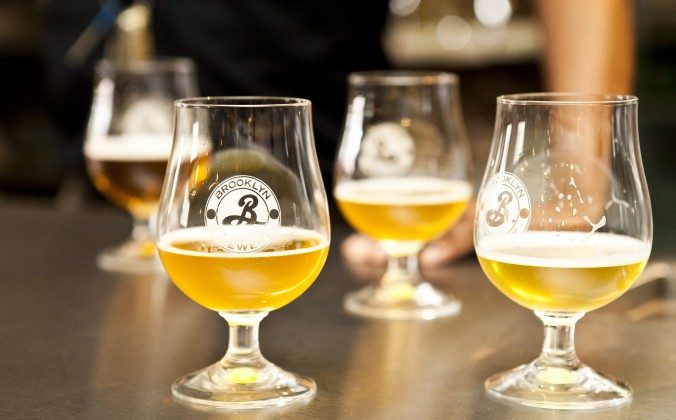 1. Free Volleyball at Brooklyn Bridge Park
Downtown Brooklyn
6 a.m. – 10 p.m.
The park by the harbor has three regulation-size sand courts. In the evening, you can play under lights. Courts are are available on a first-come, first-served basis. Nets are provided for free. All you need to bring is a ball. Pickup games are free, but you can also rent the court for one hour for $25.
Location: Pier 6
Contact: (718) 222-9939 or [email protected]
2. West Coast Swing
West Harlem
6 p.m. – 9 p.m.; complimentary lessons 7 p.m. – 7:45 p.m.
Amidst a Hudson River sunset backdrop, you can dance to swing, rock, hip-hop or country music on the outdoor dance floor, as part of the Riverside Park's Summer on the Hudson series. West Coast swing, which encompasses some salsa, East Coast-style swing and elements of Lindy Hop, will be taught to newcomers during a complimentary lesson from 7 to 7:45pm.
Location: West Harlem Piers Park
Contact: 212-870-3070 or [email protected]
3. Free Park Activities for Kids
Flatiron
10 a.m. – 4:30 p.m.
Create art in the park with your kids. Make paper colorful paper plate hats with other children and wear them in the park. Later, there is a paper plate hedgehog making party. 10 a.m – 12:30 p.m. is paper hat making time, and 2 p.m. – 4:30 p.m. is paper hedgehog making time.
Location: Madison Square Park
Contact: 212-538-1884
4. Brooklyn Brewery Tour
Williamsburg
On the hour 1 p.m. – 5 p.m.
Learn about the past, present and future of the famous company, and get a complimentary beer. Afterward, take a seat at one of the indoor picnic tables and purchase beer tokens to sample some of the brewery's most popular creations. Those under 21 must be accompanied by a parent or guardian.
Location: 79 N 11th St  Brooklyn, New York 11249
Contact: 718-486-7422
5. Greenwhich Village Social Cultural and History Tour
11:30 a.m. – 1 p.m. (rain or shine)
The tour focuses on the history and social culture of the Village, including St. Marks Place, Astor Place, 8th Street and Washington Square Park. No reservations necessary for groups of six or fewer people.
Location: Meet at the southeast corner of St. Marks Place and Second Avenue in front of Chase Bank (130 Second Ave.).
Conact: 212-777-2173 or [email protected]
6. Free Zumba
West Harlem
11 a.m. – 12 p.m.
There's a free outdoor Zumba class each week at West Harlem Piers, no registration is required. Zumba is a combination of of Latin, International, and popular music dance themes that create a fitness program. The routines feature aerobic, fitness and interval training with a combination of fast and slow rhythms.
Location: West Harlem Piers
7. Pygmalion by George Bernard Shaw, With Music and Dance
Upper West Side
8 p.m.
Pygmalion was adapted into the My Fair Lady musical, and with that Shaw's original upsetting ending was changed. Director Joey Stamp reinstates the original ending and combines music, under the direction of Michael Stamp, with original dance by Sean Roschman, into a theatrical experience. There's a pay-what-you-can admission policy.
Location: 133rd Street Art Center
308 W. 133rd St. – bet. St. Nicholas & Fredrick Douglass Aves.
Contact: 646-981-3004
8. Ballroom Dancing Then and Now
Midtown East
Time: Saturday, July 13, 3 p.m.
Learn where ballroom dance steps came from and how they evolved over the years. Explore social dancing of the past and the present with Mark Mindek of the New York Historical Dance Company and Judy Ayres.
Location: 67th Street Library 328 E. 67th St.
Contact: 212-734-1717
9. Chamber Music on Water
Brooklyn
Doors open at 2:30 p.m., concert begins at 3 p.m.
Bargemusic presents a free one hour chamber music performance on a floating barge at the foot of the Brooklyn Bridge. There will be a Q&A session with musicians.
Location: Fulton Ferry Landin Brooklyn, NY 11201
Contact: 718-624-4924 or [email protected]