9 Free Things to Do in NYC This Weekend (Sept. 28—29)
September 26, 2013 10:33 pm Last Updated: September 26, 2013 10:41 pm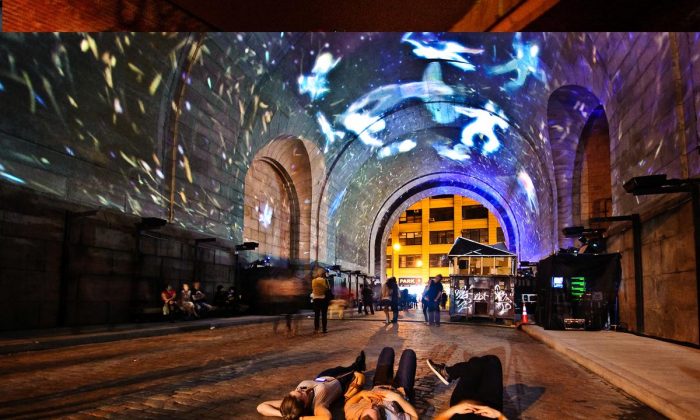 NEW YORK—This weekend's events will transport you out of the city with a variety of cultural experiences, like a Taste of France at Bryant Park or an encounter with Taiwan at Grand Central Station. You can even travel back in time at the Medieval Festival at Fort Tryon Park with authentic dance, song, and artisan crafts.
Fourth Arts Block (FAB) Festival
Saturday 1 p.m.–5 p.m.
Location: 4th Street between Bowery and 2nd Ave.
Free music performances, dance, theatre, exhibits and activities promise to entertain visitors of all ages. This is the 10th year of the event that is committed to presenting more culture per square foot than any other NYC festival.
Dumpling Festival
Saturday 12 p.m.–5 p.m.
Location: Sara D. Roosevelt Park
The annual Tang's Natural New Dumpling Festival will have the dumpling treat in every shape and form, including ravioli, pierogis, potstickers, and Korean mandoo. It will also have a dumpling-eating contest.
Smithsonian Magazine Museum Day Live
Saturday 11 a.m.–2 p.m.
Location: Vanderbilt Hall East Side, Grand Central Terminal
The Smithsonian magazine's Museum Day Live! and Taiwan's Tourism Bureau are inviting everyone for a sampling of Taiwan's culture, food, and fashion. Download and print your free ticket from: http://www.dumplingfestival.com/other.html.
New Amsterdam Market
Sunday 11 a.m.–5 p.m.
Location: Old Fulton Fish Market, South Street and Peck Slip
The East River Market District in Lower Manhattan will be hosting four big markets this season, which hosts dozens of vendors. Representatives of the Historic Districts Council will be at the event collecting signatures for the protection and preservation of the landmark site.
Neighborhood Opera Day
Sunday 10:30 a.m.–6 p.m.
Location: 330 Seventh Av.
To honor the one-year anniversary of the National Opera Center, the facility is asking locals to join in for a day of vibrant music creativity, opera trivia, performances and refreshments throughout the day. Register for the event on their site: http://www.operaamerica.org.
Taste of France
Saturday and Sunday
Location: Bryant Park
Learn and experience everything about France in this biggest exported show dedicated to this European country. Technology, cuisine, lifestyle, tourism, beauty, and culture will be on display. Most of the events are free but food, drinks, and merchandise needs to be purchased with the Marianne currency available only at the event or online at: www.tasteoffrance.com.
Medieval Festival
Sunday 11:30 a.m.–6 p.m.
Location: Fort Tryon Park
Go back in time at the 29th annual Medieval Festival that brings to life the customs, spirit, and market place of medieval times. Authentic period music, dance, minstrels, jugglers, jesters dressed in costumes from the era will greet and entertain guests as well as vendors who will sell crafts, food and drink.
Ronald McDonald Block Party
Saturday 11 a.m.–5 p.m.
Location: 405 E. 73rd St
This sixth annual event is described as part-street fair, part-festival. It's great for families with younger children. The event will have food, rides and games, and shopping available for visitors.
Dumbo Arts Festival 
Saturday and Sunday 9 a.m.–11 p.m.
Location: Brooklyn Bridge Park
This three day celebration of art, music, and performance will bring over 500 artists from different fields to present performances, exhibitions, installations, digital art, and large scale projections. Watch dancers, poets, and painters work in their field and learn about the vibrant artistic community in the Dumbo neighborhood.