9 Free Things to Do in NYC This Weekend (Sept. 21–22)
September 19, 2013 1:29 pm Last Updated: September 19, 2013 2:59 pm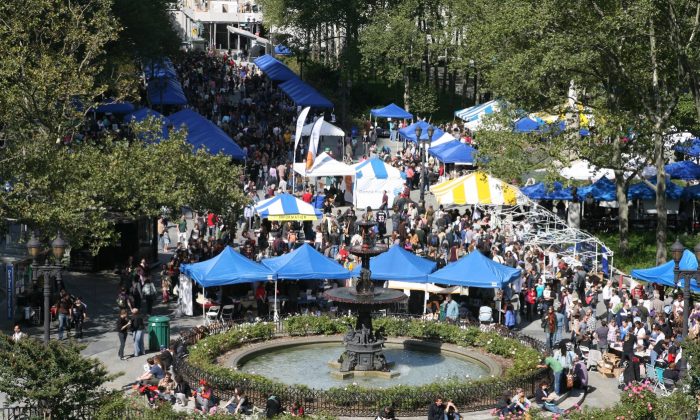 NEW YORK—This weekend, a wide range of free events are bound to satisfy both the mind and the stomach. Join in the annual San Genaro street festival and discover the best tastes offered by Manhattan's Little Italy neighborhood, or make your way down to the annual Brooklyn Book Fair where you can purchase books, or just enjoy yourself perusing literary works from national and international artists.
37th Annual Columbus Avenue Festival
Sunday 12 a.m.–5 p.m.
Location: Columbus Avenue between 66th Street and 86th Street
Roam around the west side of Manhattan at this annual street festival that promises a large range of vendors featuring everything from Italian sausages, to Thai food, to handmade sweaters and jewelry, as well as performances.
Morningside Lights
Saturday 2 p.m.–9 p.m.
Location: 117th Street and Morningside Avenue
At this weeklong arts event, visitors help build a fleet of illuminated, mobile sculptures, and handmade instruments, in a series of free guided workshops. On Saturday, a family craft table will be set up at the Common Ground Festival, and at 8 p.m. the parade of public-made paper mâche lanterns will proceed through Morningside Park.
The Annual Canine Comedy Parade
Saturday 12 p.m.–2:30 p.m.
Location: Gramercy Park West
This parade promises to entertain dog lovers, dogs, and visitors who can watch dogs of all breeds and sizes show off their talents, costumes and personalities. There will also be an emcee, dog caricatures, pet adoption and various other activities to spoil your precious pets (and yourself).
87th Annual Feast of San Genaro
Saturday and Sunday
Location: Little Italy, Mulberry Street, between Canal and Houston
This annual festival in the heart of Little Italy will conclude this weekend with colorful parades, free music performances, a wide variety of ethnic foods, and the Italian restaurants and cafes. A world-famous cannoli-eating competition is a notable feature of the 11-day-long event.
Brooklyn Book Festival
Sunday 10 a.m.–6 p.m.
Location: Brooklyn Borough Hall, 209 Joralemon St.
The Brooklyn Book Festival is the largest free literary event in NYC, presenting a wide range of new and established, national and international, literary authors. This event is open to all age groups and will also offer a book marketplace.
Westerleigh Folk Festival
Saturday 11:30 a.m.–7 p.m.
Location: Westerleigh Park
This outdoor music, arts, and crafts event will have three stages for all ages, musical acts, vendors, and a local artist's display. Face painting and free pony rides between noon and 2 p.m. are also on the schedule.
Chashama Studios
Saturday 12 p.m.–6 p.m.
Location: Brooklyn Army Terminal, 140 58th St.
Visitors will be able to discover the studios where painters, sculptors, photographers, and experimental mixed media artists come to work. Visitors can also meet the artists, join a private guided tour through the building, and watch a pop-up show.
Kite Flight
Sunday 1 p.m.–4 p.m.
Location: Port Authority Bus Terminal, 7th Floor, rooftop parking
The 9th annual Kite Flight event will shut down the top level of the Port Authority Bus Terminal and offer visitors kite decorating, street games, face painting, entertainment, and a free food court and open space to fly a kite.
Oyster Festival
Saturday 12 p.m.–6 p.m.
Location: Financial District, 58 Stone St.
Around 10 restaurants are prepared to serve large amounts of oysters this weekend at the historic setting of Stone Street. There will be music, food, and the event also wants to set a record in the Guinness Book of World Records for the most oyster shells recovered from a single day event.