9 Free Things to Do in NYC This Weekend (Sept. 14–15)
September 12, 2013 12:30 pm Last Updated: June 24, 2015 8:28 pm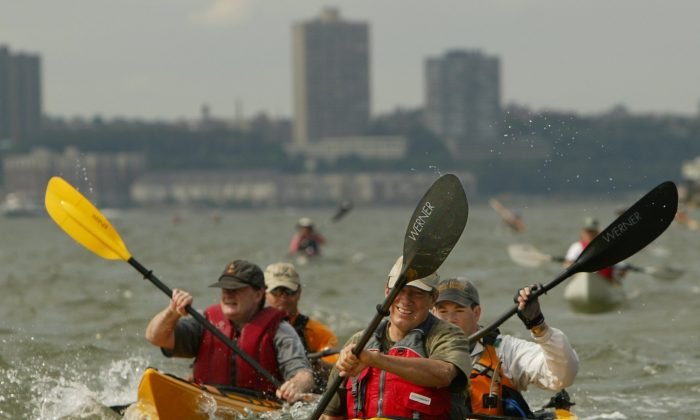 NEW YORK—This week's complimentary events have something for everyone. From architectural tours in the National Museum of the American Indian to volunteering at the Randall's Island Park for the International Coastal Clean-Up. If you're out with the kids, make sure to check out the Kite Festival in Brooklyn, the Guardian Angels Fair, or stop by the Antique Motorcycle Show.
Tour of the U.S. Customs House Building
Saturday 2 p.m.–3 p.m.
National Museum of the American Indian
Location: 1 Bowling Green, 1st Floor, Manhattan
The museum's ambassador will provide a 45-minute tour of one of the most important buildings in U.S. history: The Alexander Hamilton U.S. Custom House, completed in 1907 by the federal government to house the duty collection operations for New York's port.
Kite Festival
Saturday 10 a.m.–1 p.m.
Brooklyn Bridge Park
Location: Pier 1, Brooklyn
Come by the Brooklyn Bridge Park for the annual Kite Festival, where you can fly a kite or watch. This event is perfect for families, and if you don't yet have a kite, some will be on sale at the site.
Summer on the Hudson
Saturday and Sunday
Location: Riverside Park from 59th Street to 153rd Street.
This weekend, the annual Summer on the Hudson festival will have kayaking, hiking, gallery tours, zumba, and even human chess all taking place throughout Saturday and Sunday at the Riverside Park.
Antique Motorcycle Show
Sunday 11 a.m.–4 p.m.
Queens County Farm Museum
Location:
73-50 Little Neck Parkway
Floral Park, New York 11004-1129
The 33rd Annual Antique Motorcycle Show will display bikes of many makes and models that have been out of production for over 10 years. The festival also offers music, tours, hayrides, and food. (Free with Farm Membership PLUS).
DayLife! Outdoor Event
Sunday 12 p.m.–5 p.m.
Orchard Street
Location: Orchard St. between East Houston and Delancey Streets
This lower east side event will transform Orchard Street with artificial turf and pushcarts and offer the best food and fashion vendors. There will also be free DJ lessons, badminton, urban croquet, face painting, and live acts.
Guardian Angels Fair
Saturday 10 a.m.–6 p.m.
Midtown Manhattan
Location: Broadway at 57th Street
Over 300 authentic foods, art, craft, antiques, jewelry and merchandise exhibitors will gather on Broadway for this free event along with 100 cultural, no-profit, government, and corporate displays. Event web site. 
International Coastal Clean-Up
Saturday 9 a.m.–12 p.m.
Randall's Island Park
Location: Randall's Island Park
Do something good for the environment and join like-minded people in this across-the-globe clean up of the shoreline and the salt marsh habitat. The litter and debris will be weighted after the work is done and the recyclables will be separated for recycling.
African American Day Parade
Sunday 1 p.m.
Harlem
Location: 111th Street at Adam Clayton Powell Blvd.
Known as the largest African American parade in America, this 44th annual parade will be lead by government officials and community leaders and showcase positive achievements, culture, and bands of African Americans.
House Work Exhibition
Saturday 9 a.m.–5 p.m.
Poe Park, Bronx
Location: 2640 Grand Concourse
An exhibition of Cara Lynch's series of prints and installations will be open for viewing at the Poe Park Visitor Center. Her work consists of hand-worked woodcuts inspired by the historical homes and intricate patterns from past centuries that go beyond simple ornamentation.