Remember when American Girl dolls were all the craze? If you still have one tucked away in the attic it could be worth thousands. Yep, not hundreds, but thousands.
Recently, a Molly McIntire doll sold for $2,700 on eBay, while a Samantha Parkington doll with her original outfit and accessories sold for $400 on eBay.
The difference between the two lies in the condition of the doll and whether or not the doll comes with the original packaging and accessories.
For instance, a mint condition Samantha, with all the original outfits and accessories, could fetch $4,000, Dr. Lori Verderame, an antique appraiser, told "Today" via email.
"Some of the discontinued dolls from the '90s can sell for thousands of dollars," Bob Richter, vintage lifestyle expert, told "Today" via email. "That said, original packaging and condition are everything."
"What might sell for over $2,000 if it's in good condition with original packaging might only sell for $100 if it's in fair condition without packaging," he said.
A signed collection of three of the original pre-Mattel American Girl dolls in boxes with paperwork sold for $5,400, according to USA Today.
A Samantha doll in the original box and signed by American Girl doll founder, Pleasant Rowland, fetched $1,450.
And eight American girl dolls, including Lindsey, released in 2001, and the Dolls of the Year from 2005 to 2010 all still in their original packaging, having never been removed from the box, garnered $4,500.
The dolls are able to fetch sky-high prices nowadays because girls in the '90s were already very serious about collecting them, and kept the original packaging.
"The cool thing is that many of the young women who collected these dolls were pretty serious about it and they likely saved the packaging, so there might actually be a lot of cash in the attic or basement," Richter told "Today."
It might be time to scour the house looking for American Girl dolls and all the original packaging and accessories. However, for many, it might be hard to part with the dolls.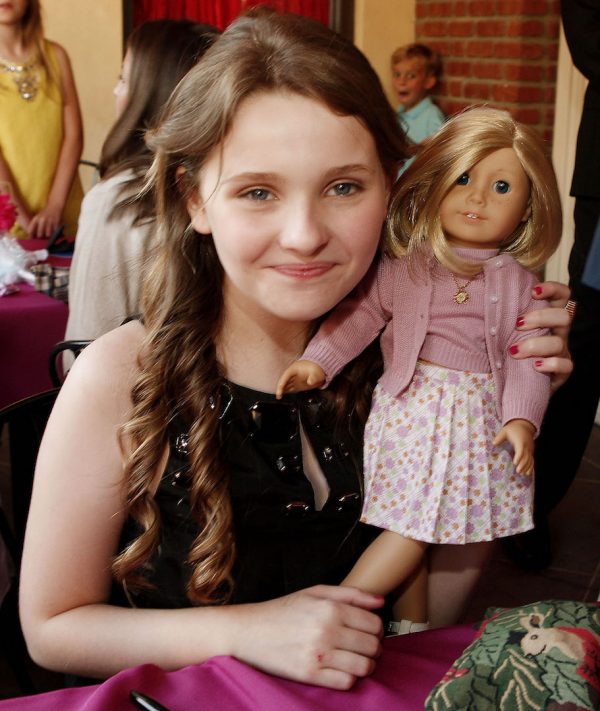 For many girls growing up in the '80s and '90s, if you had an American Girl doll, she likely went everywhere with you: from walks in the park to twinning at family parties.
Former teacher, Pleasant Rowland, created the dolls with the idea that girls could play out the stories, according to USA Today.
Pleasant Company released three dolls in 1986: Samantha Parkington, Kirsten Larson, and Molly McIntire. Each 18-inch doll had a backstory of young girls living during important times in American history. Each doll came with her own book and clothes, all historically accurate of course.
The first three dolls released in 1986, before the company was sold to Barbie-makers Mattel in 1998, are the most valuable to collectors.
The three are, Samantha Parkington, a Victorian orphan who lived in 1904; Kisten Larson, a Minnesota pioneer who grew up in 1854; and Molly McIntire, a patriotic child who grew up during World War II.
Another contributing factor is nostalgia, Bob Richter told "Today." After all, the children who played with the original American Girl dolls are in their 20s and 30s now and the dolls remind many of special childhood memories.
Millennials "have a very deep interest in things that have emotional value," Richter said. "These American Girl dolls have both emotional value and financial value."
"They are the perfect thing for millennials to be on the lookout for [at] flea markets and yard sales," he said.
There has been an increase in the demand for American Girl Dolls recently, Verderame told "Today." Interest in the dolls often mirrors people's overall interest in different historical periods, as each doll comes with a historically accurate backstory.
"In the last two years there has been a rise in collectible values for American girl dolls," Verderame told "Today." "American girl dolls reference particular eras in history and that drives the market."
"Collectors also look for dolls that parallel their own history, look like themselves, and are character dolls that come from the same lineage or location like Kirsten (from Scandinavia) or Molly (World War II)," he said.
For some, like Josh Levine, collectibles expert and owner of J. Levine Auction and Appraisal in Scottsdale, Arizona, the appeal of the dolls might be hard to understand.
"Dolls are usually a loser's game," he said, according to USA Today. "But I was pleasantly surprised. There's a decent market for American Girl dolls every day of the week."
Levine does a lot of business auctioning jewelry and guns, and many of the items come with exciting backstories connected to the owners. Those stories always increase interest in the item.
It wasn't until his wife explained to him, and he realized that here too, the story is what draws the parents and children.
"'They're not just dolls, she said. There's a whole story to them and books, too. After she explained it to me, I was like, 'Oh, I get it now. I see why they're so popular.'"
It's precisely the stories and histories we are able to relate to that enable the American Girl dolls to stand the test of time.