At least 800,000 people were evacuated from India's eastern coast on April 30 as a cyclone moving through the Bay of Bengal is slated to make landfall later in the week.
Cyclone Fani is described as a Category 3 storm with 125 mph winds, according to the India Meteorological Department, which added that it is slated to bring heavy rains.
Forecast models show the storm is slated to track north before hitting the east coast. The effects of the storm will likely be felt starting on the night of May 2.
ESCS FANI centered near 17.4 N/84.8E over westcentral Bay of Bengal at 1730 hrs IST about 275 km SSW of Puri & 160 km ESE of Visakhapatnam. To cross Odisha coast between Gopalpur & Chandbali around Puri during forenoon of tomorrow, the 3rd May. pic.twitter.com/PbdlpsuRdw

— India Met. Dept. (@Indiametdept) May 2, 2019
According to The Times of India, Fani is the most severe cyclonic storm since the super cyclone that slammed India in 1999, killing more than 10,000 people.
The Indian weather agency also said that it's the first cyclone of such severity to have formed in the month of April in the area in more than 40 years, the report said.
The Meteorological Department warned of "total destruction" of thatched huts, flooding of farmland, and uprooting of poles due to the storm, Fox News reported.
Extremely Severe Cyclonic Storm FANI about 450 km south-southwest of Puri at 0530 hrs IST of 02nd May, 2019. To cross Odisha coast around Puri by afternoon of 3rd May. https://t.co/wRl94BRtm1 pic.twitter.com/nzGmV2Jr6O

— India Met. Dept. (@Indiametdept) May 2, 2019

"Evacuation is in progress on a war-footing," an official told The Times. "Around 30 percent of the targeted people have so far been moved to safe places."
Indian officials have mobilized the army, air force, and navy to deal with evacuating people.
"We've been preparing plans for the last few days to ensure that all the people who are vulnerable will be shifted to our cyclone centers," Odisha's special relief commissioner Bishnupada Sethi said, according to ABC News. "We are maximizing efforts at all levels for evacuation for the time being," he also told Sky News.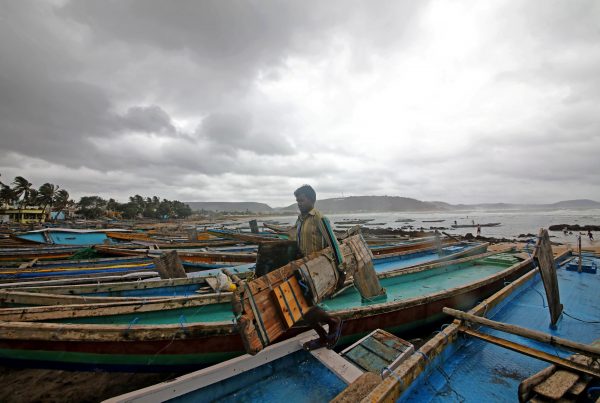 Tourists were provided special trains to leave a beach town ahead of the storm, according to ABC.
India's cyclone season generally lasts from April to December with severe storms leading to evacuations of tens of thousands, widespread deaths, and damage to crops and property, both in India and Bangladesh, Reuters noted.
Authorities at ports in Paradip and Visakhapatnam ordered ships to move out to sea to avoid damage.
"Paradip port operations will be suspended from tonight, all vessels have been told to leave the port," S. K. Mishra, traffic manager at the port told Reuters.
Satellite Images of 1200 UTC 30-04-2019 pic.twitter.com/Vb7Xg5PFwg

— India Met. Dept. (@Indiametdept) April 30, 2019
Two decades ago, a super-cyclone battered the coast of Odisha for 30 hours, killing 10,000 people. In 2013, a mass evacuation of nearly 1 million people saved thousands of lives.
Tropical Storm Risk cyclone tracker labeled Fani a category 3 storm on a scale of a low 1 to a powerful 5.
Fani also is forecast to slam Bangladesh, including the coastal district, where about a million Rohingya from Burma live in camps, ABC reported.
Reuters contributed to this report.