As Papua New Guinea's (PNG) health system struggles to cope with an influx of CCP virus patients, Australia's Labor opposition has questioned whether the Morrison government is doing enough to help.
PNG has so far recorded 3,359 cases of COVID-19, the disease caused by the CCP (Chinese Communist Party) virus, commonly known as novel coronavirus. PNG's COVID-19 death toll sits at 36.
Australia's High Commissioner to PNG, Jon Philp, says Australia is working hard to help deal with the crisis and ensure PNG has the necessary infrastructure in place—such as cold chain storage—to deliver the vaccines to the remotest parts of the country.
On Tuesday, a RAAF C-17 Australian air force plane touched down in Port Morseby, carrying an Australian Medical Assistance Team (AUSMAT) and around 8,000 vaccines which will be offered to frontline health workers who have been getting sick with COVID-19.
"The team will work with PNG authorities to assess public health, medical supply [and] equipment needs to support PNG's response to the [COVID-19] health crisis," Philp wrote on Twitter on Wednesday afternoon. 
"The health system is enormously stressed right now," Philp told ABC Radio earlier in the week.
On Wednesday, Philp joined with PNG Prime Minister Jame Marape and the AUSMAT to plan their response to the crisis according to the local needs.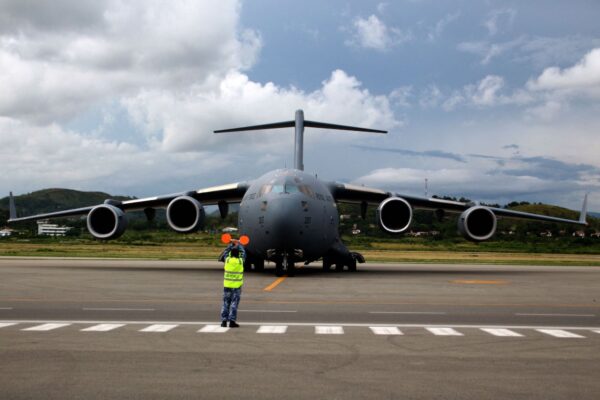 This comes after Philp told ABC Radio on Monday that beds at a hospital in Port Moresby, PNG's capital, had reached about 90 percent capacity as positive COVID-19 cases presented for treatment. He said 70 percent capacity had been reached at a secondary location as well.
This indicates that the rate of unreported infection in the PNG community may be quite high.
Opposition Calls For More To Be Done
Labor frontbencher Bill Shorten, who has spoken with PNG contacts, said there was a humanitarian disaster unfolding as 400 new cases were recorded there overnight.
Shorten said the situation required a response similar to that seen following the 2004 Boxing Day tsunami.
"Just sending a few thousand vaccination kits is not enough," he told the Nine Network. "If we don't deal with this disaster right now, we'll be dealing with a much bigger disaster in weeks to come, and we will look back in weeks to come and say we should have done more."
But according to Australia's High Commissioner to PNG, the government is not only delivering 8,000 vaccine doses.
Australia has funded additional hospital beds and triage tents and is working with local authorities to make sure they are ready to receive the vaccines—which includes standing up cold-chain facilities to store vaccines as they are distributed.
Health Minister Greg Hunt told Parliament the government would step up the support for its northern neighbour.
"There is more to come from the national medical stockpile and from our international inventory of vaccines as we push to have those released," he said.
So far, the PNG government has strengthened its pandemic measures by implementing an isolation strategy that includes ordering pubs, clubs and gaming sites to shut on Wednesday.
The new trading curbs come in addition to tighter internal border controls, bans on large gatherings, school closures, and mask-wearing mandates imposed last week as infections spiked.