Soldiers are returning home after about 3,000 troops from a U.S. Army rapid-response force were deployed to the Middle East nearly two months ago amid tensions with Iran.
Nearly 800 paratroopers from the 82nd Airborne Division's Immediate Response Force Brigade began returning from the Middle East on Thursday to Fort Bragg in North Carolina.
On Thursday morning, eager family members waited in Fort Bragg's Green Ramp to greet their loved ones.
Today we welcomed home the first @Strike_Hold #Paratroopers from their deployment to @CENTCOM. When our Nation called, the Immediate Response Force answered by conducting a no notice deployment. The Division is proud of you all and wishes a warm #WelcomeHome. #Airborne #ATW pic.twitter.com/zkLFJVzPSU

— All American Division (@82ndABNDiv) February 20, 2020
"We could not be more proud of these Paratroopers and it is an honor to welcome them home," Maj. Gen. James Mingus, the 82nd Abn. Div. commanding general said in a statement to The Epoch Times. "These great men and women honored the tradition of Paratroopers that came before them by answering their Nation's call on a moment's notice."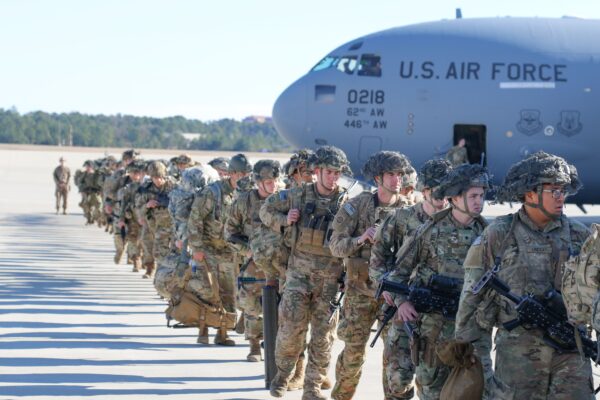 The Pentagon confirmed on New Year's Eve that some 750 soldiers were being deployed immediately to Kuwait after an attack on the U.S. Embassy in Baghdad, Iraq, amid tensions with Iran and its proxies in the region. This was in addition to the Marines who were already on location protecting embassy personnel, the Pentagon said at the time.
On Jan. 3, the Pentagon confirmed to The Epoch Times that it was sending additional troops to the Middle East. The department didn't state an exact number. The number of troops in the new deployment was estimated at 2,800 since a brigade usually consists of about 3,500 troops, reported Reuters.
The deployment was the most significant no-notice deployment of military forces in more than 30 years, the 82nd Airborne Division said upon the paratroopers' return.
"Within hours of receiving orders to deploy, the first elements of the Brigade mustered, drew equipment, and were wheels up from Green Ramp [Fort Bragg] within 18 hours and subsequently deployed the remainder of 1st Brigade on a very aggressive timeline in order to respond to the crisis situation in Iraq," the 82nd Airborne Division said in a statement obtained by The Epoch Times.
The paratroopers underwent daily readiness training while they were deployed in the Middle East.
About 2,000 members of the 1st Brigade Combat Team are still posted in the region for "any missions deemed necessary," the statement said.
It remains unclear when they will return home.
Allen Zhong and The Associated Press contributed to this report.