Eight-Year-Old Holds Press Conference to Publicize Family's Ordeal in China
January 31, 2011 7:33 pm Last Updated: October 1, 2015 5:49 pm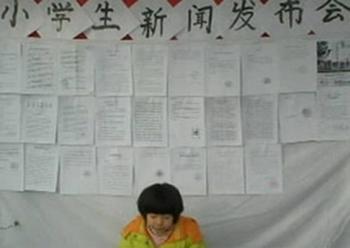 Eight-year-old Willa from Kunshan, Jiangsu Province, China is one of the youngest press spokespersons in history—though it was not an occasion for celebration. "My name is Willa…. I am eight years old. My grandfather filed a lawsuit six years ago, but still hasn't received any compensation and resettlement," she said in a video posted to the blog of Cai Julin, her grandfather.
In the video, Willa, still in elementary school, read out a statement against a background decorated with pages of court indictments and judgments. A Chinese banner hangs across the top: "Press Conference Held by An Elementary Student." The young girl appeals for everyone to pay attention to the forced demolition of her home.
Willa's grandfather, Cai, said that the "Press Conference Held by An Elementary Student" was put on after Willa's repeated demands and the whole family's careful consideration. It was her idea, he said. She had practiced holding press conferences in school, so she decided to use this means to defend her family. Cai said that the script was prepared by Willa and polished by the adults in the family. It worked, too, to an extent: after the video was posted reporters called for interviews.
The theme, forced demolition, is nothing new in China. Cai's house was demolished in 2002; the family has pursued a lawsuit for six years and attended five court hearings, but they have received no money for compensation or resettlement.
A netizen commented that it's a tragedy for society that a social problem should be borne by an eight-year-old girl. Chinese have taken up all means to protest, sometimes including self-immolation. One Chinese official has publicly stated: "How can there be no one dying in a house demolition?"
Young Willa's innocent plea has gained the attention of some. "While the screams of self-immolation are still in the ears, and home-made guns being used against demolitions are also reported, we heard an eight-year-old girl asking for help with her young and tender voice today. What will we see or hear tomorrow?" another netizen questioned.