At least eight people were injured after being hit by lightning on a Florida beach, according to news reports on July 21.
WTSP, a local news station, reported that at least one person was directly struck by lightning on Clearwater Beach amid thunderstorms.
The person who was directly hit by the lightning bolt reportedly has life-threatening injuries.
Sun, Jul 21st, 2019, 1:30 PM, 77.5F, Wind: From the NW at 14 Gusting to 28 MPH, Pressure: 30.23, Rain today: 0 inches. pic.twitter.com/VBW5UQcnvT

— Clearwater Beach Cam (@CWBCam) July 21, 2019
Another seven people were thought to be in the vicinity of the strike area, Clearwater Fire Department Deputy Chief Marvin Pettingill told the news outlet.
The strike occurred at around 12:45 p.m. on Sunday near Frenchy's Rockaway Grill, located at 7 Rockaway Street, reports said.
Officials told WFLA that the person hit by lightning suffered a cardiac arrest.
Isolated rain and storms starting to fire up along the coast. Be ready to head indoors along Clearwater Beach. There will be lightning! @10NewsWTSP pic.twitter.com/ZdSlXHwlo2

— Natalie Ferrari WTSP (@NatalieWTSP) July 21, 2019
Awesome view of the storm near #Clearwater Beach by Sandra Smith near the Dunedin Causeway. #flwx pic.twitter.com/P52S9TFciL

— Greg Dee (@GregDeeWeather) July 21, 2019
Other details about the incident are not clear.
The names of the victims were not revealed.
#BREAKING: One person has been directly struck by lightning on Clearwater Beach this afternoon.https://t.co/etREfXHLxl pic.twitter.com/Hpniip8duZ

— WFLA NEWS (@WFLA) July 21, 2019
We've got to take this seriously. If you hear thunder, go inside. Just now several people were were hurt after lightning struck Clearwater Beach. https://t.co/kyeqIjJQiT

— Isabel Rosales (@WFTSisabel) July 21, 2019
Recent Incidents
Last month, Lion County Safari officials confirmed that two giraffes were killed by a lightning strike during a storm several weeks ago.
Officials in the Palm Beach County, Florida, park said that 1-year-old Jioni and 10-year-old Lily were killed by lightning six weeks ago. Testing recently confirmed the development, WPTV reported on June 11, which added that the animals were not related.
"The whole team here was devastated and we're still in the mourning process weeks later," said Haley Passeser, a spokesperson for Lion Country Safari, to the station. "There were a lot of tears shed. Some of our keepers had to take some personal time off to process."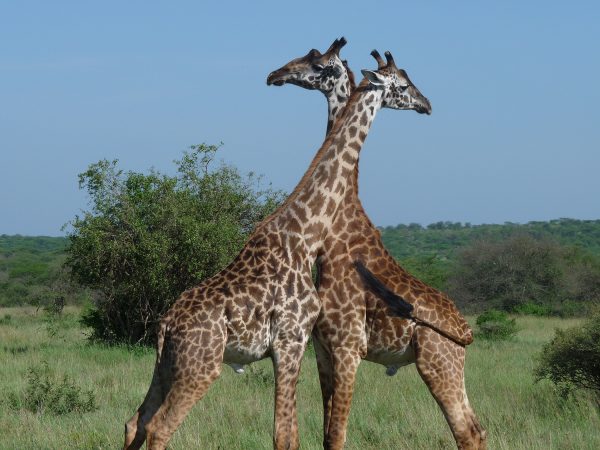 When thunderstorms hit the area weeks ago, officials opened up the animal shelter area in the park, but it is up to the animals themselves whether they seek shelter or stay outside.
Passeser noted that the severe weather approached the park with little warning.
"We do try to provide them a lot of choice, and in a case such as that when we ourselves are also seeking shelter," said Passeser. "If they don't choose to seek shelter, there isn't a lot we can do to encourage them to."
Days before that, a motorcyclist died on June 9 after he was struck by lightning while traveling down Interstate 95 in Volusia County, Florida.
The Florida Highway Patrol tweeted a picture of the rider's helmet, showing what appears to be two holes at the top.
"This is what's left of a 45-year-old man's helmet after he was struck by lightning, while riding his motorcycle southbound, on I-95 in Volusia County this afternoon. Unfortunately he did not survive the crash," the highway patrol's Orlando office wrote.
The U.S. National Weather Service (NWS) says that lightning "is a major cause of storm-related deaths" in the United States.
"A lightning strike can result in a cardiac arrest (heart stopping) at the time of the injury, although some victims may appear to have a delayed death a few days later if they are resuscitated but have suffered irreversible brain damage," according to the weather agency.
The average number of lightning-related deaths reported in the U.S. is 29 per year. About 243 people are injured annually, it adds.
"Over the last 30 years (1989-2018) the U.S. has averaged 43 reported lightning fatalities per year. Only about 10 percent of people who are struck by lightning are killed, leaving 90 percent with various degrees of disability. More recently, in the last 10 years (2009-2018), the U.S. has averaged 27 lightning fatalities," the agency says.