A Honduran migrant pushed his 8-month-old son under the US-Mexico border wall in Tijuana as some from the migrant caravan were able to cross into the United States.
Joel Mendez, 22, pushed Daniel Mendez to his girlfriend Yesenia Martinez, 24, who took the baby into America as the father stayed behind in Tijuana to work because he feared immediate deportation, Fox News reported.
Martinez surrendered to Immigration and Customs Enforcement agents who were waiting for border crossers on Dec. 7.
Like many of the migrant caravan, it wasn't clear if Martinez and her young son would qualify for asylum. Hundreds of migrants have described conditions that prompted their journeys from Honduras and El Salvador but few have described persecution from the government or other conditions that would fit the narrow set required to qualify for asylum.
Migrants in Tijuana trickling over and under border wall https://t.co/n3YS2CMf0h pic.twitter.com/BwvprLIR08

— NBC Chicago (@nbcchicago) December 10, 2018
The United States has been processing around 100 claims a day from migrants in Tijuana but the thousands who have poured into the border city have been getting impatient and some have taken the chance to illegally cross the border.
A mob of migrants tried to enter on Nov. 25, only to be pushed back by Border Patrol agents responding to the mostly-male, rock and projectile hurling group.
The migrants retreated and many have stayed in Tijuana to work while pondering their options. Others accepted offers from the Mexican government to be flown or bussed back to their home countries.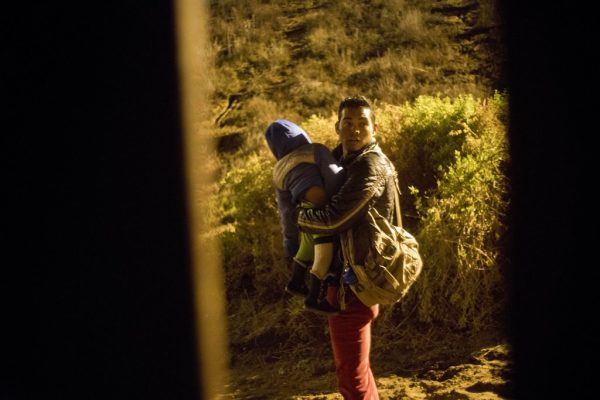 Among those who have trickled over the border recently was a 19-year-old Honduran woman who gave birth to her second child less than 24 hours after entering America.
Martinez's crossing, meanwhile, came on the same day that the left-leaning 9th Circuit Court of Appeals said in a 2-1 decision it wouldn't allow President Donald Trump's administration to enforce a ban on asylum for aliens who cross between ports of entry, following a Nov. 19 order by District Judge Jon Tigar (pdf).
Trump's administration has called out the 9th Circuit, which has frequently seen its rulings overturned by the Supreme Court, but two judges held fast and claimed that the Executive Branch didn't have the power to mandate the ban, despite a similar measure on dangerous majority-Muslim countries ultimately being approved by the Supreme Court.
In a dissenting opinion, 9th Circuit Judge Edward Leavy said the administration "adopted legal methods to cope with the current problems rampant at the southern border" and noted that the Immigration and Naturalization Act the judges cited does not prevent Trump's rule barring eligibility for asylum based on how migrants enter the country. The final ruling by the court on Trump's order will be issued on Dec. 19.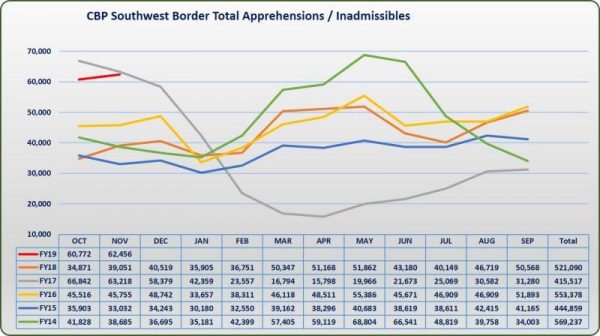 Danger, Arrests
Some crossings have proven dangerous recently, with at least one death coming in the past week. Border Patrol agents witnessed a man drown in the All-American Canal near Calexico after he illegally entered the United States on Dec. 6.
"This incident tragically illustrates how human smuggling organizations place migrants in perilous situations," Chief Patrol Agent Gloria Chavez said in a statement. "This man put his trust in human smugglers and it cost him his life."
The next day, Border Patrol agents found a group of 63 illegal aliens in brush west of Laredo, Texas.
Recent apprehensions have also included five confirmed gang members, including a member of the notorious MS-13 gang, and two convicted child predators.
Border Patrol said that the number of people apprehended crossing the southwest border reached 51,856 in November, a slight uptick from October and a 78 percent jump from last November. Both months saw over 9,000 more apprehended border crossers than any month last fiscal year.
The Associated Press contributed to this report.
From NTD News