Jennifer Hart was drunk when her SUV plunged off a Northern California cliff, killing all eight family members inside, it has been revealed.
Authorities said that Hart was intoxicated in the crash, which happened three weeks ago, adding that the crash appears to have been intentional, according to the Mendocino County Sheriff's Office in a statement on Friday.
Hart, her partner, Sarah, and three of their adopted children were found in the wreckage. The other three are still missing.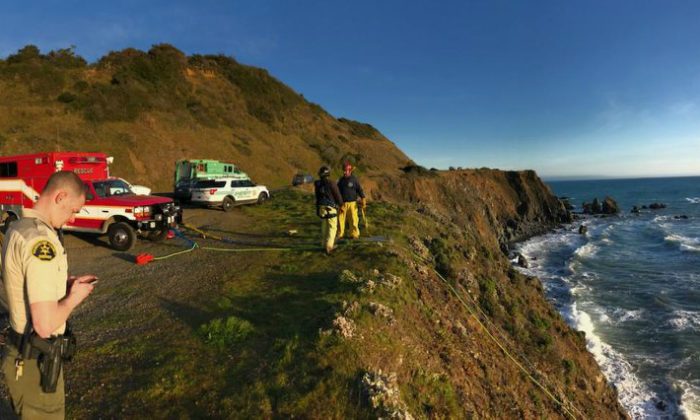 Officials revealed that Hart had a blood alcohol level of .102 at the time of the crash. The legal limit in the state of California is 0.08. Her partner and two of the children also had in their systems a "significant amount" of an ingredient commonly found in the allergy drug Benadryl.
"Those preliminary results showed Jennifer Hart had a .102 BAC (blood alcohol content) while Sarah Hart and two of the children had a positive toxicology finding in their blood for Diphenhydramine, an active ingredient in Benadryl," the sheriff's office stated.
Jennifer Hart, the mother who drove her family off an oceanside cliff, had a blood alcohol level that was over the legal limit, California Highway Patrol official says https://t.co/Z4oSCSMO00 pic.twitter.com/cpMozhbnJ1

— CNN Breaking News (@cnnbrk) April 13, 2018
Meanwhile, recent shoreline searches by "patrol deputies were unsuccessful in locating any of the missing children," the office said.
"Searches of the Mendocino County coastline will continue with on-duty patrol deputies as calls for service allow. Mendocino County Search & Rescue divers are preparing to be deployed to the area of the crash site once ocean conditions improve for safety reasons. It is anticipated that ocean conditions will not improve for several days," the statement added.
Toxicology found Jennifer Hart had an alcohol level of 0.102. Also found that Sarah Hart and two of their children had "a significant amount" of the allergy drug Benadryl.

These children were drugged and murdered. #HartFamily #HartChildren https://t.co/dYEa0iIRW6

— Eliza (@Eliza_Feero) April 13, 2018
Kayla Schmitz, who worked with the Harts several years ago, told the Seattle Times that she's hoping it was only an accident.
"They weren't big drinkers," Schmitz said, adding that Sarah and Jen would drink soft drinks rather than beer.
But, she added that the situation seemed odd. "I don't give my kids Benadryl and then load 'em in the car, unbuckled, and have a few," she said.
"I can't hope for a tragic accident now," she added. "It's just awful. I hope they find the other kids, or their bodies, and they can have funerals and be put to rest."
Recommended Video:
How Doctors in China Turn into Murderers