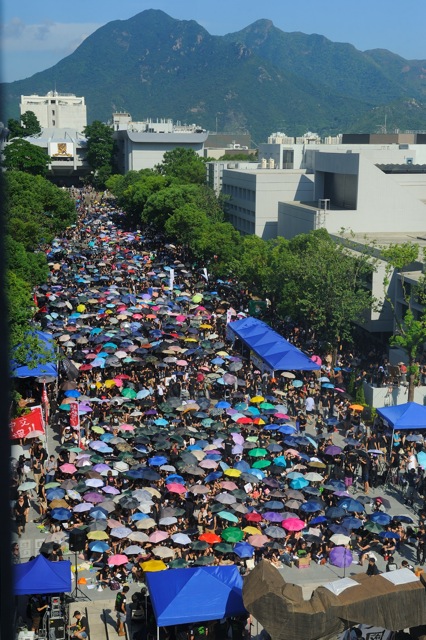 More than 8,000 Hong Kong university students boycotted their classes on Tuesday to protest a Chinese-required law that they described as "brainwashing," in what has been the largest student demonstration in the city since 1989, the same year as the Tiananmen Square crackdown in Beijing.
The protest culminated a nearly two-week-long series of demonstrations in front of the main Hong Kong government building over the so-called "Moral and National Education."
Last weekend, the protesters wrang from Chief Executive Leung Chun-ying the crucial concession that the classes will not be mandatory as previously stipulated.
But now, dressed mainly in black, demonstrators called Leung Chun-ying to put the kibosh on the plan once and for all. Not only that it not be mandatory, but that it be scrapped entirely.
The education curriculum, if adopted by any school, would teach revisionist history from the Chinese Communist Party, critics say. The curriculum is similar to the patriotic education that is taught in mainland China.
The classes would touch very little on the Great Leap Forward, the Cultural Revolution, or the Tiananmen Square massacre.
A high school student told The Epoch Times that "I feel like [Leung] will bring it up again and then forcefully it make it mandatory" in the future.
So they are maintaining protests to kill the plan entirely.
Another student, who attends Hong Kong Baptist University, told NTD Television that Lueng's administration is merely trying to "pacify our anger" and the plan will likely come up in the future.
Some students expressed anger that Hong Kong's national education committee, headed by Anna Wu Hung-yuk, is trying to look for ways to revive the plan, the Hong Kong Standard newspaper reported.
Lee Shing-hong of the Hong Kong Federation of Students said that "Hong Kong created history" by staging the boycott.
"Hong Kong people are worried there are political motives behind such national education classes. If there are political motives, then I hope that the central government will withdraw them," he continued.
Read original article in Chinese.
The Epoch Times publishes in 35 countries and in 19 languages. Subscribe to our e-newsletter.
Click www.ept.ms/ccp-crisis to read about the most recent developments in the ongoing crisis within the Chinese communist regime. In this special topic, we provide readers with the necessary context to understand the situation. Get the RSS feed. Who are the Major Players?