77-Year-Old Woman Sentenced to Two Years
March 1, 2007 12:00 am Last Updated: March 1, 2007 12:00 am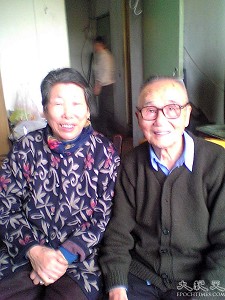 On the morning of February 26, 77-year old Shuang Shuying, was sentenced to two years and fined 2,000 yuan (US$258.3) by the Chongwen District Court in Beijing for "The defacement or destruction of public or private property." According to relatives, Shuang immediately appealed her conviction.
"The hearing finished at around 10 a.m. and my mother-in-law appealed the conviction right in court," said Wei Jumei, Shuang's daughter-in-law. "The authorities first arrested my husband, Hua Huiqi, then my mother-in-law. Their main objective was to keep us from appealing my husband's case."
On the morning of February 9, Shuang was arrested at her home by the local authorities who charged her with destruction of public or private property. Shuang was detained at a local detention center and her family received the arrest notice later that morning.
In 2002, the family's home was forcibly demolished by the local authorities, but they received no compensation. Intent on appealing to a higher authority to be compensated for the forced demolition of their home, Hua passed a petition around the neighborhood to garner support for his cause; but the authorities quickly stopped his efforts. He suffered repeated persecution by Beijing authorities who sought to silence him.
During the Two Sessions (annual sessions of China's top legislature and political advisory body—the National People's Congress and the Chinese People's Political Consultative Conference) in Beijing earlier this year, Hua and his mother went to the Beijing Municipal People's Congress to report about their demolished home, but were instead detained at the local police station. Both Shuang and her son were brutally beaten by police and Hua was taken to a detention center in Chaoyang District where he remains incarcerated.
Hua's parents went to Tiananmen Square to ask that their son be set free; police claimed that they would not criminally detain their son. However, on the morning of February 9, when Hua's parents again sought to appeal his arrest, police arrested his mother, while his father was escorted home.
Hua's wife mentioned that her mother-in-law had been doing everything possible to seek justice for her son. Because of Shuang's high blood pressure, heart disease, diabetes and advanced age, her family is not only concerned for her health while she remains behind bars, but they are angered that she should serve such a sentence.
Beijing human rights defender Qi Zhiyong believes that the authorities have abused their power by taking such inhumane measures with an old woman who is only seeking justice. He is properly indignant at the way the family has been treated saying that the authorities had gone too far.