A 7-year-old boy became the first fatality of monster hurricane Dorian as it crawled over the Abaco Islands at just 1 mph, grinding the Bahamas with record 220 mph winds.
Dorian hit the Bahamas as a category 5 hurricane, packing sustained winds of 185 mph, making it the second most powerful hurricane on record, tied with the Labor Day storm of 1935 as the strongest hurricane to make landfall in the Atlantic basin.
The Bahamas Press wrote on Twitter that the death of 7-year-old Lachino Mcintosh had been confirmed.
"Lachino Mcintosh, drowned after his family attempts to relocate their home," wrote the news outlet in a tweet showing a picture of the boy. "Mcintosh's sister is missing."
First death recorded in Abaco following Hurrican Dorian passage on Abaco….

BP BREAKING| The first recorded death of Hurricane Dorian is now being confirmed. Seven year-old, Lachino Mcintosh, drowned after his family attempts to relocate their home. McIntosh's sister is missing pic.twitter.com/UQ99XPlBEa

— Bahamas Press (@Bahamaspress) September 2, 2019
According to the National Hurricane Center (NHC), Dorian brought a storm surge of 18-23 feet to the Caribbean island chain, which is still recovering from the powerful Hurricane Irma, which hit the islands in 2017, leaving 47 people dead.
The storm is about 130 miles from the coast of Florida, where parts are already being evacuated.
Although the storm is currently inching westward, it is expected to swing north, grazing the western coast of the United States, with forecasters warning that only a slight deviation from its expected path could bring Dorian over Florida's coast.
Parts of the Florida coast are being evacuated and all coastal counties in Georgia and South Carolina are now subject to mandatory evacuations.
Here are the 5 AM Monday, September 2 Key Messages for Hurricane #Dorian. Life-threatening storm surge and hurricane-force winds are expected along portions of the Florida east coast through mid-week. Visit https://t.co/tW4KeFW0gB for more info. pic.twitter.com/Ft5D7w6hB8

— National Hurricane Center (@NHC_Atlantic) September 2, 2019
The latest warning from the NHC, issued at 5 a.m., said that "life-threatening storm surges and dangerous hurricane-force winds are expected along portions of the Florida east coast through mid-week."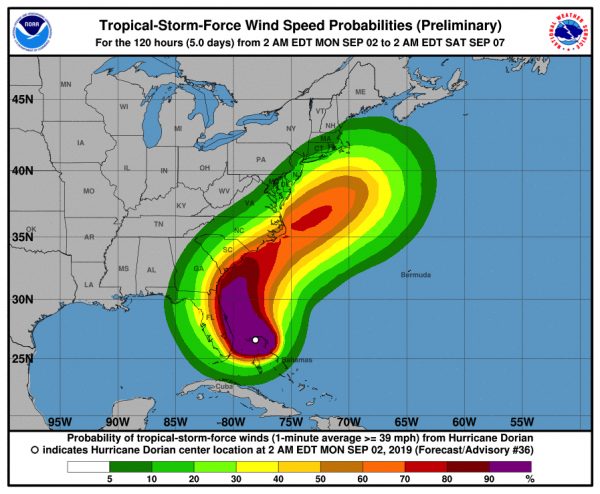 "Only a slight deviation to the left of the official forecast would bring the core of Dorian near or over the Florida east coast."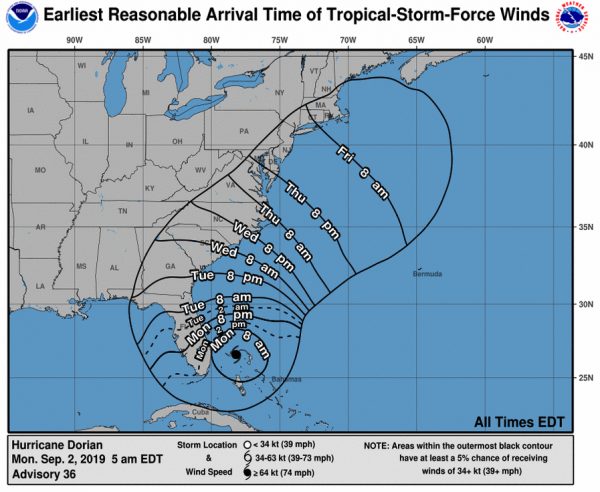 The NHC also warned of an "increasing likelihood of strong winds and dangerous storm surge" along the coasts of Georgia, South Carolina, North Carolina."