1. The "Flaunt Your Wealth" Challenge
The "Flaunt Your Wealth" challenge, also known as "Falling Stars," saw China's wealthiest citizens post staged photos of themselves "falling" out of their vehicles, spilling luxury items across the floor.
Kiki challenge is long gone! There is a new challenge in town. It's called the #FallingStars challenge. You have to flaunt your wealth by lying face down (preferably on the road) surrounded by all your fancy expensive stuff.. Insane..😳🧐🤭😵🙄 what do you think? pic.twitter.com/qtSy9Nb0Sw

— Krithiga Narayanan (@Krithiganarayan) October 20, 2018
It has since developed to include photos of people falling out of anything.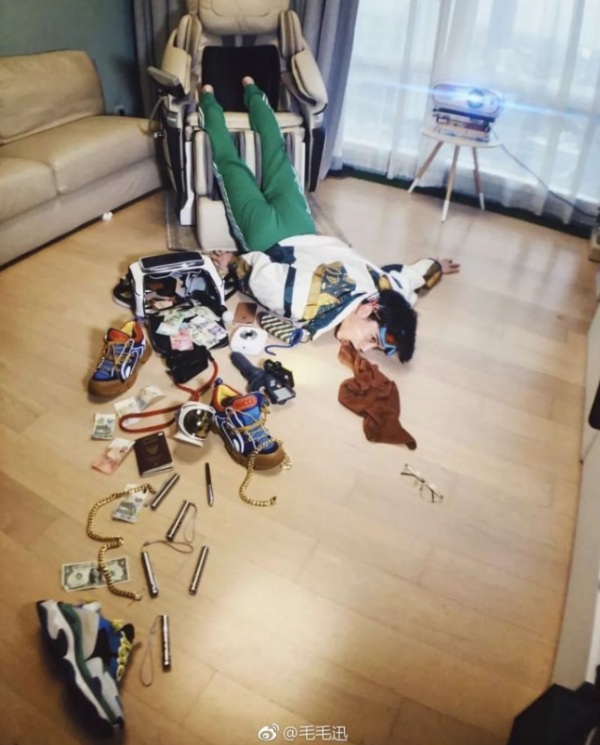 The trend began in Russia in 2018 before making its way to China and becoming one of the biggest and most criticized social media hypes of the year.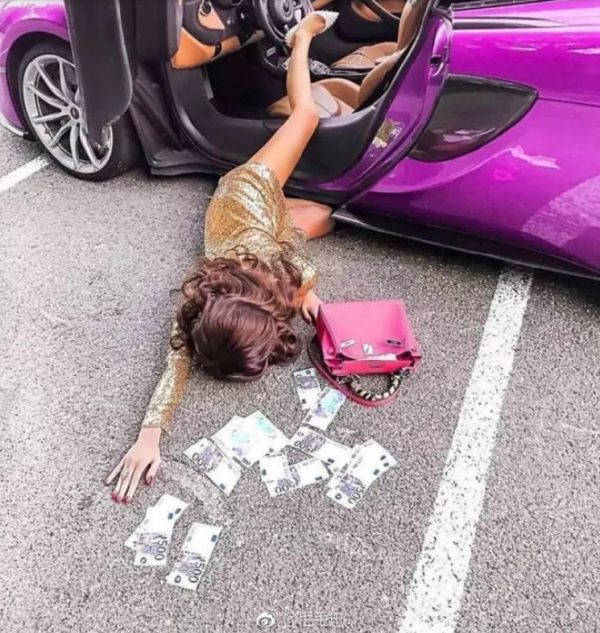 So much so that an anti-movement was created, involving a viral adaptation of the meme into pictures of what some people saw as a truer depiction of wealth.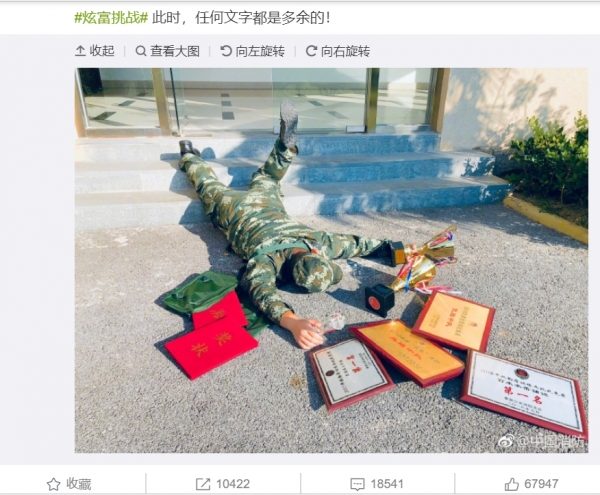 2. Traveling Frog
To the unacquainted, the Japanese mobile game, Traveling Frog, appears quite plain and uneventful. Yet this game took Chinese social media by storm in 2019 with thousands of netizens taking to social media to share their struggles in taking care of the frog.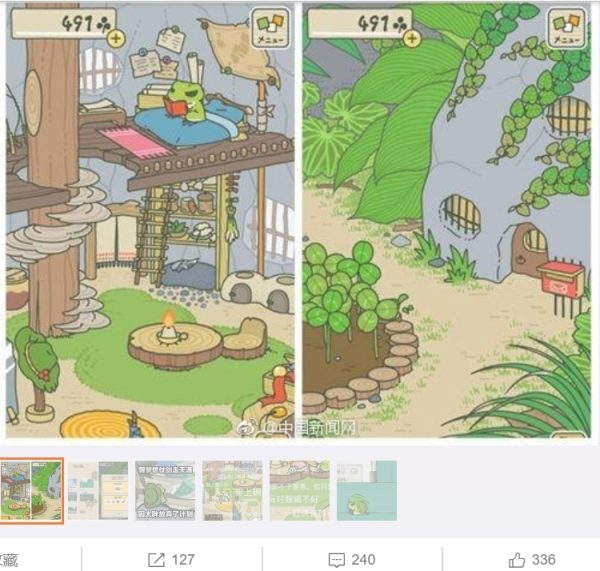 This virtual creature often goes travelling and when it does, the player cannot do anything but garden and wait for their friend to send them postcards, before eventually returning with snapshots of his adventures and local delicacies. At home, the frog eats, reads, and sits around, until once again, it catches the travel bug.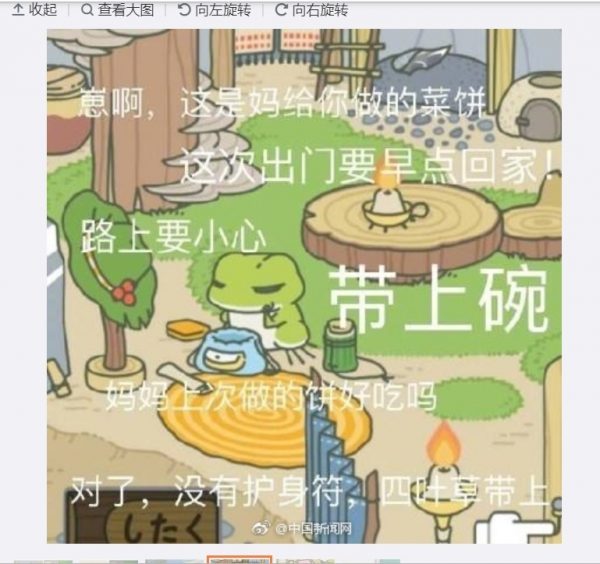 The popularity of the frog has been attributed to the sense of home it provides in a country where many have moved away from what is familiar, as well as its calming effect on young Chinese living stressful lives. The attachment, which some players display for their virtual pet, also suggests the desire to fill an emotional void in their lives.
According to one Chinese media outlet Caijing.com, "'nursing a frog' is one kind of psychological substitute for 'nursing a baby.'"
3. Invictus Gaming: The E-Sports Craze in China
In November, Weibo was flooded with news of China's e-sports team, Invictus Gaming (IG), who beat out Europe's Fnatic in a 3-0 sweep to take home the Summoner's Cup at the 2018 League of Legends World Championship for the first time in history.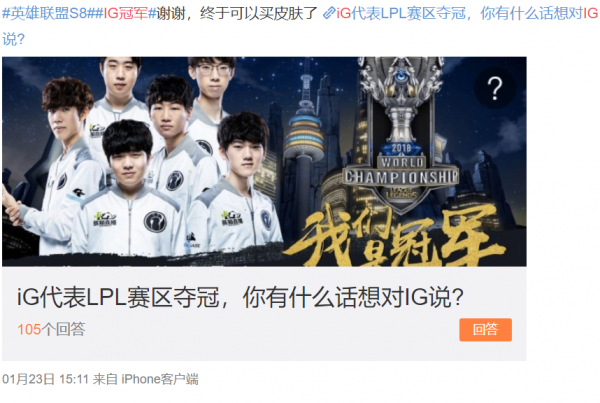 League of Legends is an online multiplayer video game involving heavy strategy and team cooperation, and has been the most played game in the world since 2016.
The craze over IG's victory triggered viral hashtags on Weibo, "IG are the Champions" and "What the championship of IG means," with more than 1.57 billion views to date.
Immediately following IG's defeat of Fnatic, students from many universities uploaded videos showing countless dormitory rooms celebrating and roaring in solidarity: "IG are the Champions!"
At one university, young men ran topless and pantless across the campus to partially fulfill their promise to streak if IG emerged victorious.
As with any given viral event, there were memes which followed. One such meme involved Wang SiCong, the founder of the IG team. Much to his misfortune, he was caught snacking on a hot dog during the games.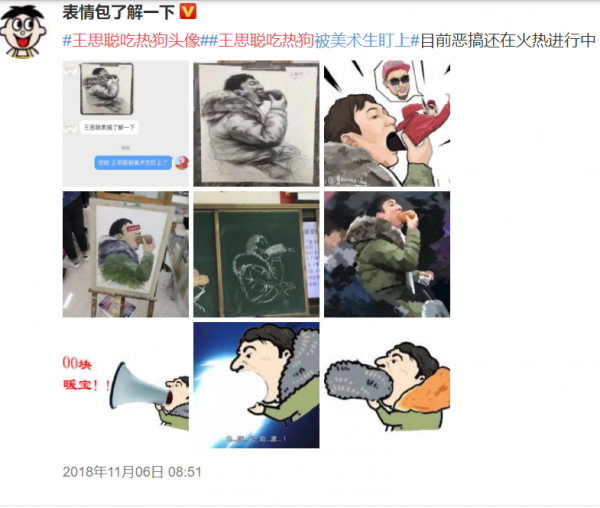 The hashtag, "Wang Sicong's Hotdog-Eating Image," catapulted to over 380 million views, eventually prompting the businessman to ask his Weibo followers to stop posting the photos. Naturally, under his post, netizens responded with this: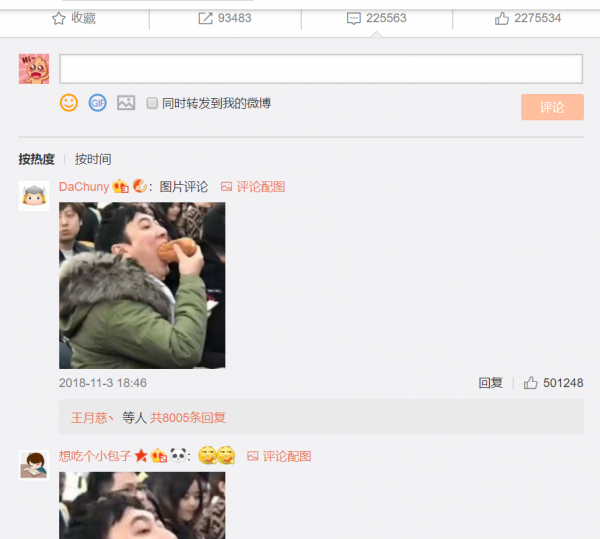 4. The Boy Who was Duped at the Hair Salon
The hashtag "hairline-boy expressions" was viewed over 470 million times on Weibo, when what was supposed to be a quick visit to the hairdresser took a dramatic turn towards disaster.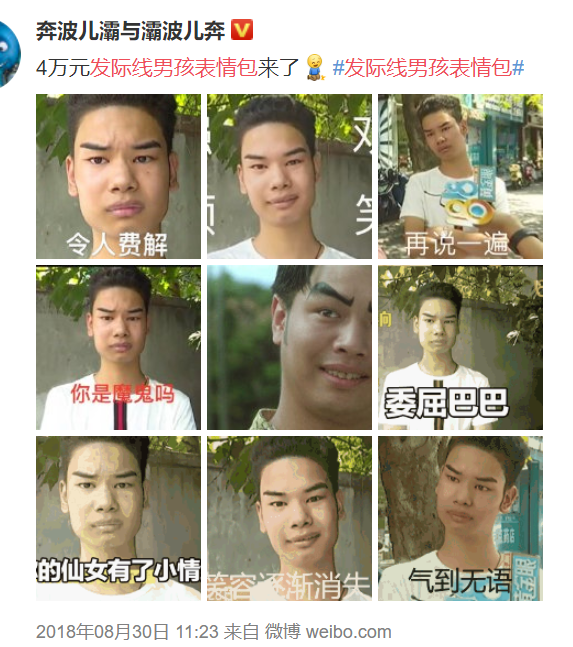 18-year-old Wu Zhengqiang was presented with a 40,000 yuan ($5,900) bill and a bad haircut.
Although the teenager ended up paying less than what was charged, local media's coverage of his experience resulted in a viral story, spawning new memes and turning him into a 2018 internet sensation.
5. 'Gangster' Peppa Pig
A British pig is perhaps the most unlikely creature to imagine in relation to the words "gangster-like."

Peppa Pig, a preschool animated TV series currently airing in mainland China, rocketed in popularity after taking off on live-streaming services.
With her rise came a social media makeover. She became an inadvertent "shehuiren," a slang term for "gangster," and a symbol for those who aspire to freedom from societal pressures and other constraints.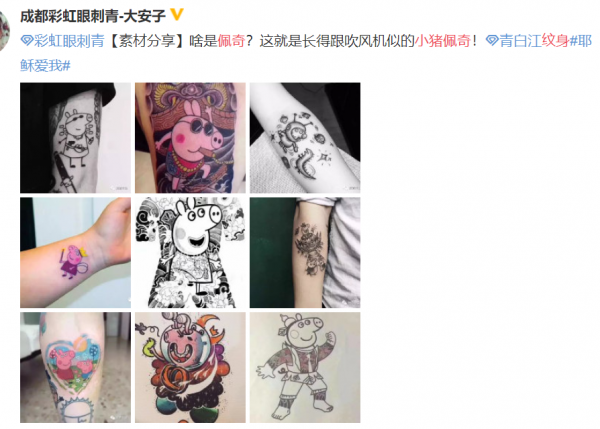 Needless to say, the Chinese Communist Party wasn't happy.
As tattoos of gangster Peppa started to proliferate, China state-run media outlets began to stir negative public sentiment toward the pig, citing subversive imagery and the potential harm to positive societal morale, according to Quartz.
However in recent days, Peppa seems to have been rehabilitated as she will star in the film Peppa Pig Celebrates Chinese New Year, timed to hit the big screen on Feb. 5, the first day of the Year of the Pig.
6. "Skr"
The Rap of China, a music show doubling as a competition for China's strongest rappers facing off for the 2018 "R!CH" title, helped bolster hip-hop's rise into the country's mainstream culture.
One of the show's judges, Chinese-Canadian rapper Kris Wu, was asked to predict the buzzword of the season, to which he responded "Skr."
The catchphrase went on to become one of the biggest internet fads of the year.
Skr is believed to originate from a misspelling of "skrt," an onomatopoeia used to name the sound associated with the skidding of a vehicle's wheels over asphalt.
Though Kris used the made-up word both as a title of his diss track and to praise the show's contestants, netizens have adapted it for different uses. Skr sounds like "is a" in Chinese and is also a homophone for "scared to death."
It has therefore been used in sentences such as "他莫不skr傻子吧," roughly translated to mean "Is he an idiot?" as well as "吓skr人了," meaning "Scared me to death."
7. Facekini
Peculiar beachwear has returned to China's beaches in the summer of 2018 in the form of "facekinis."
One way to avoid sunblock: The facekini. Can't decide if these are chic or creepy. I kind of like them, though. pic.twitter.com/kBZLBsj1IF

— Cyborg Unplugged (@cyborgunplugged) June 16, 2018
The face mask resembles a typical burglar cover-up and is favored by older Chinese women. Unlike the United States, many Chinese people see light-colored skin as a symbol of higher socio-economic status, representing beauty and wealth.
The facekini has the added benefit of full-face protection from the sun and jellyfish stings.
"Facekini goes international," tweeted young social media users in China as they greeted the facekini's rise to fame with amusement.
They are available to purchase online at Facekini.