Seven more teenagers have been arrested in connection with an attack on a Long Island high school student that led to his death from a stab wound.
Prosecutors said the teens were involved in the Sept. 16 brawl in which 16-year-old Oceanside High School student Khaseen Morris was knifed to death.
"Kids stood there and didn't help Khaseen," Detective Lt. Stephen Fitzpatrick of the Nassau County Police Department said, according to The New York Times. "They videoed his death instead of helping him."
Police said Morris was not armed.
"Khaseen was attacked, stabbed, murdered and left without help while hanging out with friends after school," said Kassidy Kane, who organized a GoFundMe campaign on behalf of the family. "While we understand death is not the end our hearts are broken but our faith is strong," she added.
The teenager was rushed to the hospital following the attack and later died of his injuries.
"He was about love," the victim's sister said, Pix11 reported. "Now the world knows his story."
Multiple Arrests
Those arrested on Friday, Sept. 27, include 19-year-old Haakim Mechan, 18-year-old Marquis Stephens, 18-year-old Javonte Neals, 17-year-old Taj Woodruff and 17-year-old Sean Merritt, all of Long Beach. All the suspects pleaded not guilty to second-degree gang assault.


Eighteen-year-old Tyler Flach was indicted earlier in the week on charges of second-degree murder. According to Newsday, Flach has also maintained his innocence.
Two 16-year-olds also were charged with gang assault but were not named by police because of their age, The Associated Press reported. Scott Gross, an attorney for one of the 16-year-olds, said his client "played no role" in the killing.
Detective Lt. Stephen Fitzpatrick said at a news conference Saturday the fight at a strip mall near Oceanside High School started because Morris was with the ex-girlfriend of one of the suspects.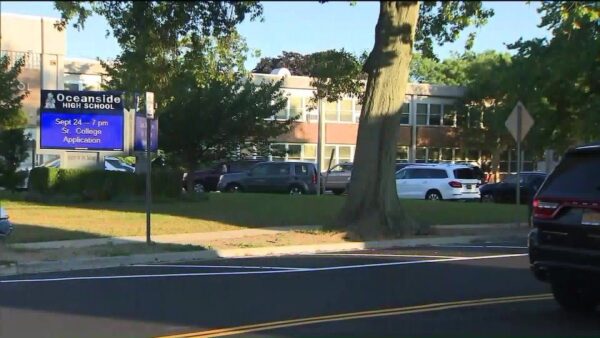 Fitzpatrick said the suspects all took part in the attack on Morris. "Each one of them had an active role," he said. "They came with the intention to seriously hurt him. Khaseen got killed as a result."
Hundreds Attend Funeral
The funeral for Morris was held Saturday in Oceanside and was attended by hundreds, Newsday reported.
"I'm angry, I'm mad…and I'm trying to control it," the victim's aunt, Cherril Minott, said before the memorial, according to the report.
"They took him from us. They have bore a hole, dug a hole, so deep in our hearts that it will never be filled."
Friends remembered Morris as a spirited teen who could make anyone smile.
"He had such a great heart," said former classmate Gigi Greenwood, according to Newsday. "He'd help you with anything you needed—your homework, anything. Everyone loved him."
"Khaseen was the youngest of four children and loved to love," Kassidy Kane said. "His smile could light up a room while his personality would light up everyone's hearts."
The Associated Press contributed to this report.