Police said seven people were shot during a birthday party for a toddler in Prince George County on Saturday night, with the suspect still at-large.
Prince George's County Police said in a statement that officers were called to the 6200 block of Maxwell Drive in Camp Springs at around 9:00 pm on Aug. 24. in response to a reported shooting.
"Once on scene officers found 7 people shot and began lifesaving techniques," police said, adding that "3 people are listed as critical while 4 are stable."
Police Chief Hank Stawinski said at a press conference that around 12 people were at a 2-year-old's birthday party when an individual fired shots into the gathering.
Stawinski was cited by ABC as saying that the suspect reportedly exchanged words during an altercation at the event before firing shots.
#BREAKING: @PGPDNews confirms at least 7 people shot at "gathering" on the 6200 block of Maxwell Drive around 9pm.

At least one had to be taken to hospital by helicopter.

Chief speaking soon. @wusa9 pic.twitter.com/QIhGPDqUA4

— Jess Arnold (@JessArnoldTV) August 25, 2019
The chief said all seven victims are between the ages of 18 and 20 and they're all expected to survive.
PGPDNEWS, the Twitter feed for Prince George's County Police Department, shared video from the scene.
PIO is on scene of a shooting in the 6200 block of Maxwell Dr. in Camp Springs. pic.twitter.com/uPECfNv9wq

— PGPDNEWS (@PGPDNews) August 25, 2019
The chief didn't release information about the suspect, who is still at large.
UPDATE: The mass shooting happened at a 2 year old's birthday party. 7 people were shot and injured after a dispute broke out and at least one gunman opened fire. Police Chief: "If you get caught with an illegal gun in PG County, you gotta go to jail. This has gotta end." https://t.co/LU1Yie2bIf

— Anne Cutler (@AnneCutler) August 25, 2019
Police continue to investigate.
Facts About Crime in the United States
Violent crime in the United States has fallen sharply over the past 25 years, according to both the FBI's Uniform Crime Reports (UCR) and the Bureau of Justice Statistics (BJS) National Crime Victimization Survey (NCVS) (pdf).
The rate of violent crimes fell by 49 percent between 1993 and 2017, according to the FBI's UCR, which only reflects crimes reported to the police.
The violent crime rate dropped by 74 percent between 1993 and 2017, according to the BJS's NCVS, which takes into account both crimes that have been reported to the police and those that have not.
The FBI recently released preliminary data for 2018. According to the Preliminary Semiannual Uniform Crime Report, January to June 2018, violent crime rates in the United States dropped by 4.3 percent compared to the same six-month period in 2017.
While the overall rate of violent crime has seen a steady downward drop since its peak in the 1990s, there have been several upticks that bucked the trend.
Between 2014 and 2016, the murder rate increased by more than 20 percent, to 5.4 per 100,000 residents, from 4.4, according to an Epoch Times analysis of FBI data. The last two-year period that the rate soared so quickly was between 1966 and 1968.
Mortality Figures in the United States
According to 2017 data from the CDC, the 10 leading causes of death in the United States were: heart disease, cancer, unintentional injuries, chronic lower respiratory diseases, stroke, Alzheimer disease, diabetes, influenza and pneumonia, kidney disease, and suicide.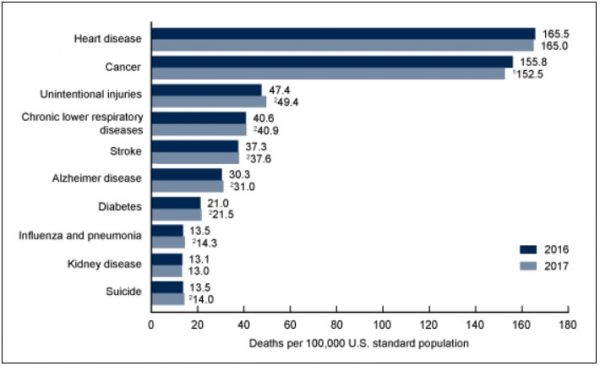 These further break down as follows: the most common are unintentional poisoning deaths (58,335), followed by motor vehicle traffic deaths (40,327), and unintentional fall deaths in third place (34,673).
The total number of emergency department visits for unintentional injuries in the United States in 2017 was 29.2 million, according to the CDC.
The 10 leading causes accounted for 74 percent of all deaths in the United States in 2017.