A 7.4 magnitude earthquake hit off the coast of Russia's east coast early on Friday local time, triggering a tsunami warning in the region.
The Pacific Tsunami Warning Center said that dangerous waves are possible for "coasts located within" 185 miles (300 kilometers) of the epicenter of the quake. It added that people in coastal areas should stay alert for information and "follow instructions from national and local authorities."
The tsunami waves could start arriving at Ust-Kamchatsk by 17:25 UTC and Medny Island by 17:36 UTC, according to the agency.
The U.S. Geological Survey (USGS) said the earthquake hit about five miles deep and struck before 5 a.m local time about 50 miles west of Nikol'skoye.
There's no tsunami danger for the U.S. West Coast, British Columbia, or Alaska, said the Pacific Tsunami Warning Center, according to a tweet.
Tsunami Info Stmt: M7.3 050mi SW Bering I., Komandorski 0902PST Dec 20: Tsunami NOT expected; CA,OR,WA,BC,and AK

— NWS Tsunami Alerts (@NWS_NTWC) December 20, 2018
A 5.6 magnitude aftershock hit the area just minutes after the 7.4 magnitude earthquake. Several 5.0 magnitude earthquakes also hit, according to the USGS.
Another alert from the Warning Center added the Ostrov Karagins and Petropavlovsk areas to the list of threatened areas, saying that one foot to three feet of waves could be expected.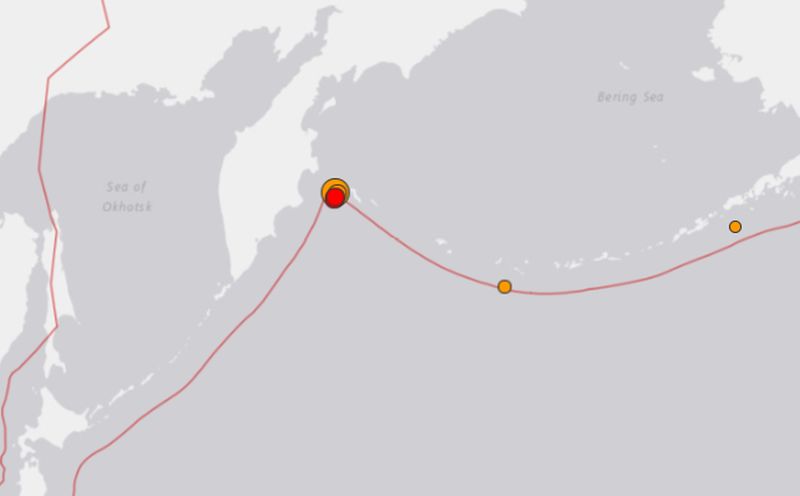 It's not clear if there were any reports of damage or injuries associated with the quake or tsunami.
Earlier this year, an earthquake-triggered tsunami devastated parts of Indonesia, killing hundreds of people.
Ring of Fire
Eastern Russia lies on the Pacific "Ring of Fire" and is earthquake-prone. The Ring of Fire, which encircles the entire Pacific Ocean basin, accounts for the vast majority of the world's earthquakes and active volcanoes.
"The Ring of Fire isn't quite a circular ring. It is shaped more like a 25,000-mile horseshoe. A string of 452 volcanoes stretches from the southern tip of South America, up along the coast of North America, across the Bering Strait, down through Japan, and into New Zealand. Several active and dormant volcanoes in Antarctica, however, 'close' the ring," according to National Geographic.
In September 1923, an 8.3 magnitude earthquake in Japan killed 142,000 people and devastated Tokyo and other cities. "The initial jolt was followed a few minutes later by a 40-foot-high tsunami. A series of towering waves swept away thousands of people," says Smithsonian Magazine.
"An earthquake is caused by a sudden slip on a fault," the USGS says on its website. "The tectonic plates are always slowly moving, but they get stuck at their edges due to friction. When the stress on the edge overcomes the friction, there is an earthquake that releases energy in waves that travel through the earth's crust and cause the shaking that we feel."
But researchers say that neither the USGS nor any other seismic-monitoring agencies have ever been able to predict a major earthquake. "We do not know how, and we do not expect to know how any time in the foreseeable future," the USGS writes.
"Scientists have tried many different ways of predicting earthquakes, but none have been successful," the USGS writes. "On any particular fault, scientists know there will be another earthquake sometime in the future, but they have no way of telling when it will happen."