The Memphis Police Department fired a sixth police officer on Feb. 3 as it announced further findings from its internal investigation into the death of Tyre Nichols.
Nichols, 29, passed away in the hospital on Jan. 10, three days after a violent encounter with five Memphis police officers during a traffic stop that ultimately ended with Nichols succumbing to injuries sustained in the incident. The encounter was captured in video recordings made public by the city of Memphis on Jan. 27.
In a statement, the Memphis Police Department stated that it concluded that former officer Preston Hemphill, 26, violated multiple department policies, resulting in his termination. Hemphill had already been suspended with pay, pending a hearing.
Hemphill was charged with violations of personal conduct, truthfulness, use of a conducted energy weapon (Taser), uniform and equipment regulations, and processing of recovered property, according to the Memphis Police Department.
The department stated that the investigation into the five other officers charged over Nichols's death is ongoing, with updates expected to be released in the near future.
Hemphill was hired by the department in March 2018.
An attorney for Hemphill said his client would cooperate fully with police.
"While we disagree with this termination, Preston Hemphill will continue to cooperate with all authorities in the investigation into the death of Mr. Nichols," attorney Lee Gerald said.
Multiple Firings
A seventh police officer, whose identity hasn't been disclosed, was also taken off duty without pay, according to the Memphis Police Department.
Along with the seven police officers, three members of the city's fire department have been dismissed for not providing adequate medical care to Nichols after he was handcuffed.
Two Shelby County Sheriff's deputies were also removed from duty without pay pending a review, Sheriff Floyd Bonner said on Jan. 27, after the video of Nichols's arrest became public.
The special police unit that was tasked with combating rising crime in Memphis was disbanded on Jan. 28. The Scorpion unit, launched in November 2021, was made up of three teams of about 30 officers. The unit partly targeted violent offenders in crime hotspots in the city. But it has faced heavy criticism in the aftermath of Nichols's death.
Hemphill and the five officers—Tadarrius Bean, Demetrius Haley, Desmond Mills Jr., Emmitt Martin III, and Justin Smith—were part of the special unit.
Hemphill's attorney has previously said that Hemphill was wearing the body camera that recorded the first of the four videos released by authorities.
The video shows Hemphill appearing to use a Taser stun gun on Nichols after he was pulled from his vehicle, forced onto the ground, and sprayed with pepper spray. Once Nichols broke free and ran away, he was chased by the five officers who were later dismissed, and he was subjected to a violent beating.
The five officers face up to 60 years in prison if convicted of second-degree murder in Nichols's death. They were also each charged with aggravated assault, aggravated kidnapping, official misconduct, and official oppression.
Tried to Flee
The video footage of the traffic stop shows that police officers removed Nichols from the driver's seat of his car and instructed him to lie on the ground and then on his stomach. When Nichols attempted to escape by getting up, the officers used pepper spray.
During the initial arrest attempt, Nichols can be heard saying, "I didn't do anything … I am just trying to go home," before he fled the scene by running down the road.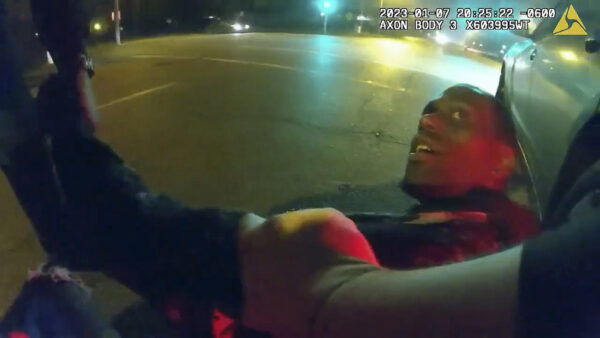 The police officers chased Nichols both in their vehicles and on foot. When they caught up to him and attempted to arrest him, they could be heard repeatedly telling him "give me your hands" as they tried to put handcuffs on him. However, Nichols appeared to resist and continued to try to stand up or escape.
The second encounter between the police officers and Nichols was recorded on video, showing the officers attempting to restrain him. In the footage, two officers are holding him down while a third officer kicks him, a fourth officer strikes him with what appears to be a rod, and another officer punches him.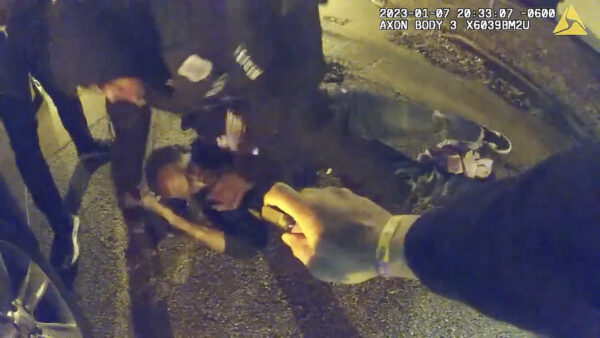 Nichols was handcuffed and propped up against the side of a police car after multiple punches, kicks, and hits from the officers. He was taken to the hospital that night and passed away three days later because of his injuries, according to the Tennessee Bureau of Investigation.
The Shelby County District Attorney's office is investigating the involvement of all individuals involved in the traffic stop and subsequent events, including Hemphill, the Memphis Fire Department personnel, and those who documented the incident.
The five police officers who chased Nichols and participated in the most severe beatings are black, as was Nichols himself. Hemphill is white.
Nichols's death has led to widespread protests and calls for justice. The family of Nichols, along with their attorneys and community activists, continue to demand further action such as the firing or charging of additional officers.
Mimi Nguyen Ly and Reuters contributed to this report.