A judge has handed a 6-year sentence to a meth-using couple who woke in their motel room on New Year's eve to find their 6-month-old son dead, put his body in a suitcase and then tossed it in a dumpster.
Adam Mason, 35, and Kiana Williams, 33, both pleaded no contest on Sept. 26 to one felony account of child abuse resulting in death, in connection with the death of their son at the end of last year.
The couple had been staying with their child, Jacsun Manson, in a motel in Los Angeles on New Year's eve.
"They were doing drugs and later found their child was dead," according to the LA County District Attorney. "The pair put the boy's body in a suitcase and discarded it in the trash dumpster."
The couple was taken into custody a few days later when they were caught allegedly breaking into vehicles, reported ABC.
A detective testified that the couple did not appear distressed or bereaved at the time.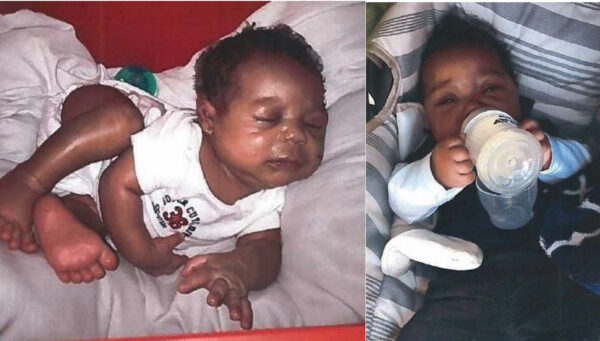 When the couple refused to tell detectives where their baby was, police became concerned and launched an investigation. The boy was reported as missing on Jan. 25, and an arrest warrant later issued for the parents for murder.
The couple acknowledged in February that they had put the boy's body in a dumpster near Baldwin Hills Crenshaw Mall, a police detective testified, according to The Press-Enterprise.
The couple admitted to detectives that they were chronic methamphetamine users and that they had used methamphetamine that day.
They told detectives that they each unsuccessfully tried to perform CPR on the boy, and had then panicked, wrapping his body up, and putting it in the suitcase.
According to the Press-Enterprise, Deputy District Attorney Jonathan Hatami said during the trial that the couple "made numerous bad choices and committed numerous acts of negligence. As a result, the baby died."
At the time that the missing person's investigation was launched, a neighbor told CBS2, "I never saw anything but that little boy being showered with love and affection, that's all I ever saw. They were always doting parents," the woman said.
Authorities believe that the infant's remains are on a landfill site.
But despite weeks of searching the El Sobrante Landfill in the City of Corona, his body was never found.
In a statement at the time, police said that the decision to end the search was made with "a heavy heart" after they were unable to narrow down the search to a small enough area.