6-year-old Pageant Millionaire: Young Girl Has Own Jewelry Line
April 15, 2013 2:05 pm Last Updated: April 15, 2013 3:40 pm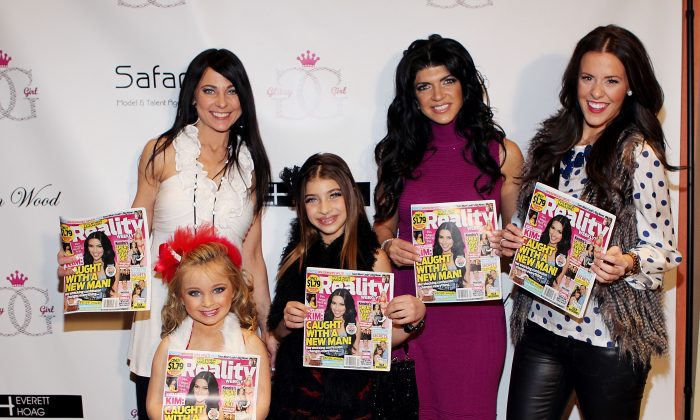 6-year-old pageant millionaire: Pageant winner has developed extravagant tastes, realized through her many wins and her side ventures.
Isabella Barrett has many different tastes than most girls her age. Instead of candy or a hot dog, she enjoys filet-mignon or lobster, and her wardrobe is full of custom-made $10,000 dresses and designer shoes, reports the Daily Mirror tabloid.
Barrett won multiple beauty pageants, which launched her onto the reality television series "Toddlers and Tiaras," which "follows families on their quest for sparkly crowns, big titles, and lots of cash."
Over the years, Barrett has accumulated many assets.
"What's not to like about being a millionaire?" she told the Mirror. "I'm a superstar, I have my own ­jewelery line and I just love being the boss. I never lose at anything and ­almost every pageant I enter, I win. But what I love more than anything is shoes. I have over 60 pairs."
Barret's mother, Susanna, and her father, Antonio, must save a percentage of Isabella's income under U.S. law, which Isabella cannot spend until she's 18. Still, she's developing extravagant tastes.
"You see what happens to these child stars like Britney Spears and I certainly do not want that happening to my daughter," said Susanna. "But she does like nice things, so we do treat her.
"That mainly means new shoes and lots of them. She has designer ones and the sparklier the better for Bella. And she has a ton of Burberry headbands."
Her taste for room service at the five-star hotels they frequently stay at while traveling for pageants includes a time she ordered $2,200 worth of food.
The younger Barrett has made more money from her own jewelry line, Glitzy Girl, which she launched in 2012 and now employs 42 people. It made $1 million in its first year.
Isabella told In Touch that she has a lot of fun running the business, with help from her mom, because she's the boss.
Most people responding to the Mirror story said they didn't favor bringing up a child in such a fashion.
"I don't agree with this at all," said Susan O'Conner. "Let the child enjoy her childhood while shes still a child. Children grow up far too quickly anyway."
"Wrong on every level—no six year old gets involved with this stuff without pushy parents who want to live through their children," said Richard Mole. "Let the poor child be a child."