Police said six newborn puppies stolen in a violent robbery by thieves armed with machetes have been recovered after a "fast paced investigation."
Officers from the Greater Manchester Police raided a property in Moston following an urgent public appeal issued hours after the five-week-old puppies were taken on July 20 and their mother slashed in the face with a machete.
Detective Constable Nick Kershaw of GMP's City of Manchester Division, said in a statement: "This has been a fast paced investigation and I am pleased to be able to say that last night, we attended at an address in Moston and recovered all six puppies."
The Staffordshire bull terrier cross puppies have now been reunited with their mother, Zena, who police said "is over the moon at their return."
"The puppies are all safe and well," Kershaw said, adding that Zena "was absolutely delighted to see them."
A 40-year-old man was also arrested on suspicion of aggravated burglary, police said, and remains in custody.
Police said the investigation continues.
"It has been a huge effort from the team to reunite the puppies with their mother before the worst happened," police said, adding that "our investigation is not finished there and we are keen to speak with anyone who can help us."
Violent Robbery
In an earlier statement, Greater Manchester Police said armed robbers stole the newborn puppies and slashed the face of their mother with a machete when she stood in their defence.
The puppies were snatched by two thieves who followed a man into an apartment in the British city of Manchester on July 20, before attacking him with machetes.
Officers said the burglars left the victim on the floor "with defensive wounds to his forearms and hands" and began to search for valuables.
The home invaders took the victim's cash, keys, and phone, before coming across a litter of the Staffie puppies and their mother, Zena. As the burglars began stuffing the puppies into carrier bags, Zena "tried to bravely defend her pups."
The thieves then hit her in the head with a machete, leaving a deep gash in her face.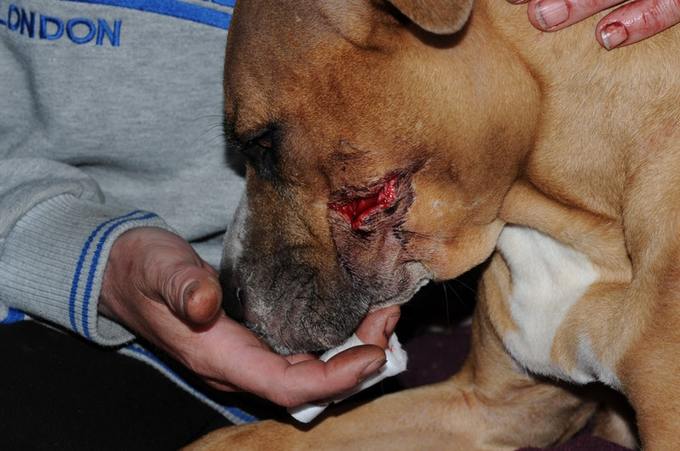 The two men, described as "black, skinny build, believed to be in their 20s" and "wearing dark clothing with the hoods up" then fled with the stolen items and the puppies.
"This was an incredibly callous robbery, where the offenders showed absolutely no regard for the safety of anyone, human or animal, who was present at the time," said Detective Constable Nick Kershaw, of Greater Manchester Police. "They only had one thing on their mind, which was to take whatever they could."
The police said the puppies would likely die if they were not soon returned to their mother.
"The dogs are only five weeks old and without their mother, they likely won't survive very long so it is important that anybody with information that can assist, please contact police as a matter of urgency," the police said.
"We are urgently appealing for information which will help us locate the puppies which were stolen this morning," Kershaw said.
"Please help us return these puppies and reunite them with their very sad mother, Zena, who has been left devastated."
The Greater Manchester Police posted the announcement on its Facebook page, where it sparked many emotional reactions.
"If that attack had gone slightly different that man could have been killed in his own house this morning," someone wrote. "I understand why people are upset about the dogs but we really shouldn't forget that a man was attacked in his home with a potentially deadly weapon, that's the biggest crime here."
"The puppies could survive if their [sic]  bottle fed," someone wrote, adding, "saying they won't survive is inaccurate."
"Puppies need their mum because the milk she provides for them contains important maternal antibodies and protects them from pathogens," someone contended. "Even if these people did feed them milk which I highly doubt they probably wouldn't survive as it will need to be a specialised milk!!"