Six MS-13 gang members who are accused of conspiring to commit two separate murders in Suffolk County, New York, have been indicted, according to an announcement by the district attorney office on March 25.
Officials say the investigation began in the summer of 2018. In the first case, 20-year-old Kevin Zuniga, 28-year-old Jose J. Portillo, and 31-year-old Kevin Mejia Sandoval allegedly conspired to murder a fellow MS-13 gang member who they believed was cooperating with law enforcement.

"This goes to show how ruthless this gang is and is part of their [modus operandi]: They conspire to kill rival gang members but they also conspire to kill their own when they allegedly violate the rules of the gang," District Attorney Timothy Sini said in a press release.
Portillo, Zuniga, and Mejia Sandoval are accused of being "homeboys" in the Leeward clique of the MS-13 gang, who act as leaders in the United States. Authorities say these members receive orders from gang leaders in El Salvador and then direct local members to carry out the gang's missions.
The gang, also known as Mara Salvatrucha, was initially formed by Salvadoran immigrants that fled to Los Angeles during the civil war in their home country. Their motto is "kill, rape, control." Many MS-13 gang members in the United States are illegal immigrants.
In the second case, authorities alleged Zuniga, Portillo, and Mejia Sandoval, along with fellow gang members 22-year-old Gerver A. Chinchilla Perez, 17-year-old Emerson Hernandez Escobar, and 17-year-old Rafael Hernandez Elias conspired to kill a rival gang member from the 18th street gang.

"Our intelligence shows that their plan was to kill him by shooting him with a firearm they planned on purchasing, butchering him with a machete, or by burning him to death," Sini said.
Authorities say Mejia Sandoval had received permission from higher-ups in El Salvador to carry out both murders.
"These were not empty threats; we've seen MS-13 gang members commit murders before of rival gang members and of their own associates who are accused of cooperating with law enforcement," the district attorney said. "Which is why we do not, and cannot, take the threat of MS-13 lightly."
Portillo, Zuniga, and Mejia Sandoval were each charged with two counts of Conspiracy in the second degree and conspiracy in the fourth degree. Meanwhile, Chinchilla Perez, Hernandez Escobar, and Hernandez Elias were each charged with conspiracy in the second degree and conspiracy in the fourth degree.

Zuniga and Chinchilla Perez were arraigned on the indictment on Feb. 1, while Hernandez Escobar and Hernandez Elias were arraigned on Feb. 4. The other members Portillo and Mejia Sandoval, who are from Maryland, were first extradited and subsequently arraigned on Feb. 15 and March 22 respectively.
The six defendants face a maximum sentence of eight and one-third years to 25 years in prison if convicted of the top charge.
"The six defendants' alleged crimes demonstrate the underbelly of the MS-13 gang's operations by using violence, retaliation, and threats," Ray Donovan, Special Agent in Charge of DEA's New York Division, said, according to the press release.
Special Agent in Charge of HSI New York, Angel M. Melendez, shared a similar view to Donovon. "There is no line that MS-13 will not cross, evidenced by their alleged conspiracy to kill even one of their own gang members," Melendez said.
Authorities also said Zuniga and Hernandez Escobar were arrested as part of Homeland Security Investigations' Operation Matador on May 30, 2017, and were released on bond on Aug. 1, 2017, and May 4, 2018, respectively.
Mejia Sandoval was also previously deported twice, the press release said.
'Barbaric Reputation'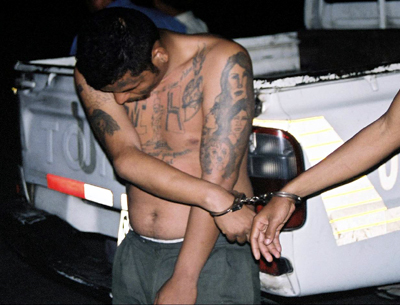 Dr. Robert J. Bunker, an adjunct research professor at the Strategic Studies Institute of the U.S. Army War College, previously told The Epoch Times that MS-13 has created a brand, similar to Los Zetas in Mexico, "based on its reputation for engaging in unspeakable acts of brutality using machete and knife attacks against those that cross it."
"This barbaric reputation greatly aids the gang in its collection of street taxes from local merchants and helps it to protect its turf and drug trade against opposing gangs who are afraid to face the 'street terrorism' it can wage against them," Bunker said.
The Justice Department previously estimated around 40,000 members live in Central America and about 10,000 live in the United States.
The Epoch Times reporter Charlotte Cuthbertson contributed to this report.