6.2 Million Have Quit the Party; China's Red Wall is Collapsing
December 14, 2005 12:00 am Last Updated: December 14, 2005 12:00 am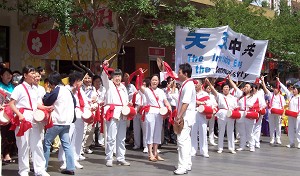 SYDNEY — Following the grand parade in Melbourne on December 10, 2005, supporters gathered in Sydney's Belmore Park to celebrate the 6.2 million people who have quit the Chinese Communist Party (CCP). Representatives from over ten organizations spoke at the rally. Following the rally, over 500 people marched momentously in a parade organized by more than 10 organizations, including the Taiwanese Association and Australian Tibetan Cultural Association.
Supporters marched from Belmore Park through Town Hall Plaza in downtown Sydney and ended in Chinatown, where the celebration continued to welcome a new China without the CCP.
Drivers and pedestrians watched attentively as the parade passed by them. Many overseas Chinese were shocked at the news of the 6.2 million daring people who have quit the Party.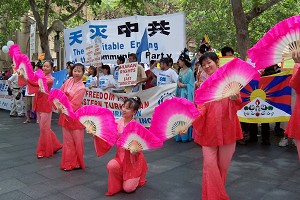 When the parade arrived at Chinatown, dozens of banners were stretched across the sides of the streets and crowds gathered in front of the archway (pailou) entering Chinatown to enjoy live musical and dance performances. Accompanied by the melodious music of the song "Grand Door to the Heavens Has Opened through the Ages," ladies dressed in Tang dynasty costumes graced their way in to entertain the audience. One of the audiences sighed and said, "Only without the CCP's tyranny can Chinese people live in such harmony and peace. There would be no more worries over oppressive movements every seven or eight years."
Motivated by the celebration, the Tibetan group performed a song. Known for their talents in singing and dancing, over ten Tibetan ladies and gentlemen captivated the audience with their voices as they sang out their hope for "peace in Tibet." The song was called "Simple Peace." It was a song that they had often sung, so even without a rehearsal their voices were in harmony and blended seamlessly.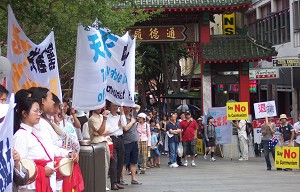 At the gathering, Ms. Zhang Lichen, representative of the Service Center for Quitting the CCP, spoke on the topic, "The CCP is disintegrating. Are you prepared?" Zhang stated, "China is currently at a historical turning point. This turning point has been brought by the people's hearts. The ripples of Party withdrawals in the beginning have now become massive waves and are crushing the CCP's soon-to-collapse Red Wall. The darkest days in Chinese history will leave us soon. The people's awakening will bring a new China without the CCP!"
The rally ended at 4:30 p.m.