5th Grader's Swiss Army Knife Leads to Suspension
April 27, 2013 1:35 pm Last Updated: July 18, 2015 5:20 pm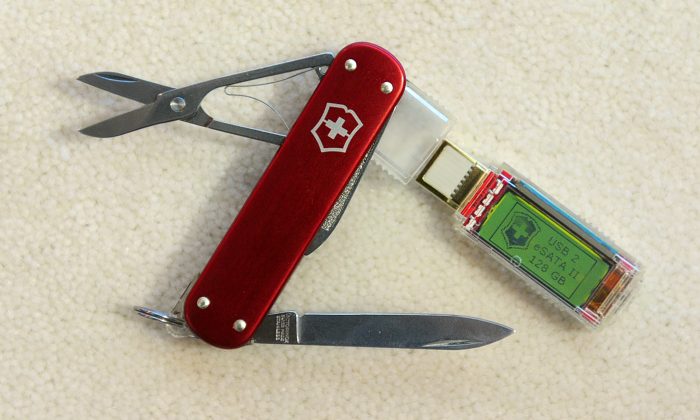 5th Grader Swiss army knife: A California 5th grader was suspended for bringing a Swiss army knife on a school camping trip, it was reported.
Braden Bandermann, or Cupertino, Calif., was with Garden Gate Elementary School's week-long camping trip in a wooded area north of San Francisco, the Daily Caller reported.
He took with him a Swiss army knife complete, with a can opener, a toothpick, a nail file, a small pair of scissors, and a blade.
"They called me," father Tony Bandermann told the publication. "They said, 'You have to come and get him. He has a weapon. He needs to be suspended or possibly expelled.'"
Bandermann said that the small blade is what got the boy into trouble.
Principal Brandi Hucko apparently wanted Tony Bandermann to go to the science camp site, located around 100 miles away from where he was, as Bandermann was on a business trip.
"I went to the very same trip when I was a child at the same school, and I had a very similar Swiss Army knife," he said, adding that he doesn't think the knife is a threat. "In fact, most of the kids did."
Bandermann said that his son was suspended at the camp, was isolated in a teacher's lounge area, and had to eat by himself for a day, missing camp activities.
"This is not Sandy Hook," he said. "Get real. He brought a stupid Swiss Army knife to camp."
There have been several recent incidents of school's suspending children over questionable items.
In West Virginia, a student was suspended and arrested over wearing an NRA T-shirt to class.
Jared Marcum, 14, who wore a shirt that said "Protect your right," is fighting his punishment, his father told Fox News this week.
"I don't see how anybody would have an issue with a hunting rifle and NRA put on a T-shirt, especially when policy doesn't forbid it," father Allen Lardieri said.
The school dress code reportedly does not have a stipulation against gun images.
"I will go to the ends of the earth, I will call people, I will write letters, I will do everything in the legal realm to make sure this does not happen again," Lardieri said.