At least 59 people were shot and six died during another weekend of violence in Chicago, according to reports on Aug. 20.
ABC7 in Chicago reported that the shootings took place from 5 p.m. on Aug. 17 to the morning of Aug. 20.
In the last fatal incident over the weekend, two victims, aged 16 and 17, were found late on Aug. 19 in a field on East 131st Street.
#BREAKING overnight: two teens reported missing on Friday are found in an empty field on the far south side of #Chicago. Family identifies high schooler Raysuan Turner as one of the victims. #chicagoIL #chicagocrime #chicrime @cbschicago @Chicago_Police pic.twitter.com/I06qxTSSlH

— LAUREN VICTORY (@LaurenVictory) August 20, 2018
The family of one of the victims, Raysuan Turner, said the 16-year-old went missing days ago. He was found along with 17-year-old Darnelle Flowers, according to the ABC7 report.
On the night of Aug. 19, five people were wounded by gunfire after a softball game in Chicago's Grand Crossing neighborhood. The incident took place at around 11 p.m. on South Dante Ave. when a black van pulled up and someone inside the van began shooting. One of the victims is in serious condition, police said.
"It's been plenty decent, until now," said a woman, in reference to the softball game shooting, according to the Chicago Tribune. She said that her neighbor's son was shot. She added: "We try to stay positive."
"These individuals that keep pulling these triggers just feel like they can continue to do it because they are getting away with it," Chicago Police Superintendent Eddie Johnson said of the weekend violence.
The shootings took place despite an additional 600 police officers patrolling the streets, CNN reported. "But the simple fact of it is, the police department can't do it alone," Johnson said.
He called on witnesses or people who know the victims to speak out, to break the culture of silence.
"We already have three persons of interest in custody from weekend incidents," Johnson said, adding that more arrests are expected in connection with the shootings. Twenty-nine people have been arrested on gun charges, he said, adding that as of Aug. 17, 83 illegal guns were seized.
"But we really have a lot more work to do," Johnson added, "and we need everyone—and I mean everyone—to come to the table."
The first fatal shooting took place in Englewood, when a 26-year-old man was shot in the back on West 72nd Street on Aug. 18, said police. The victim, who was identified as Matthew Hudson, was taken to Advocate Christ Medical Center, where he died.
The Chicago Tribune noted that 1,944 people have been shot in 2018, which is 469 fewer than 2017. But over one weekend in early August, 66 people were shot, 12 fatally, with local officials citing gang violence.
"The city of Chicago experienced a violent night," Bureau of Patrol Chief Fred Waller said on Aug. 8, CNN reported. "Some of these instances were targeted and were related to gang conflicts in those areas."
Johnson said, "These shootings are not random, they're fueled by gang conflicts. We know who they are and we continue to send a message that it's OK to commit these crimes by not doing anything as a community. We are all supposed to be on the same side. CPD can be better, but this city can be better."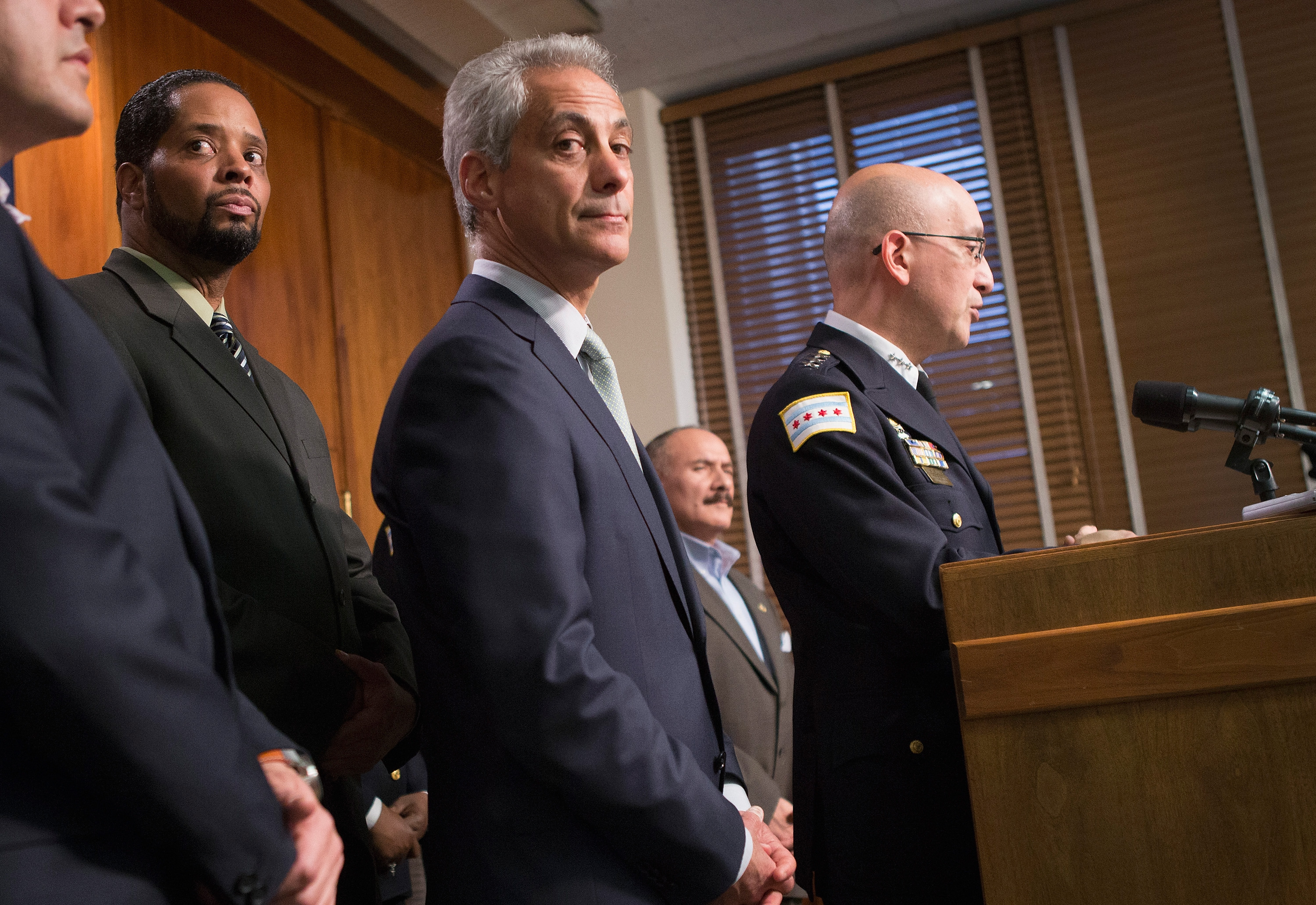 Mayor Emanuel Under Fire
The rash of shootings has placed more pressure on Mayor Rahm Emanuel, who served as White House chief of staff during the Obama administration. He's been Chicago's mayor since 2011.
Earlier in August, the mayor deflected questions about police staffing, when discussing the frequency of gun violence in the city.
"This may not be politically correct," he said, according to Fox News. "but I know the power of what faith and family can do. … Our kids need that structure. … I am asking … that we also don't shy away from a full discussion about the importance of family and faith helping to develop and nurture character, self-respect, a value system and a moral compass that allows kids to know good from bad and right from wrong."
He added: "If we're going to solve this … we've got to have a real discussion. … Parts of the conversation cannot be off-limits because it's not politically comfortable. … We are going to discuss issues that have been taboo in years past because they are part of the solution. … We also have a responsibility to help nurture character. It plays a role. Our kids need that moral structure in their lives. And we cannot be scared to have this conversation."