Not everyone who evacuated in Florida brought their pets with them.
Animal authorities in Palm Beach County reported finding and successfully rescuing 49 dogs and two cats in the past 48 hours, NBC affiliate WECT reported.
What's worse is that those pets were not simply left inside their homes.
Palm Beach County Director of Animal Care, Diane Suave, told WPTV that they found many of the animals tied down with no way to escape.
"They are left in a yard, in a pen they cannot escape from or tethered to trees or poles," she told CNN affiliate WPTV.
Some were left tied to trees or cars outside, others were found trapped in fenced-in yards or locked inside crates. All the animals were owned by Florida residents who evacuated their homes as Hurricane Irma approached.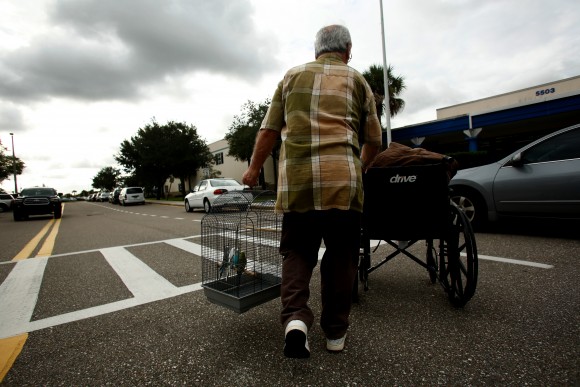 Suave told WPTV that animals left outside during a hurricane face a great risk of injury.
"Even a tiny bit of sand can hurt an animal when it's traveling through 100-plus mph winds," she said.
Suave also said that a separate group of 42 pet owners turned in their pets to animal care on Friday, Sept. 8 before Irma hit Florida.
She said the owners surrendered their pets because they could not take them with them to shelters or higher ground. She said turning in pets beforehand is a much more humane solution compared to leaving them tied up or confined.
Florida State Attorney Dave Aronberg said leaving pets behind when evacuating is a violation of the law.
"This is a prime example of animal cruelty," he said. "We will find you, and we will prosecute you."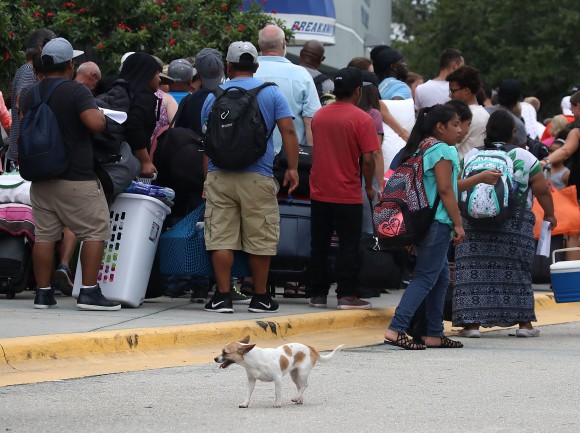 That message was echoed by Suave.
"It's unconscionable," she told WECT. "We will not stand for it here in Palm Beach County."
Three days ago, Palm Beach County (PBC) announced that it had a designated pet shelter.
"There is 1 designated pet shelter in PBC, Gov. Scott has asked for all hotels in PBC to lift their pet restrictions. #PBCIrma #Irma" the county said in a Facebook post on Sept. 7.
"PBC's pet-friendly shelter is located at West Boynton Recreation Center, 561-233-1200. #PBCIrma #Irma."
On Saturday, Sept. 9, animal control officers in southern Florida were pulled off the roads as Hurricane Irma got closer to making landfall.
Suave said that no animal control officers would be allowed to rescue animals once the storm's winds reach a sustained 35 mph.
"We are asking the public, if it is safe, [to] consider sheltering any animals you see left outside," she told WPTV.
From NTD.tv