Alex Azar, head of the Department of Health and Human Services (HHS), said on Monday that by the end of January, some 50 million Americans could have received their first shot of the Pfizer-BioNTech COVID-19 vaccine.
Azar made the remarks at a vaccine kickoff event at the George Washington University Hospital, which received its first shipment of the vaccine on Monday morning. Developed by Pfizer and German partner BioNTech, the COVID-19 vaccine won emergency use authorization on Friday.
"We literally have millions of doses right now getting out there to the American people," Azar said. "And by next week, we believe we could be having a second vaccine."
Co-developed by Moderna and scientists from the National Institute of Allergy and Infectious Diseases (NIAID), the second vaccine is pending approval for emergency use, with a review by the Food and Drug Administration (FDA) expected on Dec. 17. If it's approved, it will begin shipping immediately and will be provided at no cost to Americans.
Azar said that by the end of this year, 20 million Americans could be vaccinated and that, by the end of January, 50 million Americans could have had a first vaccination.
"By the end of February, what you saw today could be replicated a hundred million times. A hundred million shots in arms between the first and booster vaccine," he said.
The vaccine is administered in two doses about three weeks apart.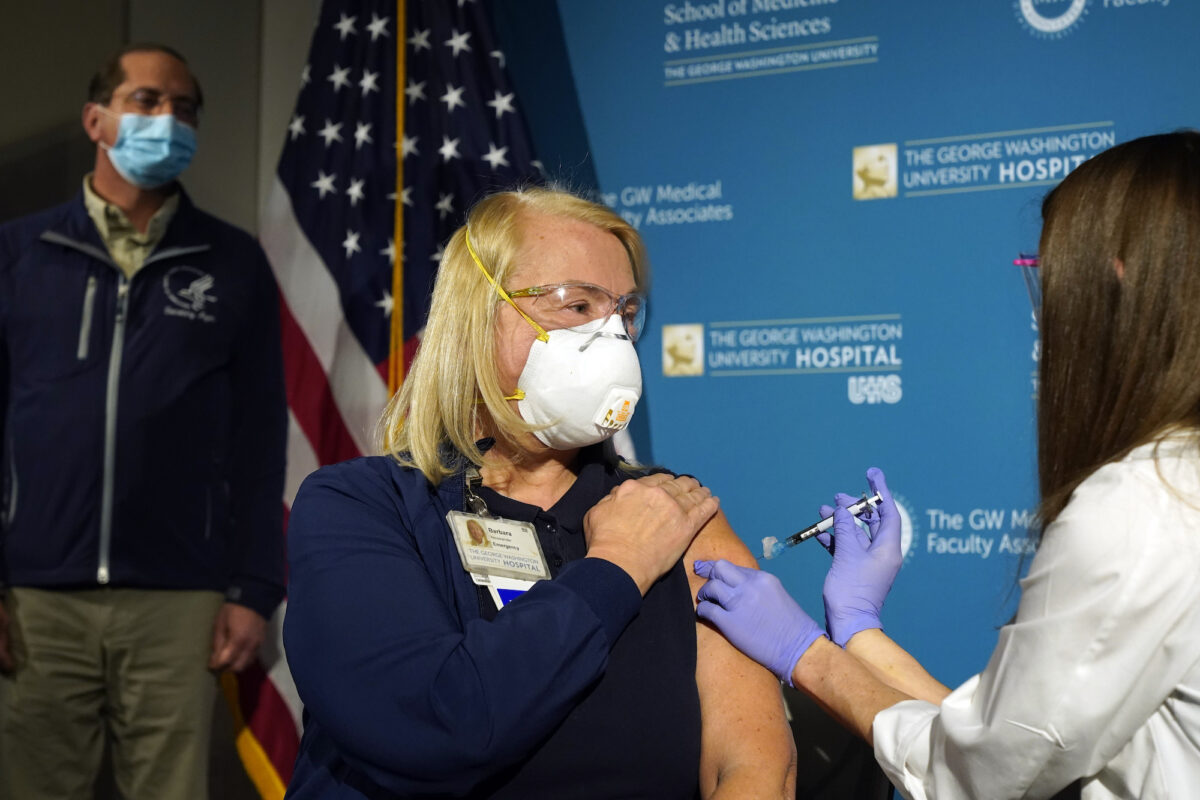 At the ceremony, Azar thanked the team of doctors, researchers, and scientists at George Washington University for their contributions to the development of COVID-19 vaccines and called the start of administering the vaccination "an extraordinary major achievement that our country has delivered this week."
While hailing the vaccines as "the light at the end of the tunnel," Azar cautioned against relaxing other public health measures to curb the spread of the CCP (Chinese Communist Party) virus.
"But all of that hope doesn't matter if we don't bridge to that point, which means we need every one of you to practice the responsible behaviors of washing your hands, watching your distance, wearing your face covering when you can't watch your distance," he said.
Azar also urged people to avoid indoor gatherings, overcrowded indoor restaurants and bars, and household gatherings that have individuals from other households.
"We need you to be vigilant," he said.
By day's end on Monday, vaccine shipments had made it to nearly all of the 145 distribution sites nationwide that had been pre-selected to receive the initial batch of doses, with a number of major hospital systems launching immunizations immediately.
A New York City intensive care unit nurse on Monday became the first person in the United States to receive the COVID-19 vaccine, saying she felt "healing is coming."
Sandra Lindsay, who has treated some of the sickest COVID-19 patients for months, was inoculated at Long Island Jewish Medical Center in the New York City borough of Queens.
"It didn't feel any different from taking any other vaccine," Lindsay said. "I feel hopeful today, relieved. I feel like healing is coming. I hope this marks the beginning of the end of a very painful time in our history."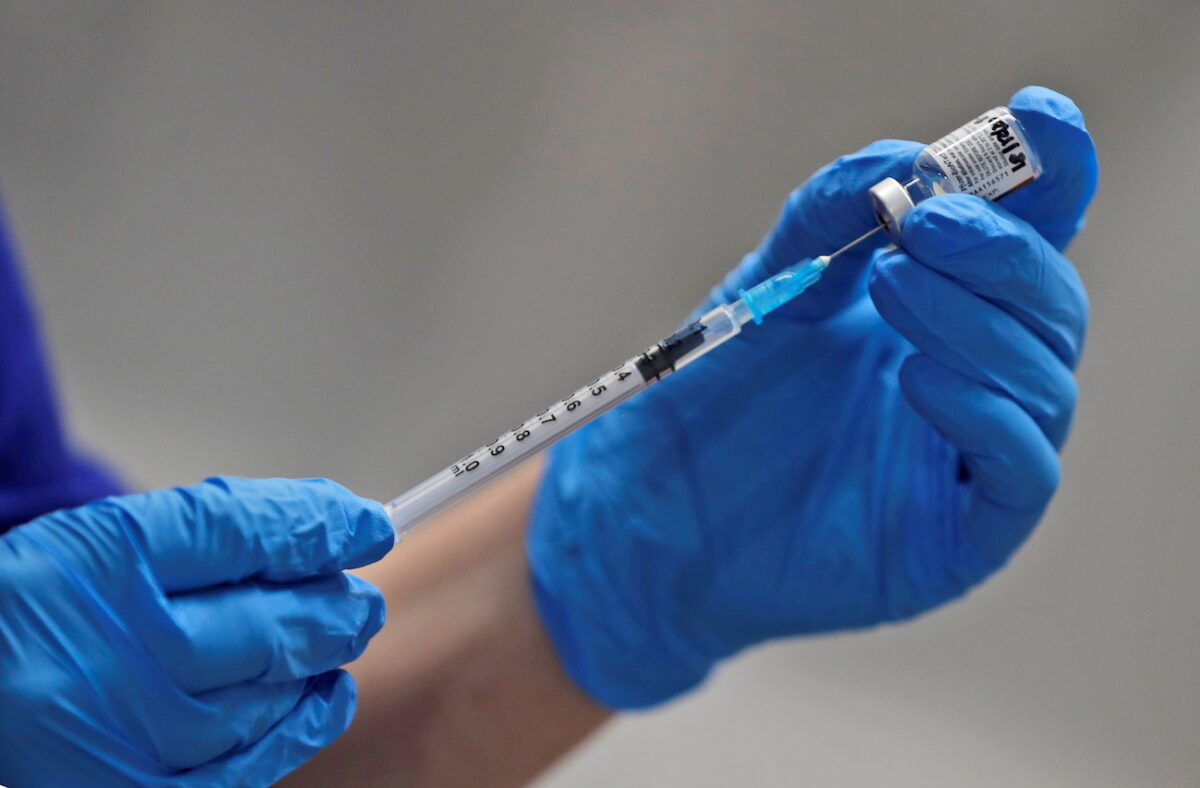 Ahead of the FDA's emergency use approval, the agency issued a detailed analysis (pdf) that concluded the Pfizer-BioNTech vaccine "met the prescribed success criteria."
Regarding safety, the FDA reviewed data from some 38,000 participants aged 16 and older, and found "a favorable safety profile, with no specific safety concerns identified that would preclude issuance of an EUA [emergency use authorization]," according to the analysis.
The analysis did note, however, that "there are currently insufficient data to make conclusions about the safety of the vaccine in subpopulations such as children less than 16 years of age, pregnant and lactating individuals, and immunocompromised individuals."
People who took part in the study did experience a number of side effects after taking the vaccine, with the FDA noting the most common were injection site reactions (84.1 percent), fatigue (62.9 percent), headache (55.1 percent), muscle pain (38.3 percent), chills (31.9 percent), joint pain (23.6 percent), and fever (14.2 percent).
Several experts who sit on an advisory panel that voted on Dec. 10 to recommend the Pfizer-BioNTech vaccine for emergency use authorization have expressed concern about the vaccine's potential effects on teenagers, arguing that there isn't enough safety data to conclude it is safe for those aged 16 to 17.
People with some allergies should not get the newly approved vaccine, however, according to FDA Commissioner Dr. Stephen Hahn.
"Our conditions for use, is what we call them, specifically states that, if you have an allergy to any component of the Pfizer/BioNTech vaccine, you should not receive it," Hahn said on CNN's "State of the Union."
According to a fact sheet (pdf) from the FDA for health care providers, no one who has a known history of a severe allergic reaction, or anaphylaxis, to any component of the newly approved vaccine should get injected.
The components are listed as follows: lipids (0.43 mg (4-hydroxybutyl)azanediyl)bis(hexane-6,1-diyl)bis(2-hexyldecanoate), polyethylene glycol, N,N-ditetradecylacetamide, 1,2-distearoyl-sn-glycero-3-phosphocholine, cholesterol, potassium chloride, sodium chloride, monobasic potassium phosphate, dibasic sodium phosphate dihydrate, and sucrose.
Zachary Stieber contributed to this report.