There's a 50-50 chance to launch the SpaceX rocket successfully on Saturday, NASA officials said Friday.
The scheduled May 27 launch was scrubbed because of unfavorable weather conditions. The next instantaneous launch window is 3:22 p.m. Eastern Time on May 30.
The build-up to the planned launch of the Falcon 9 rocket—built by Americans and cleared to take two astronauts to the International Space Station in the first manned launch from U.S. soil in nine years—drew thousands of viewers online and President Donald Trump traveled to Florida to watch in person.
Trump plans on returning Saturday, when NASA hopes to launch. NASA Administrator Jim Bridenstine, however, held out the possibility of waiting until Sunday or even later if conditions aren't right.
"There will be no pressure, we will launch when we are ready," he told reporters at a press conference.

The limitations set by SpaceX and NASA officials were exceeded on Wednesday.
"We had too much electricity in the atmosphere and the challenge there is not that we were in a lightning storm or anything like that. The challenge is that a launch could, in fact, trigger lightning. The rocket itself could become a lightning bolt," Bridenstine said.
A successful launch would mark the return of spaceflight to the United States and the final certification for later flights to the Moon and Mars.
Astronauts Doug Hurley and Bob Behnken will be carried on the Crew Dragon Capsule, propelled by the Falcon 9 rocket, to the International Space Station (ISS), a football field-sized laboratory that orbits around the Earth at 17,500 miles per hour. SpaceX built the rocket and capsule and NASA is the California-based company's customer, giving the space agency final say on whether to launch.
Most of the rotating crew of astronauts on the station are Americans or Russians. America relied on Russia for the past nine years for transportation to and from the ISS.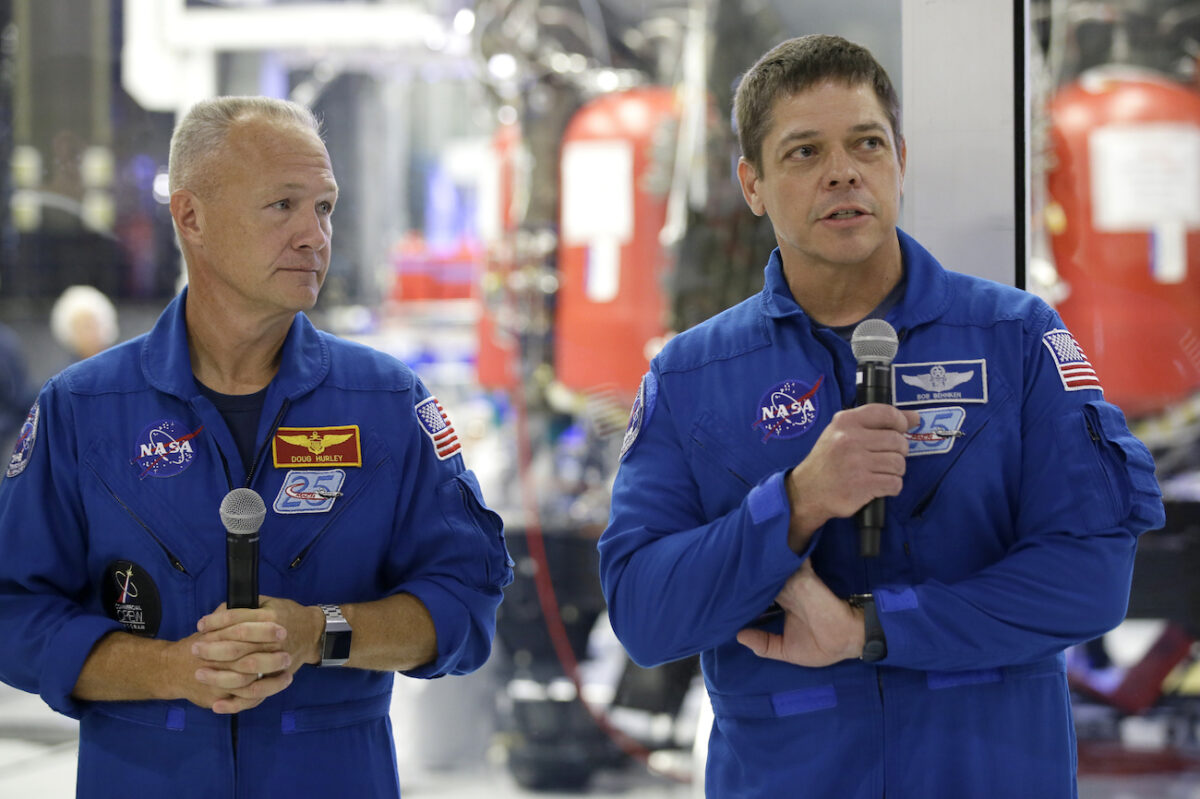 Another Crew Dragon flight is tentatively scheduled for Aug. 30, depending on how the test flight goes.
Setting the time of day of launch involves the sleep cycle of the crew, making sure they're not in a critical portion of the flight when they've been awake for 24 hours. The cycles of the astronauts on the station also need to match.
"All of these things that we're balancing have to match. So we have these very unique opportunities of time," Bridenstine said. "Your launch window is not a window at all. It's instantaneous. And if you don't meet it, you don't go."
Hurley and Behnken are in great spirits, he said, and ready to go. They're spending time thinking about what's coming.