A 5-year-old was diagnosed with a virus that killed a woman last month.
The Massachusetts Department of Public Health said that laboratory testing confirmed two new cases of Eastern Equine Encephalitis (EEE), a woman in her 60s and a girl under the age of 18, bringing the total number of cases in the state to seven in humans, already higher than the number of cases reported nationwide last year. Nine other cases have been confirmed in animals in Massachusetts.
As a result of the new cases, the risk level in Framingham, Marlborough, Northborough, and Sudbury has been raised to critical and the risk level in Berlin, Boylston, Hudson, Maynard, Stow, and Wayland has been raised to high, the department said.
There are now 36 communities at critical risk and 42 at high risk.
"Even though temperatures have cooled off, it is not unusual to see human EEE cases confirmed in September," said Public Health Commissioner Monica Bharel in a statement. "This is why we continue to urge the public to take seriously the threat that mosquitos can pose and to take steps to avoid being bitten."
Police officials in Middlesex County said the female minor is 5 years old, reported Boston 25. She's in critical condition in the hospital.
The adult woman was also in the hospital.

Because of the girl's virus contraction, Sudbury scheduled spraying for the entire town.
Spraying would be conducted from trucks and by workers with backpack sprayers on Sept. 9 and Sept. 10, the East Middlesex Mosquito Control Project said. The project uses a spray that contains Anvil, a pesticide.
Fear has gripped some residents, who routinely spray themselves and their children with insect repellant before going outside.
"My youngest daughter is really afraid of a mosquito. I mean, she'll see a mosquito and say, 'I don't want to die,'" local parent Michelle Letcher told WCVB.
Spraying for mosquitoes has occurred across the state as part of the effort to stem the virus. Sudbury officials also asked restaurants not to let people sit outside in the wake of the new case in the town. State officials have urged people to be cautious and avoid being outside, if possible, around dawn and dusk, wear long-sleeved clothing, and take other measures to curb mosquito bites.
A spokesperson from the Massachusetts Department of Public Health told Boston 25 that the girl and woman likely got the disease prior to scheduled sprays in the area.
"What I really prefer people to focus on is not the symptoms but the prevention in the first place," said Dr. Catherine Brown, an epidemiologist with the department. "So, if you're taking all the appropriate steps to avoid mosquito bites, then you don't have to spend too much time worrying about symptoms."
She said the virus is fatal in up to 50 percent of cases; within the state, there's been a 40 percent fatality rate in the last few years.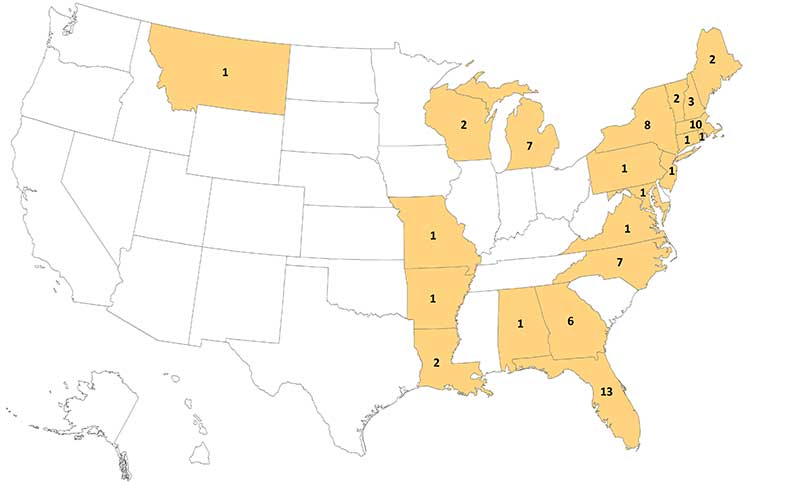 Laurie Sylvia died in late August from the virus in Massachusetts.
Eastern Equine Encephalitis is a rare virus that causes brain infections, according to the Centers for Disease Control. Approximately 30 percent of people with EEE die and many survivors have ongoing neurologic problems. Only six cases were reported nationwide in 2018; the peak since 2009 was in 2012, when 15 cases were reported.
Symptoms typically appear after four to 10 days and include chills, fever, and malaise. The illness can last one to two weeks. Death usually happens two to 10 days after symptoms start appearing "but can occur much later," the agency stated.
"Of those who recover, many are left with disabling and progressive mental and physical sequelae, which can range from minimal brain dysfunction to severe intellectual impairment, personality disorders, seizures, paralysis, and cranial nerve dysfunction. Many patients with severe sequelae die within a few years."