5 Things You (Probably) Haven't Heard About Dubai
November 16, 2012 2:03 pm Last Updated: November 21, 2012 7:17 pm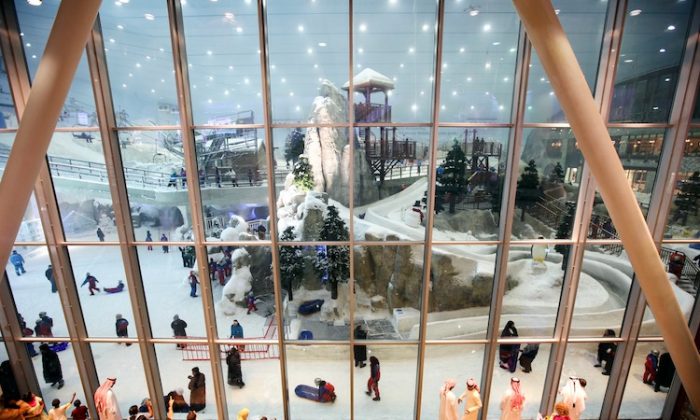 A boom in the leisure and luxury-based tourism industry has given the United Arab Emirates (UAE) a lot of attention in recent years.
But it is Dubai, one of the seven emirates, that has been standing out. Over the past decade this small emirate has gained the world's attention time and again by building architectural marvels, such as the Burj Khalifa, the world's tallest building, and the Burj Al-Arab which is a semi-submerged seven-star hotel.
Beyond the headlines of Dubai's rapid growth, there are some things you might not know.
Dubai Is Tax Free

Not only in Dubai, but also in the other six emirates of the UAE, residents pay no taxes on income, capital gains, or property. In the Arab world, taxes are considered "unearned income," and anything that is unearned is forbidden. There is also no sales tax on products. However, citizens are required to to pay so-called security fees. And there are taxes on alcohol and other products, which are considered "haram" or forbidden.
Going to Malls is a National Pastime

Arguably the main leisure activity in Dubai—for locals and tourists—is going to malls. One big attraction is the climate controlled environment, providing a reprieve from the oppressive heat. They also offer almost endless shopping in some of the world's biggest and most elaborate malls. Take the Dubai Mall—which is the world's largest—not only does it have 1,200 shops and over 160 food and beverage outlets, it also holds an Olympic-sized ice rink, a 5-star Hotel, and an aquarium that has the largest viewing panel in the world. Oh, and yes, there are also 14,000 undercover parking spots where an attendent with a mini, mobile car-wash machine can be hired to clean your car while you shop.
Air Conditioned Bus Stops

Dubai gets hot—extremely hot. With temperatures that can reach up to 122 Fahrenheit (50 degrees Celsius) in the summer, standing in the sun waiting for the bus or cooking in a bus shelter are not pleasant prospects. That's why in 2006, authorities started with the construction of air conditioned bus stops. Dubai currently has 800 air conditioned bus shelters.
Enforced Propriety

Although Dubai is home to some of the world's most modern and glittering architecture and is extremely keen on attracting more tourists and expats, it has very strict laws for personal conduct. When it comes to consuming alcohol, it is only allowed in places that have an alcohol permit— generally, only bars and restaurants with at least four stars. Public decency is considered extremely important in Dubai. Public displays of affection are taboo: couples holding hands or kissing in public could get them in serious trouble. When it comes to clothing, guidelines forbid miniskirts or any clothes that are low cut or transparent.
Population Dominated by—Mostly Male—Ex-Pats

Dubai has a population of 2 million people, making it the most populated emirate of the UAE. But just like the other emirates, Dubai consists primarily of foreigners. Of the entire population of the UAE, only about 11 percent are nationals, and 89 percent are ex-pats (2010).  And of those ex-pats, the vast majority are men brought in to work in the construction industry, which accounts for one-third of all jobs in Dubai. The result is a highly skewed demographic—about 77 percent of Dubai's population is male.
The Epoch Times publishes in 35 countries and in 19 languages. Subscribe to our e-newsletter.