The Los Angeles County Sheriff's Department (LASD) is seeking the public's help to identify a group of suspects who allegedly stole money from ATMs in Marina del Rey in 2018.
The five suspects captured on surveillance camera, including three males and two females, were said to use a hacking device to withdraw about $15,000 cash from multiple ATMs, according to a statement released on Jan. 30 by the department.
The incidents occurred on Nov. 29 at 9:21 p.m. and on Nov. 30 at 1:18 p.m. respectively. Both of the incidents were at the Marriott Hotel at 4100 Admiralty Way, Marina del Rey Sheriff's Station said in a Facebook post on Dec. 28, 2018.
"The suspects are believed to be involved in a similar incident on Sept. 12 at 4111 Via Marina in Marina del Rey, where they also withdrew over $15,000 in cash," the statement also said.
Investigators said the suspects are believed to be either White or Hispanic.
The authorities encouraged people with information about these incidents to contact the Los Angeles County Sheriff's Department's Marina del Rey Station at (310) 482-6000.
People may also call "Crime Stoppers" by dialing (800) 222-TIPS (8477) to provide information anonymously or download the "P3 Tips" mobile app on Google play or the Apple App Store or by using the website http://lacrimestoppers.org.
More ATM Cash Stolen
In 2016, using fake credit cards that were forged with data stolen from about 1,600 credit cards, a group of people swiped $13 million within three hours from thousands of ATMs in Japan, according to a report from the Epoch Times.
The suspects withdrew the maximum amounts of 100,000 Yen (about $913) from ATMs in Tokyo and other prefectures in Japan on Sunday, May 15, at about 5 a.m.
In three hours they made over 14,000 withdrawals from 1,400 ATMs in convenience stores.
The report says that to steal credit card information, the two most common methods hackers use is breaching the systems of companies that handle credit card data and skimming, which is copying credit card information by installing a small device on the card slot on an ATM.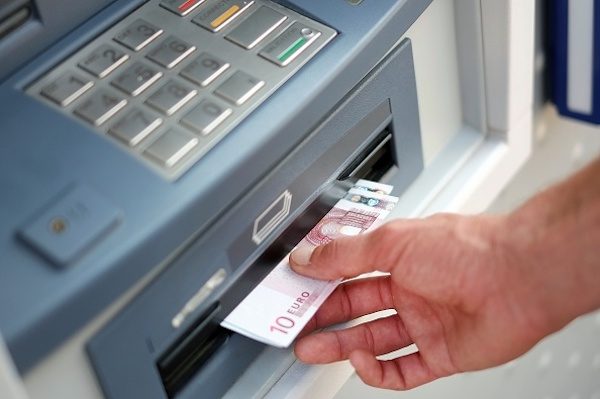 In 2015, another Epoch Times' article reported that a group of cyber-criminals stole as much as $1 billion dollars from over 100 financial institutions over 2 years via a phishing campaign targeting bank employees.
The hackers used phishing to trick employees into clicking on an infected attachment in order to gain access to the system and observe how the bank clerks worked.
The first method of theft was to inflate a legitimate account's balance then transfer the excess to the hackers' accounts in China or the United States. The second was to have ATM machines dispense cash directly to the hackers.
One bank lost $7.3 million from an ATM attack, and another lost $10 million through fraudulent transfer schemes.