A 25-year-old man has been arrested after he fatally shot his ex-girlfriend, her new boyfriend, and her family members at an Alpine resort town in Austria, according to police.
The suspect, named only as Andi E, allegedly had a jealous row with his ex-girlfriend and her new boyfriend at a restaurant in the ski resort town of Kitzbühel, before heading to her family home in the early hours of Oct. 6.
The door was answered by his ex-girlfriend's father, 59, who he immediately shot. He then retrieved a pistol and went to the brother's bedroom to shoot him and the mother, 51, before climbing over a balcony to his 19-year-old ex-girlfriend's room, where he fatally shot her and her boyfriend, 24.
The pair ended their relationship two months prior to the attack, reported Vienna-based newspaper Kurier.
Local police officers said in a press conference on Sunday that the 25-year-old admitted to killing the 19-year-old, her parents, brother, and her new boyfriend.
He reportedly approached officers at a police station and said, "I have just murdered five people."
"He put a gun and a knife on the counter and claimed that he had just killed five people," Walter Pupp, a prosecutor, told The Times of London.
Mayor Klaus Winkler told Kurier the resort town, east of Innsbruck, has never had such an "incredible tragedy."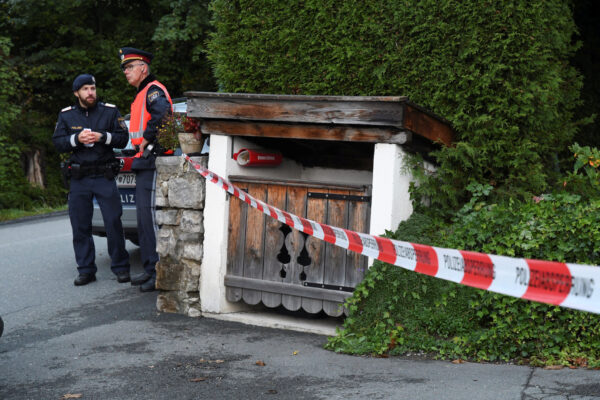 "We are all shocked and deeply saddened," he told Austrian news agency APA.
The dispute between the suspect, his former girlfriend, and her new boyfriend had been "pacified," police said, reported German news outlet Bild.
However, at around 4 a.m. he visited the family home where his ex-girlfriend's father opened the door and reminded the 25-year-old that they were no longer together, and left.
He quickly went back home to get his brother's pistol and a knife, which were both owned legally and had been kept in a safe, before returning to the home at around 5:30 a.m. when he started the attack, police said.

According to police, his ex-girlfriend lived in a separate apartment attached to the family home. As its door was locked, he went outside and entered her room through a balcony door.
The suspect had not been drinking, police said, according to The Times of London.
The small town of Kitzbühel is located about 60 miles (100 kilometers) east of Innsbruck and is a popular winter holiday destination for upper-class clientele from Austria and abroad, who visit the region during its ski season, which lasts from mid-October to early May.