Five British nationals held by Russian-backed forces in Ukraine have returned to the UK after being released as part of a prisoner swap.
The unexpected prisoner swap on Sept. 21 involved almost 300 people with 10 foreigners among them, including five British nationals, two U.S. nationals, and a Croatian, a Moroccan, and a Swedish national.
As part of a deal brokered by Saudi Arabia, British nationals Aiden Aslin, John Harding, Dylan Healy, Andrew Hill, and Shaun Pinner have returned home and reunited with their families, non-profit organisation the Presidium Network confirmed on Thursday.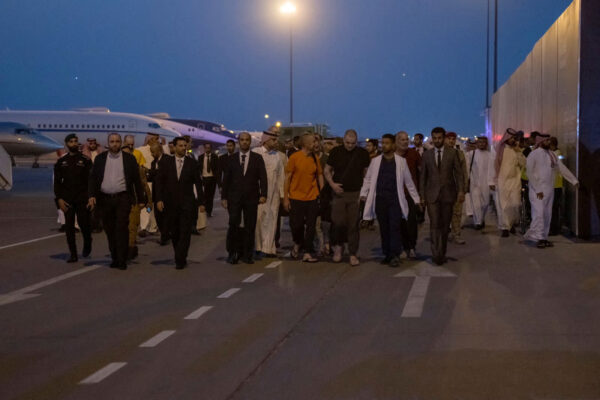 UK Prime Minister Liz Truss, who is visiting New York for a United Nations summit, called it "hugely welcome news."
She thanked Ukrainian President Volodymyr Zelenskyy and Saudi Arabia for their efforts in securing the release of the prisoners.
"Russia must end the ruthless exploitation of prisoners of war and civilian detainees for political ends," she added.
Russia released 215 Ukrainians, which included a large number of Azov fighters who sought to defend a besieged steel plant in the Ukrainian port city of Mariupol for months, before the group evacuated from the city in May in surrender to pro-Russia forces.
In return, Ukraine released 55 Russians and Ukrainians sympathetic to Russia, as well as Viktor Medvedchuk, a pro-Russian Ukrainian oligarch facing treason charges.
'Out of the Danger Zone'
A video later emerged of Aslin and Pinner sitting inside an airliner, in which Aslin said, "We just want to let everyone know that we're now out of the danger zone and we're on our way home to our families."
Pinner interjected, "By the skin of our teeth," as Aslin continued: "We just want everyone to know the good news etc., so thanks to everyone that's been supporting us and whatnot, so it's really muchly appreciated."
Aslin and Pinner were both sentenced to death in July by a court in the self-proclaimed Donetsk People's Republic.
Harding, Hill, and Healy also went on trial last month in the city of Donetsk.
The three, along with Swede Matthias Gustafsson and Croat Vjekoslav Prebeg, all pleaded not guilty to charges of mercenarism and "undergoing training to seize power by force," according to Russian media.
UK Foreign Secretary James Cleverly welcomed the safe return of the British nationals, but said, "Tragically that was not the case for one of those detained and our thoughts remain with the family of Paul Urey."
Urey, 45, is reported to have died in detention in July after being captured by pro-Russian separatists.
The Ukrainian government said in early September that Urey's body, which had been returned, had "signs of possible unspeakable torture."
Mimi Nguyen Ly and PA Media contributed to this report.