1. Pebble Smartwatch
One of the most successful campaigns on crowdfunding website Kickstarter, the Pebble smartwatch grossed more than $10 million in contributions. It got funding in 2012, was released in 2013, and it will launch an app store in 2014. Pebble is a customizable watch that connects to smartphones, providing notifications of text messages, emails, incoming Tweets or Facebook notifications, and more. It sells for $150.
2. Bioshock Infinite


Screenshot of Bioshock Infinite. (Courtesy of Irrational Games)
Developed by Irrational Games, Bioshock Infinite is a first-person shooter video game and is considered one of the best games of 2013. It has sold over 3.7 million copies, and with the developer introducing downloadable content, sales are expected to continue rising.
The level of detail incorporated in the game—such as background movements, skyline travel, entertaining cut-scenes, and smarter opponents—make it one of the most entertaining games of this era. It is considered the most critically celebrated game, and the contributions of creator Ken Levine have earned him the Golden Joystick award for lifetime achievement in the gaming industry.
3. Google Chromecast


(AP Photo/Marcio Jose Sanchez)
In 2013, Google entered many living rooms with one of its most notable products, the Chromecast. It's a 2-inch dongle that can be plugged into the TV to stream Netflix and Youtube content from any device, such as a smartphone or tablet.
It sold out within hours at Google Play, Best Buy, and Amazon.com when it hit the market in July. At a cost of $35.00, this was the best-selling gadget on Amazon in October.
Coming up in 2014, Google has plans to make its software development kit available for developers to integrate Chromecast into their apps. Google also plans to release the product in more countries.
4. Samsung Note 3


(AP Photo/Michael Sohn)
Packed with many interesting features, the Samsung Galaxy Note 3 is certainly a handful at 5.7 inches. The "phablet," somewhere between a smartphone and a tablet, has an Air Command function, which provides quick access to features such as the Action Memo. Action Memo links memos to actions.
The Note 3's scrapbook feature collates memorable moments and the multi-window feature enables a user to operate multiple applications simultaneously, among the Note 3's other benefits. It was released in September and sold 10 million units in the first two months.
5. Google Glass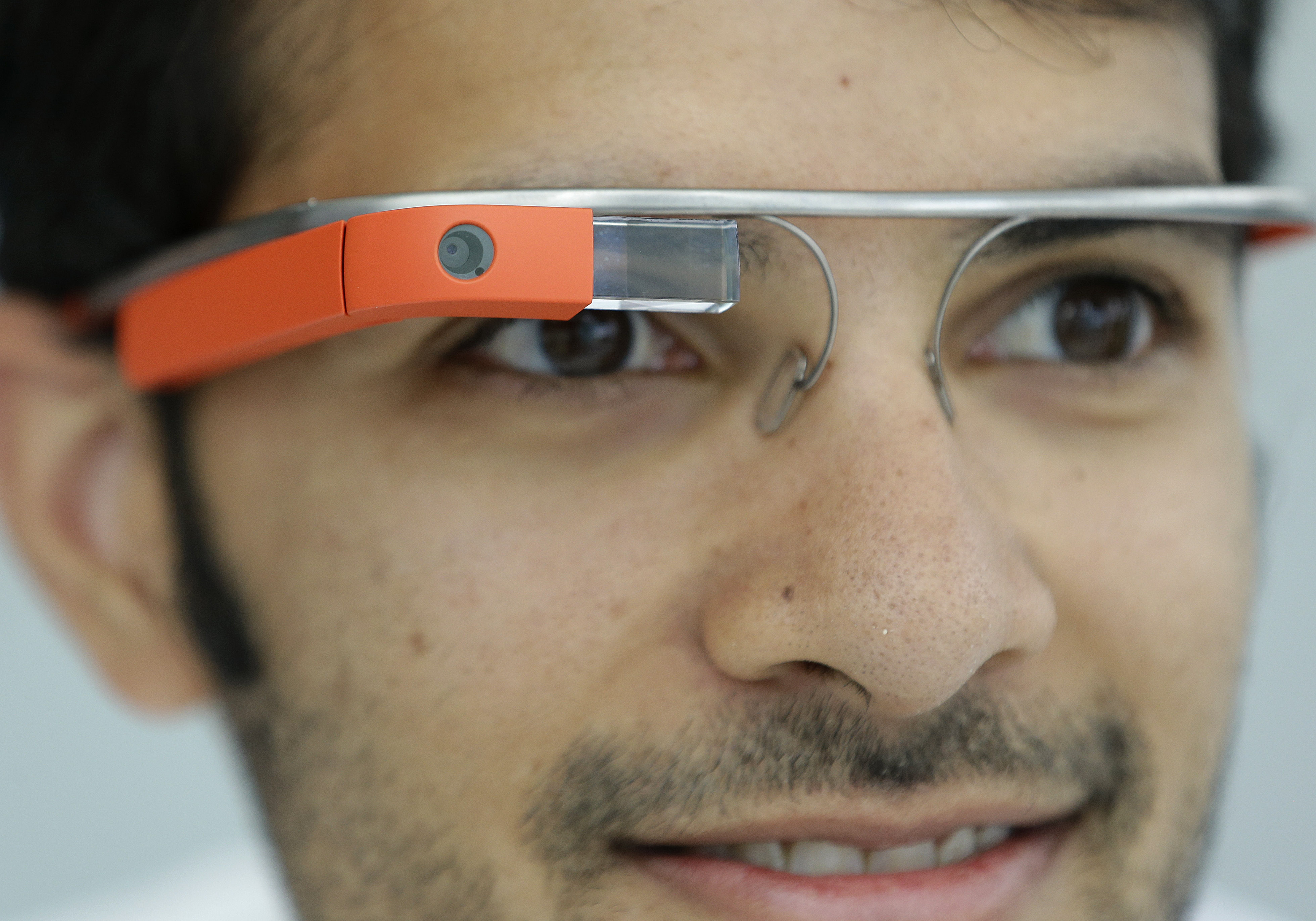 (AP Photo/Jeff Chiu)
Without competition thus far, Google Glass is one of the biggest innovations in the field of mobile wearable technology. It is basically a wearable computer in the form of glasses that enables users to surf the internet, take photos, send messages, record video, and more. It is activated and controlled by voice and gesture.
Google is also planning to introduce features that will enable users to search music and scan playlists.
The product is not yet available to the general public; reports indicate it may be released in early 2014. Volunteers known as Google Glass Explorers, have been invited to buy the prototype and test it, resulting in many videos and reviews posted online.
Certainly an industry-changing technology, the Google Glass has its share of fans and critics, with some venues restricting the use of the product even before its launch. The coming year certainly looks promising and fascinating in terms of mobile computing.
Liberte Media writers contributed to this report. Liberte Media is an online agency that focuses on increasing user engagement through search engine optimization, pay-per-clicks, social media marketing, and content management.