5 Best Alternatives to Google Reader
March 14, 2013 2:08 pm Last Updated: April 2, 2013 3:40 am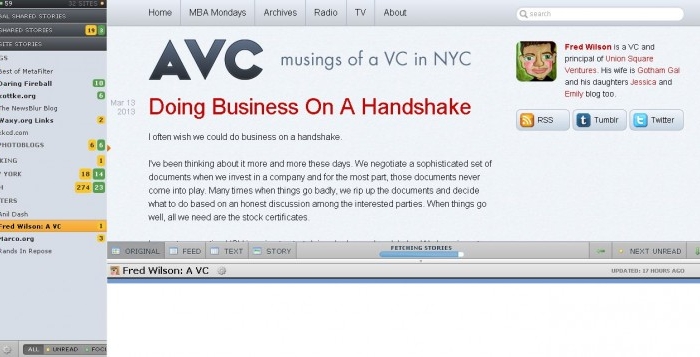 Google Reader, an easy-to-use RSS reader, is powering down. People can use it until July 1, but will have to find a suitable alternative. So what's out there? Here's five of the best we've found.
1. Netvibes 
Netvibes has a clean format that at first glance looks like an upgrade from Google Reader. For basic reader usage (personalization, mobile, real-time monitoring), it's free. If you want social analytics too, it will cost you.
There's a tab at the bottom to quickly share articles and you can add dashboards that you present an all new screen, such as news, social, and finance. Import your Google Reader feeds by exporting the OPML file then clicking add content then import. Now it's in Netvibes.
2. RSSOwl 
RSSOwl currently synchronizes with Google Reader, but will continue after Google Reader's demise. It was developed to be powerful and easy to use, and is available across platforms and in different languages. It looks a little outdated on the surface but should be a strong option for your new RSS reader.
Features include news filters, which automates actions such as moving news into a news bin, and a search engine.
3. The Old Reader
Although it's only in beta right now, The Old Reader is already winning over many users with its free and smooth interface. It's not as easy to add feeds to this reader, and it seems a bit slow, but the team says it's constantly working on improving the reader and adding new features. Also, there's a social aspect built in, with articles shared by your friends under a separate tab. It gives you the option of sharing straight to Facebook.
4. NewsBlur
The surface level is a bit clunky but Newsblur has also introduced a social aspect to a feed reader. You can subscribe to other people on the reader, including anyone in your network on Twitter and Facebook. "It's all about sharing the news you read," said Samuel Clay, who created the system. 
 The downside is, only 64 feeds are available for free users—if you pay $1 to $3 a month (your choice how much) you get an unlimited number.
5. BlogRoll
The warning that popped up—that many visitors are on the site so it might be slow—makes it uncertain how many feeds BlogRoll can support, but otherwise it looks good. The layout is clean. The posts are pushed down as new items pop up, and items you read fade out automatically. The vertical spread format is interesting and feels easy to read.
What's your preference? Leave your comments on the list below, as well as suggestions for other good alternatives to Google Reader.