Approximately 4,838 pounds of beef have been recalled due to possible E. coli O157:H7 contamination, the U.S. Department of Agriculture's Food Safety and Inspection Service (FSIS) announced Tuesday, March 26.
Aurora Packing Company, Inc., an Illinois-based wholesale meat processing and packing company, is recalling the beef heel and chuck tender products produced and packed on Feb. 27. The meat products were distributed for institutional use in Illinois, Iowa, and Wisconsin.
Aurora Packing is a subsidiary of SFA Inc., which in turn is a subsidiary of Japan-based meat company S Foods Inc.
The following products, which bear establishment number "EST. 788," are subject to the recall:
Varying catch weight cardboard box case packages containing bulk pieces of "AURORA ANGUS BEEF BONELESS BEEF – CHUCK TENDER" and case code 61150 represented on the label.
Varying catch weight cardboard box case packages containing bulk pieces of "BONELESS BEEF – HEEL MEAT" and case code 29970 represented on the label.
Varying catch weight cardboard box case packages containing bulk pieces of "BONELESS BEEF – HEEL MEAT" and case code 49970 represented on the label.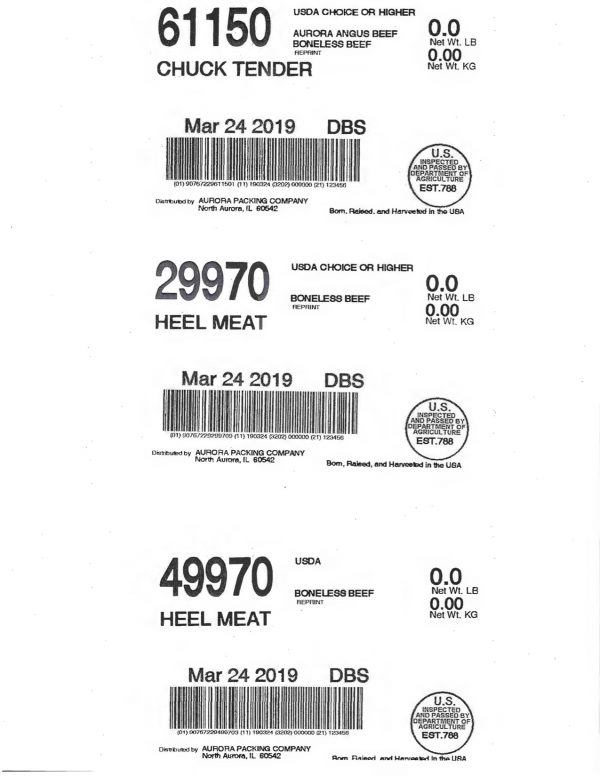 The problem was discovered during traceback activities following routine testing by the FSIS. There have so far been no confirmed reports of illness or other adverse reactions due to the consumption of these products.
The FSIS classified the recall as a class 1 recall, meaning its "a health hazard situation where there is a reasonable probability that the use of the product will cause serious, adverse health consequences or death." They say that some beef products may be in institutional facility freezers and should not be used. Instead, the beef should be thrown away or returned to the place of purchase.
E. coli is a potentially deadly bacterium that can cause dehydration, bloody diarrhea, and abdominal cramps 2-8 days after exposure. While most people recover within a week, some develop a type of kidney failure, hemolytic uremic syndrome, that can affect people of any age but is most common among children under 5 and older adults. Symptoms of kidney failure include easy bruising, pallor, and decreased urine output. If anyone is experiencing those symptoms, they should seek emergency medical services immediately.
Safe food handling helps older adults stay healthy & can protect them from harmful pathogens, like salmonella! Become familiar with the most common food pathogens & their sources to help keep loved ones safe from food poisoning! pic.twitter.com/agA9IL5H2D

— USDA Food Safety (@USDAFoodSafety) March 22, 2019
Other Beef Recalls From E. Coli
Last week, the FSIS issued a class 1 recall for about 54 pounds of raw ground beef products from another Illinois-based company, La Rosita Fresh Market Inc., due to possible E. coli contamination.
The raw ground beef was ground in the store and packaged for consumers behind the meat counter in varying weights on March 13 and 14. The beef was packed in white trays with plastic wrap labeled: "MOLIDA DE RES GROUND BEEF."
The items were only sold at La Rosita Fresh Market, a retail store, located at 1805 W. Algonquin Rd., Mt. Prospect, IL, 60056.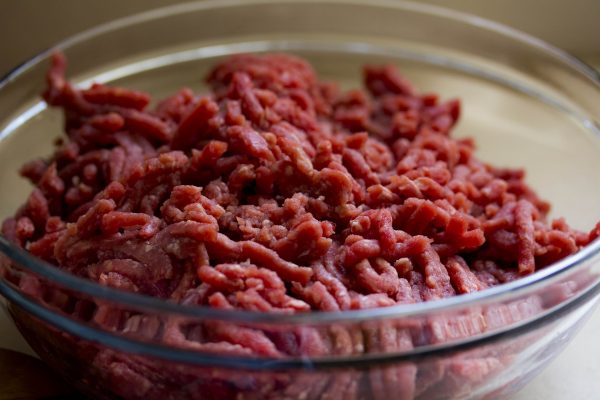 The issue was discovered by FSIS investigators during a routine product sampling. There have been no confirmed reports of adverse reactions due to consumption of the ground beef.
FSIS says that consumers who have purchased the ground beef should not consume it, and instead throw it out or return it. The FSIS is concerned that some product may still be in consumers' refrigerators or freezers.
The FSIS warns that it is not possible to see, smell, or taste harmful bacterias that may cause illness, so consumers should safely prepare all raw meat products whether fresh or frozen. They advise that ground beef should only be consumed when it has been cooked to a temperature of 160 degrees F.