4 Reasons Baseball's Draft Doesn't Have the Same Glamour as the NBA or NFL
June 8, 2015 1:10 pm Last Updated: June 8, 2015 9:43 pm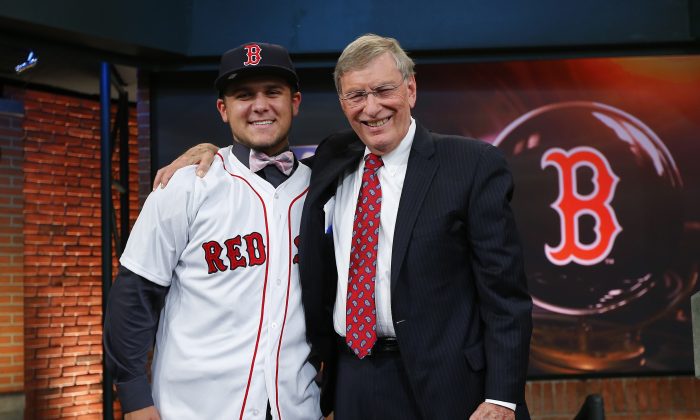 The MLB Draft takes place Monday, and if you're a baseball fan and didn't know that, you're not alone. Few follow it.
Baseball's draft is a far cry from the NBA and NFL Drafts where thousands of fanatics make their annual pilgrimage to the live-televised event every spring and summer, just to see who their favorite team selects—and then boo them (well, if you're a Jets fan anyway).
What's the reason for the low popularity? There are a number of whys.
Related Coverage
1. Few Follow College Baseball
Unlike NCAA football and basketball, college baseball is not very popular. The game is a little different—they use metal bats for one thing—which makes scouting more difficult.
With few fans following it, few know who the big stars are—not that college baseball stardom translates well to professional baseball anyway. For example, the Yankees selected 50 players in the 2009 draft. But six years later, just eight of them have played in the majors, and only one—Brett Gardner—is actually on the team's current roster. 
2. Fewer Follow High School Baseball
High school football and basketball teams aren't followed that well either, but the stars of those teams—who are being recruited by big-name programs—are well-known by the time they're seniors as fans are clamoring for them to commit to their alma mater.
Not so for baseball. Unless one of those star football or basketball athletes are also in the mix as a baseball player—think Dave Winfield, who was drafted by the NBA, NFL, and MLB—chances are they're still anonymous.
Baseball is such a complex game that very few players can go from the draft straight to the big leagues. They have to prove they can play in the minors first—a process that takes a year or two or more for even the best of players. The captain himself, Derek Jeter, toiled away in minor league anonymity for the better part of three seasons before getting called to the bigs in 1995.
There are five levels of minor league baseball, and by the time players reach the majors, where they were drafted, who drafted them, and what position they were even drafted for have long been forgotten. The vast majority will never even see the big leagues. Even the top picks aren't guaranteed a shot at the highest level. Looking back six years ago at the 2009 draft, 16 of the top 50 picks—and two of the top five—have yet to graduate to the majors.
4. Too Many Rounds
The NFL's draft is just seven rounds long, while the NBA has a two-round selection process. Baseball's goes on for 50 rounds. If you don't know any of the first-round stars, then you certainly won't know who the guys picked last are.
But there have been late-round success stories. Former Yankee great Don Mattingly was taken in the 19th round in 1979, while former Mets star Mike Piazza lasted until the Dodgers took him in the 62nd round in 1988 (the draft went an unfathomable 75 rounds that year). Even future Hall-of-Famer Albert Pujols was passed over until the 13th round in 1999.