A four-month-old baby and two children are among those who were shot at a mall in El Paso, Texas, it was reported.
The suspect, who was captured on surveillance video, was later identified as 21-year-old Patrick Crusius, CBS News reported on Aug. 3.
Sergeant Robert Gomez, a police spokesman, said the shooter was taken into custody "without incident," adding there was no longer a threat to the public.
At least 20 people died in the shooting, it was reported.
The gunman in the El Paso, TX shooting has been identified as 21-year-old Patrick Crusius. Sources tell the AP at least 15 people were killed. https://t.co/DL5pW1i1zN

— FOX 9 (@FOX9) August 3, 2019
University of Medical Center of El Paso told CBS that it received 11 victims, including one person who died. Hospital spokesman Ryan Mielke said that they are treating a 4-month-old, a 2-year-old child, and a 9-year-old child at the facility.
Related Coverage
Texas Gov. Greg Abbott described the shooting a "hate crime," reported CNN, adding that the FBI has also opened a domestic terrorism investigation into the shooting.
"This is disgusting, intolerable. It's not Texan," Abbott told reporters. "We are going to aggressively prosecute it both as capital murder, but also as a hate crime, which is what it appears to be, without having seen all the evidence yet."

Meanwhile, El Paso Police Chief Greg Allen said an investigation is underway.
"Right now we have a manifesto from this individual that indicates a possible hate crime," El Paso Police Chief Greg Allen told the El Paso Times. "We don't want to taint the investigation by matter-of-factly saying things right now," he added.
A 2,000-word manifesto-type document was published on an online forum that was allegedly linked to Crusius' Facebook account, the report said.
Adriana Quezada said she was in the women's clothing section of the Walmart with her two children when she heard gunfire.

"But I thought they were hits, like roof construction," Quezada, 39, said of the shots.
Her 19-year-old daughter and 16-year-old son threw themselves to the ground, then ran out of the store through an emergency exit. They were not hurt, Quezada said.
Relatives said a 25-year-old woman who was shot while apparently trying to shield her 2-month-old son was among those killed, while Mexican officials said three Mexican nationals were among the dead and six more were wounded.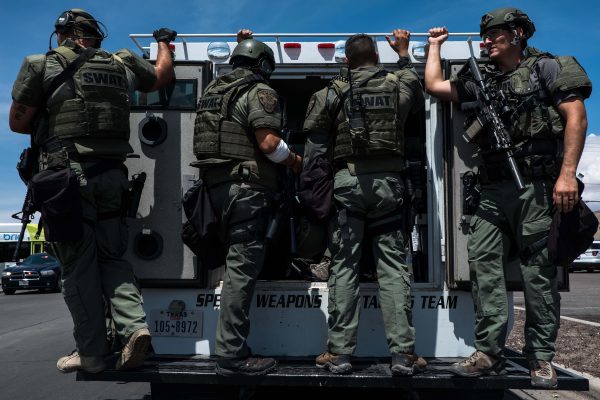 Eleven other victims ages 35 to 82 were being treated at Del Sol Medical Center, hospital spokesman Victor Guerrero said.
Residents quickly volunteered to give blood to the injured. President Donald Trump tweeted: "God be with you all!"
The Associated Press contributed to this report.