With little concern for fingerprints, security cameras, or even a getaway plan, three men robbed a New York jewelry store popular with celebrity rappers in broad daylight on Sunday, making off with $4 million of diamond-encrusted watches, gold chains, and assorted bling.
Detectives released video footage of the brazen heist, which took place in the city's Diamond District around noon on Aug. 25, showing two men pull out silver-colored handguns before restraining staff with zip-ties and duct-tape as they brushed back long braids which they appeared to be wearing as a disguise.
There, the thieves' foresight appeared to end, according to the New York Post, which quoted police sources as saying that they tried in vain to escape in a taxi.
"Nobody would pick them up. They seemed to have it all worked out, except how to get away," one high-ranking NYPD official said, according to the Post.
🚨WANTED for ROBBERY: Do you know these guys? On 8/25/19 at approx 12:02 PM, inside of 28 W 47 St in Manhattan, the suspects displayed firearms and tied up four individuals before taking an undetermined amount of jewelry. Any info call @NYPDTips at 800-577-TIPS. pic.twitter.com/9K4CctRj5n

— NYPD NEWS (@NYPDnews) August 27, 2019
But despite failing to hail a ride, the thieves still got away with two minutes to spare, before the NYPD arrived on the scene.
Three men were involved in the heist. A third, wearing a dark cap, can be seen in the security footage shared by the New York Police Department.
One of the store staff said that the thieves were "very sloppy," according to an earlier NY Post article. "Sloppy thieves because they weren't in coordination. If one guy was saying, 'Get their phones,' another guy was saying, 'Open the showcase.'"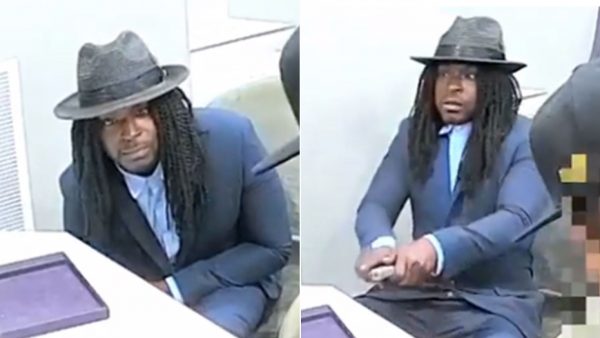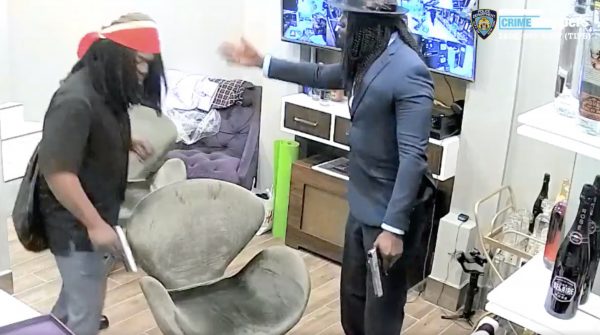 The thieves grabbed so much bling that they had to use backpacks with the jewelry store logo to carry it off.
The jewelry store, Avianne & Co, has a huge following on social media, with over 320,000 followers on Instagram, and is a favorite of celebrities such as Lil Wayne and Nicki Minaj.
According to CBS, staff told police that one of the suspects initially posed as a customer, entering the store around noon.
After the four employees working at the store were tied up, one of them was able to free themselves and call 911, reported CBS.
"The cops took about two minutes to get here, but it was too late," one of the workers told the Post, saying the whole incident lasted around 15 minutes.
One man who was eating at a nearby restaurant told CBS one of the victims of the robbery walked in dazed and shaken, saying his boss had been forced to open up the safe.
"He said they stole like $4 million worth of retail. He sat down to eat. He ate like really quick … You could tell like something bad really happened," Eli Arieh told the station. "He told us, 'Yeah, we got robbed. It was crazy.' He said thank God nobody was injured. He said he was happy to be alive."
Police have not officially commented on the value of jewelry stolen, but the NY Post quoted a high-ranking NYPD source confirming that it was around $4 million.
Stores in the Diamond District in midtown Manhattan are typically shut on Sundays, security patrols are fewer, and the area is relatively deserted.
A police source told the Post that the robbers would be able to fence what they stole from the store, which they say is popular with gang members.
"There's plenty of people out there who would buy it. They'll sell it to other gangbangers," the source said. "Perfect examples would be someone like a celebrity with ties to a gang."