Death Sentence for Delhi Gang Rape Convicts
September 13, 2013 5:17 am Last Updated: September 13, 2013 2:52 pm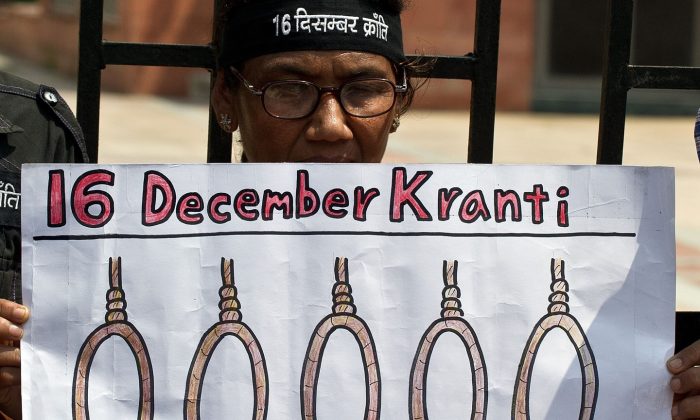 An Indian court sentenced the four men convicted in a Delhi rape case to death, on Sept. 13.
According to Indian broadcaster CNN-IBN, the judge sentencing the four, "In these times when crime against women is on the rise, courts cannot turn a blind eye towards such a barbaric and gruesome crime. There cannot be any tolerance. This crime in every way falls within the rarest of rare categories warranting a death sentence."
The country witnessed mass protests after a 23-year-old paramedic student was raped and brutally assaulted by six men in a moving bus on Dec. 16, 2012 in New Delhi. The girl, popularly known as 'Braveheart,' later died in a hospital in Singapore.
After the Delhi court convicted the four men of rape, murder, armed robbery, and kidnapping of the young woman on Sept. 10, debates were triggered around the country on the anticipated punishment. The sentence was to be awarded on Sept. 11, but was deferred to Friday, Sept. 13.
The youngest of the six, a juvenile, was sentenced to three years of reform school last month.  It is the maximum that can be awarded to a juvenile under Indian law. Another of the accused men killed himself in jail in March this year.
The family of the victim and protesters were demanding the death sentence  to set a precedent for those raping and abusing women in the country. They expressed satisfaction after the four were sentenced to death.
Though mass protests led national and state governments to initiate extra public safety measures for women and also led to policy changes, there is still much to do to stop crimes against women.
"It is ironic that in spite of the reprehensible incident of December 16 last year, the cases of rape have increased in Delhi by 240 percent and molestation by 495 percent this year," said Indian opposition Bhartiya Janta party leader Vijay Goel.  He  and party leader Aarti Mehra spoke in a joint press conference at New Delhi on Sept. 12, according to a report by the New Indian Express.