All models of Fisher-Price's Rock 'n Play sleepers have been recalled after infant deaths were reported.
Last week, the U.S. Consumer Product Safety Commission (CPSC) issued a warning about the product, but it didn't say it was being recalled.
Now, the CPSC announced the recall of 4.7 million Fisher-Price sleepers across the United States. They were manufactured in China, the agency said.
"Consumers should immediately stop using the product and contact Fisher-Price for a refund or voucher," said the agency on April 12.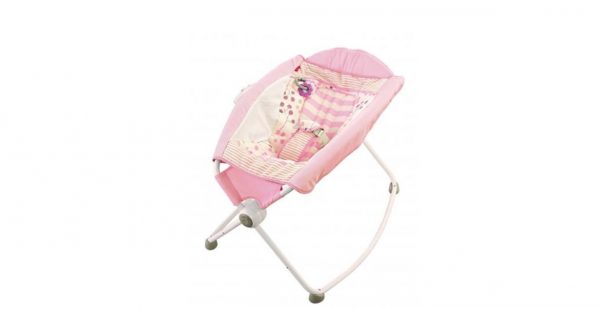 Since 2009, when the product was introduced, more than 30 infant deaths have been reported while babies were wearing Rock 'n Play sleepers.
The deaths happened when the "infants rolled over while unrestrained" or during "other circumstances," the agency said, without elaborating.
Earlier this week, after the CPSC posted a warning but no recall notice, the American Academy of Pediatrics urged the agency to issue a recall. It cited a report from Consumer Reports, which said 32 babies had died in the sleepers.
"This product is deadly and should be recalled immediately," Dr. Kyle Yasuda, the head president of the AAP, said in a press release.
"When parents purchase a product for their baby or child, many assume that if it's being sold in a store, it must be safe to use. Tragically, that is not the case. There is convincing evidence that the Rock 'n Play inclined sleeper puts infants' lives at risk, and CPSC must step up and take immediate action to remove it from stores and prevent further tragedies."
On April 8, Consumer Reports said that many children who died were younger than 3 months of age. The CPSC's warning asked parents not to allow children over 3 months use the sleeper.
"Based on the deaths and injuries associated with the Fisher-Price Rock 'n Play, the product clearly puts infants' safety at risk and should be recalled immediately," said William Wallace, who is a senior policy analyst for Consumer Reports, in a separate press release on April 8. "All other inclined sleepers should be investigated by the Consumer Product Safety Commission."
Urgent @uscpsc warning for parents: Stop using the @FisherPrice Rock 'N Play by the time your baby is 3 months old or starts showing signs of rolling over. @AmerAcadPeds never recommends the Rock 'N Play for routine infant sleep. (1/2) https://t.co/VyQsDeejLx pic.twitter.com/ip8JmydB6l

— HealthyChildren (@healthychildren) April 5, 2019
"To truly protect the public, the CPSC should set strong rules for all infant sleep products, including mandating what medical experts already recommend: a firm, flat surface in a bare crib, bassinet, or play yard," he said.
The AAP, meanwhile, said it doesn't recommend children using "inclined sleep products like the Rock 'n Play, or any other products for sleep that require restraining a baby."
"The AAP advises against using car seats, strollers, or other devices for sleep because of the risk that a baby could roll or turn into an unsafe position and be incapable of moving, leading to suffocation or strangulation," it said.
ATTENTION PARENTS: Fisher-Price has issued a warning after reports of death when infants roll over while using their Rock 'N Play. There have been 10 infant deaths already involved.

Posted by 10TV – WBNS on Friday, April 5, 2019
Earlier this week, following the article from Consumer Reports, Fisher-Price said its Rock 'n Play Sleeper "meets all applicable safety standards."
"We continue to work closely with the Consumer Product Safety Commission regarding the safe use of our products, including the Rock 'n Play Sleeper," a spokesman said. "We will continue to do all we can to ensure that parents and caregivers have the information necessary to create a safe sleep environment for infants."