Six new coronavirus cases have been confirmed in the Australian state of NSW, including three Sydney school students.
NSW Health Minister Brad Hazzard on Monday said two year 10 students from St Patrick's Marist College in Dundas were confirmed to have COVID-19 as well as a year 7 pupil from Willoughby Girls High School.
The year 7 student's mother has also been diagnosed with the virus.
They are among six new cases of the virus in NSW with two men in their 50s also diagnosed.
"Obviously when you have cases at a school, it is cause for concern because we want to make sure that we move as quickly as possible to require the isolation of others who might have had contact with the confirmed case," Hazzard told reporters on Monday.
Catholic Education Diocese of Parramatta executive director Greg Whitby said parents of students at the co-ed St Patrick's Marist College have been asked to pick up their children from the school if possible.
"We couldn't close the school because we have students who may or may not have access to childcare," he told reporters outside the school on Monday.
"We have briefed the staff about the situation, asked those who felt that they had close contact that they might need to self-isolate."
The school will be closed on Tuesday, he said.
Willoughby Girls High School is "temporarily" closed from Monday due to a confirmed case of COVID-19, it said in a statement.
Meanwhile, Epping Boys High School in Sydney re-opened on Monday after a one-day closure on Friday because a 16-year-old student was diagnosed with the virus.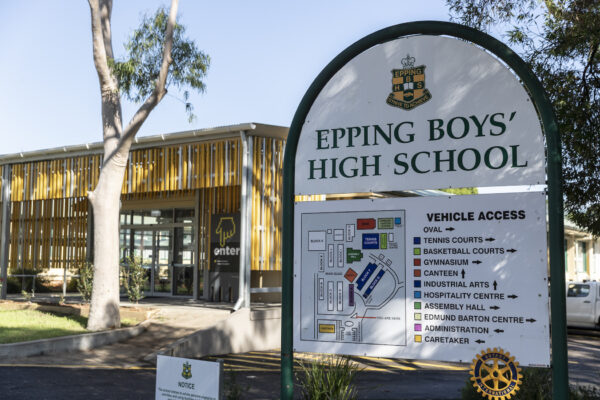 The school said on Facebook that the education department and NSW Health have been working to identify all people who had close contact with the year 11 student.
They're being asked to self-isolate for 14 days.
NSW Health said St Vincent's Hospital in Sydney is also contacting patients after a man in his 70s visited the emergency department on Friday and was diagnosed with COVID-19.
"The source of his infection is under investigation as he has had no recent overseas travel," the health department said.
Authorities on Sunday confirmed the death of an 82-year-old man who contracted the coronavirus from an infected aged care worker at BaptistCare's Dorothy Henderson Lodge in Sydney.
His death follows that of a 95-year-old woman—a fellow Dorothy Henderson Lodge resident—and a 78-year-old man in Perth who'd been on the Diamond Princess cruise ship.
By Dominica Sanda