Three men linked to the so-called boogaloo movement were arrested after plotting ways to cause conflict between protesters and police officers during recent protests in Las Vegas, federal prosecutors said.
Criminal complaints say Stephen Parshall, 35; Andrew Lynam, 23; and William Loomis, 40, were arrested on May 30 on charges including conspiracy to commit an act of terrorism and conspiracy to damage or destroy a building by means of explosives.
Members of the Joint Terrorism Task Force began investigating Parshall, who served in the U.S. Navy and is known as "Kiwi," and Lynam, who served in the U.S. Air Force, in April, based on information provided by an informant; Loomis, a member of the U.S. Army Reserve, was added to the probe the following month.
All three are self-identified members of the "boogaloo" movement, which federal officials say is focused on the belief that a civil war and/or collapse of society is in the near future.
Lynam attended a ReOpen Nevada rally in April, where he met the FBI informant and Parshall. He said his group wanted to violently overthrow the U.S. government, according to a criminal complaint. He said he wanted to target structures without a defense system, putting an economic burden on businesses and government. Parshall displayed maps with terrains and locations and mentioned an unoccupied U.S. Forest Service ranger station.
The group went on a hike later that month to discuss plans. They plotted to destroy a ranger station near Lake Mead. Parshall took identification and phone numbers from each person to conduct background checks and Lynam asked each person to tell him in private what they could contribute to the group.
Lynam and Parshall, along with the source, took part in another protest to reopen Nevada. They talked afterward of a plan for another protest the next week, saying they wanted to follow guidelines of the Irish Republican Army's Green Book, including creating a chaotic and confusing scene by setting off fireworks, smoke bombs, or noisemakers that were placed in predetermined locations before the beginning of the event.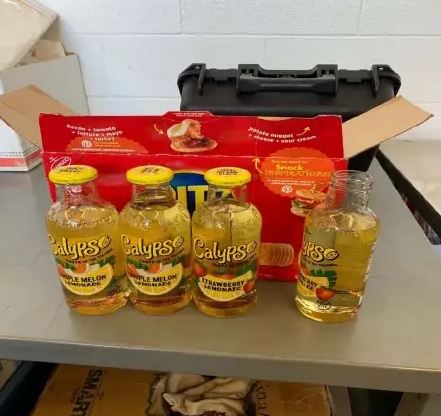 The goal was to cause a confrontation between police and protesters, according to a complaint.
Lynam backed out of the May 16 event, but Parshall placed a bag on the ground near a Department of Motor Vehicles building. It was picked up by local police officers, who found spent shotgun shells, packaging for a new magazine, and an empty box.
Parshall opted against following through with the plan because he noticed police officers closely observing the movements of the group. Loomis appeared at the event and told the group he wanted to join and help take down the government.
The source told authorities that the men discussed "causing an incident to incite chaos and possibly a riot, in response to the death" of George Floyd. As some of the group caused a distraction for police, others planned to firebomb a power substation in Las Vegas. The idea was to create civil unrest and rioting throughout the city, the source claimed.
The men attended a Floyd-related protest on May 29 but didn't take action and no violence occurred. Afterward, Parshall said he had supplies for Molotov cocktails and had purchased fireworks. The four people—the trio and the confidential source—agreed to take part in a Black Lives Matter protest on May 30.
As the men allegedly prepared to cause violence at the protest, they were arrested by the FBI.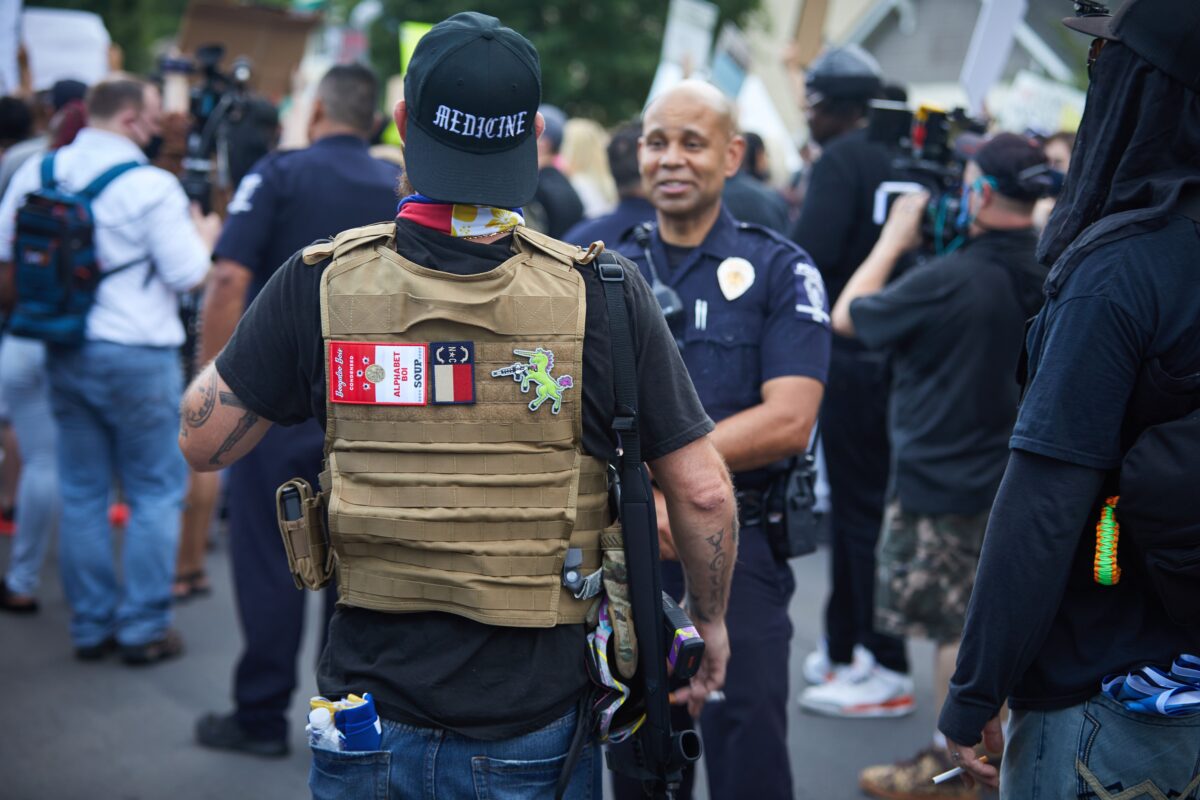 "Violent instigators have hijacked peaceful protests and demonstrations across the country, including Nevada, exploiting the real and legitimate outrage over Mr. Floyd's death for their own radical agendas," U.S. Attorney Nicholas Trutanich for the District of Nevada said in a statement. "Law enforcement is focused on keeping violence and destruction from interfering with free public expression and threatening lives."
Parshall, Lynam, and Loomis were charged with multiple state and federal offenses, including conspiracy to damage and destroy by fire and explosives, possession of unregistered firearms, and conspiracy to commit an act of terrorism. They face decades in prison if convicted.
According to the Network Contagion Research Institute, a nonprofit that tracks misinformation and hate across social media, and the Anti-Defamation League, the boogaloo catchphrase, or meme, has roots in a 1984 movie and is a joke for some. For others, it signals a willingness to commit violence, particularly in the context of opposition to laws and policies that target gun ownership.
Analysis of major social media sites such as Facebook shows an increase in "boogaloo"-related posts in the past several months.
Federal officials said in recent days that a range of extremist groups have been linked to organizing violence at protests and inciting riots.
Acting Department of Homeland Security Chad Wolf said in an appearance on Fox News on June 3 that overall, officials have seen groups such as Antifa, or anarchists in general, instigating violence at protests.
"I think what we're seeing right now, it's loosely organized within a metropolitan city. Is it being organized across the country in an organized way? I don't think that we see that yet. But, again, we're continuing to analyze the intelligence and really getting the feedback from the state and local law enforcement officials in these individual cities," Wolf said.
A number of cases have been opened that specifically focus on some of the leaders of Antifa and other groups that are involved, he added.
Antifa is a far-left group with communist roots that openly advocates violence.