Police found a pregnant woman and her 16-year-old son dead in their Georgia home, along with the gunman who had earlier shot two police officers before finally turning the gun on himself after a 16-hour standoff.
The gunman barricaded himself in the home in Henry County, near Atlanta, with the 16-year-old who was considered a hostage, reported WSBTV.
The standoff finally ended when the gunman went quiet, and officers entered the home at around 3 a.m. Friday morning, to find him dead along with a 16-year-old and the gunman's partner, who was eight months pregnant.
"Our gunman, it appears, died of a self-inflicted gunshot wound," Henry County police Capt. Joey Smith.  said, reported the Atlanta Journal Courier. "That was confirmed by the (Georgia State Patrol) SWAT entry team."
Sister of murdered pregnant victim and mother of teen killed says shooter had no history of violence. She described finding her body at the home Thursday morning before the standoff. Says she was due to have a son on April 23rd and the baby shower would have been tomorrow pic.twitter.com/tSYDobU0GT

— Steve Gehlbach (@SteveGWSB) April 5, 2019
The victims have been named as Sandra White, 39, and her son Arkeyvion White, 16, according to media reports, and the alleged gunman is named as 47-year-old Anthony Bailey Jr.
White's sister told CBS46 she had called 911 after seeing her sister's body in the garage at around 11 a.m.
Officers forced their way into the home on arrival and were shot. They did not return fire, according to police.
@WilkersonCBS46 just obtained this picture of the pregnant Henry county mother and her 16 year old son who were killed in a hostage situation in Stockbridge. A live report @cbs46 morning news 5-7am. @HardingCBS46 @SchrammCBS46 @HarrisCBS46 pic.twitter.com/JFz6EMou0a

— Karyn Greer (@karyngreer) April 5, 2019
One officer was hit in the hand and was able to help the other officer—who had been hit in the torso and hip—to get out of the house.
Their conditions were described as serious by an earlier police statement, but according to later reports, they are expected to recover.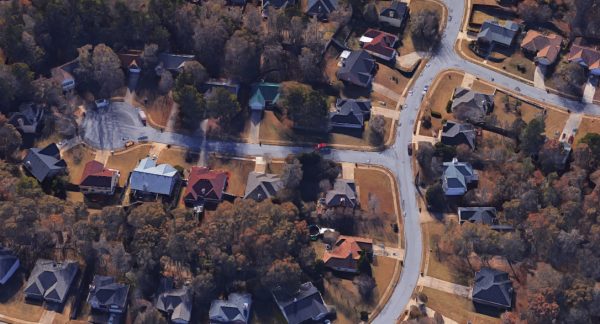 The shooting of the two officers sparked a long standoff between the gunman and police.
The sister of the woman who was killed, Anetria White, told CBS46 that she got a text from the alleged gunman Bailey, saying "I got Kevy. Don't come in." Her sister pleaded with him to let him go but never received a response.
Two Georgia officers shot by gunman holding teen hostage
Henry County police are still negotiating for the 16-year-old boy to be released, authorities said.https://t.co/zTRkIl73mq https://t.co/xS7lSZk2aV

— News Asia (@Asian_News__) April 5, 2019
"I don't know what to say. If you come over to your sister's house and you see her dead in the garage and then you wait from 11 o'clock in the morning until now you find out all three of them are gone," she said.
White's family said her sister had been unhappy with her partner for years. They said she had served him eviction papers in March, but he wouldn't leave—something confirmed by court documents cited by WSBTV.
The family said Bailey, Jr. was the father of the unborn child. The couple had planned to name the child Antonio.
"We probably have to plan a double funeral for a mother and her child," she told CSB46. "I don't think that parents should have to bury their children," Anetria said. "This will be my dad's third child that he buries."