Three Chinese women reportedly got stuck at a South Korean airport, unable to match their travel documents with their faces swollen after plastic surgeries.
Chinese news anchor Jian Huahua posted the story on Chinese social media site Weibo with a photo she said showed the three women, according to another Weibo account, Beijing Things Beijingers Don't Know, that reposted the photo and the story.
The post, which seems to have been deleted from Jian's account, didn't mention the women's names, the name of the airport, or whether they were eventually cleared by security.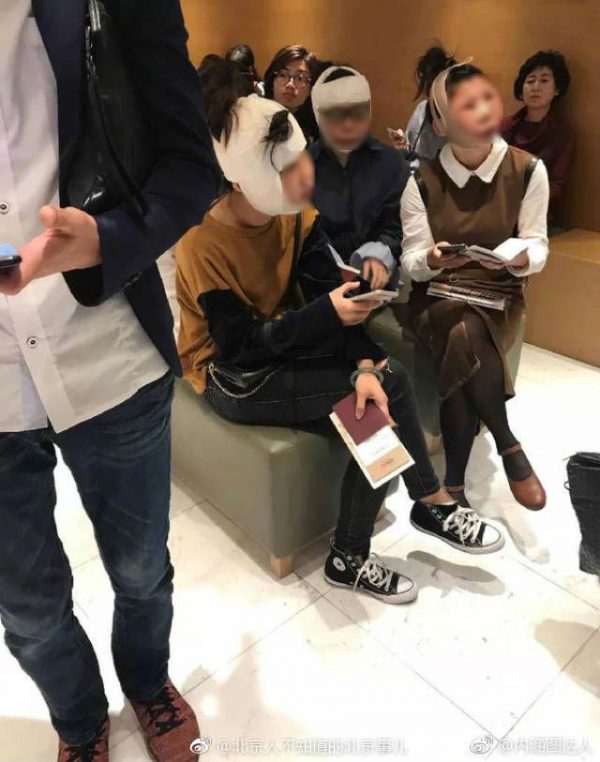 This problem is neither new nor unforeseen in South Korea, a country with the most aesthetic and cosmetic procedures performed per capita—over 2.2 per cent a year (in the United States, it's about 1.3 per cent), according to the International Society of Aesthetic Plastic Surgery.
About a third of the more than one million procedures performed in South Korea each year is done on "surgery tourists" mostly from China. Some hospitals offer certificates of identity to foreign patients so they can pass identity checks at the border, The New Yorker reported in 2015.
The most common procedure is the double eyelid surgery. Most east asians don't have a crease in their eyelids, which makes the eyes appear smaller. The crease can be created surgically—a procedure South Korean women commonly undergo after finishing high school.
Worldwide, the total estimated number of aesthetic and cosmetic procedures has increased from about 14 million in 2010 to more than 23.6 million in 2016. Around 44 percent of those are surgical.