President Donald Trump has signed an executive order meant to give faith groups a voice in Washington and protect religious organizations from government overreach.
The president signed the document on May 3, which he earlier proclaimed National Prayer Day. The order establishes the White House Faith and Opportunity Initiative, which is tasked with advising the president on how policies impact faith groups and serves as a watchdog to protect religious organizations from government outreach.
"The faith initiative will help design new policies that recognize the vital role of faith in our families, our communities, and our great country," Trump said. "We take this step because we know that, in solving the many, many problems and our great challenges, faith is more powerful than government, and nothing is more powerful than God."
Since assuming office in 2017, Trump has taken a series of steps to protect religious liberty. On May 4 , 2017, he signed an order directing the IRS to relax its enforcement of the Johnson Amendment, which prohibited religious organizations from engaging in political speech and activities, with the threat of revoking their tax-exempt status.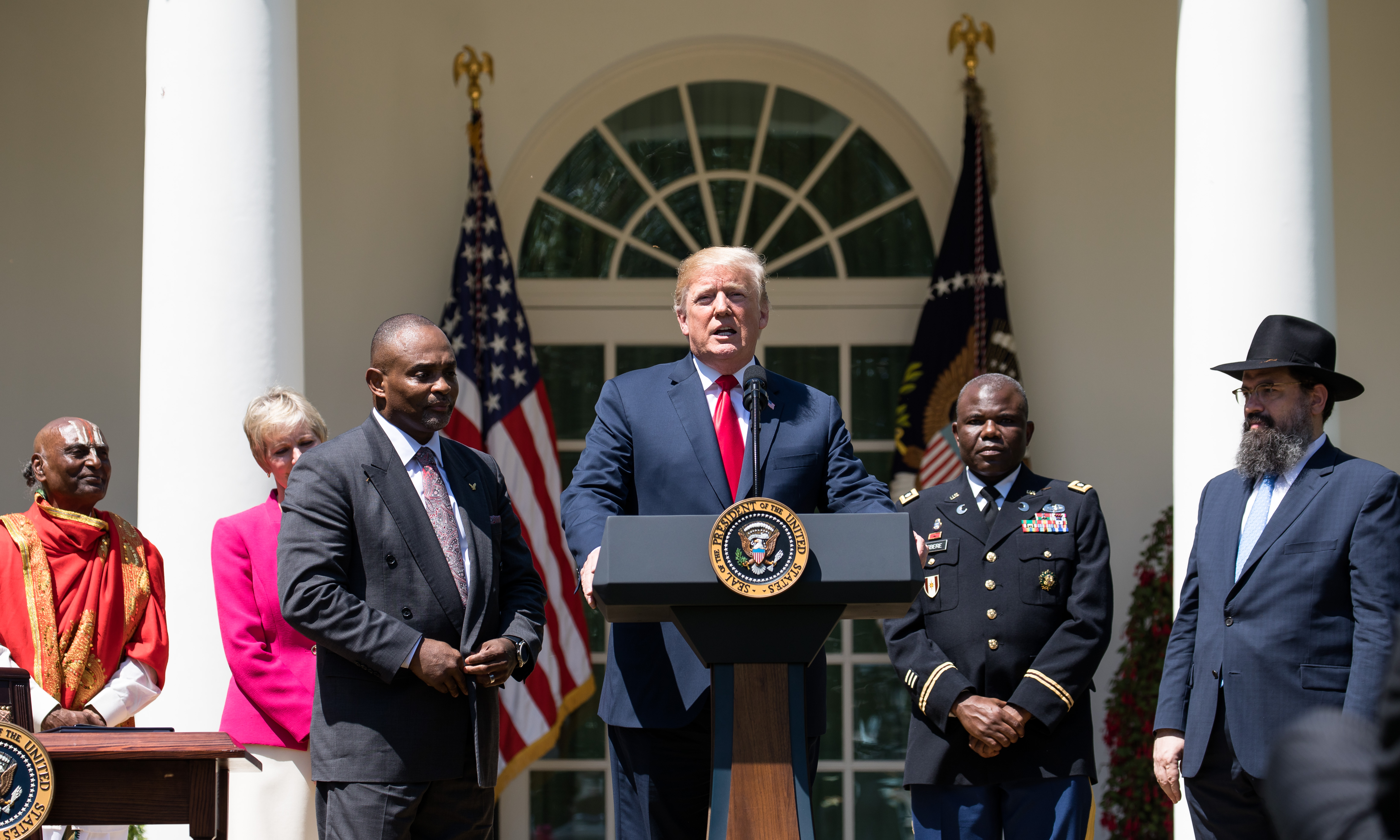 In October last year, the Justice Department introduced 20 principles of religious liberty to the department's litigation strategy meant to protect religious freedom. In January, the department updated its manual to raise the profile of religious liberty cases and create a point of contact for the issue at each U.S. attorney's office.
In January, the Department of Health and Human Services created its Conscience and Religious Freedom Division, meant to enforce existing laws protecting Americans' right to choose medical care based on their religious beliefs.
"Our country was founded on prayer," Trump said. "Our communities are sustained by prayer. And our nation will be renewed by hard work, a lot of intelligence, and prayer."
Trump became the first president to address the annual March for Life on Jan. 19. Though the annual event is not religious, it is often promoted by religious groups, as it raises awareness about the lives of unborn children killed through abortion. The president also reinstated the Mexico City Policy, which prevents $9 billion in taxpayer funds from being used to fund the global abortion industry through foreign aid.
Trump also noted that his administration is fighting religious persecution around the world, but did not provide specifics.
"What's going on is horrible," Trump said. "And we're taking action. We are taking action."
Recommended Video: Why is Falun Gong persecuted?