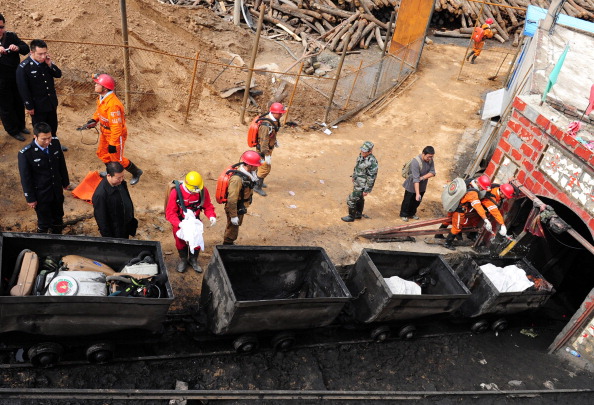 At least 20 miners were killed in China's latest coal mining accident just weeks after one of the deadliest blasts in years killed dozens of workers, breaking notions that the country is improving its mining safety record.
Other than the mine blast, a state-run newspaper reported that 22 Chinese coal miners were trapped in three separate mines in different parts of China.
The cable of a rail carriage that was bringing 34 workers into the mine, located in northwestern Gansu Province, snapped. Fourteen of the miners were rescued and three were seriously injured, while all were sent to nearby hospitals, the state-run Communist Party mouthpiece Xinhua reported.
Officials at the Baiyin city work safety administration, which oversees the Qusheng mine, refused to comment when the AFP news agency contacted them.
Meanwhile, 11 miners have been trapped in a coal mine in Heilongjiang Province since Saturday morning after an underground fire broke out, according to the state-run China Daily. Another five miners were trapped after a ceiling collapsed in a facility in Shandong Province and flooding trapped six at another mine in Heilongjiang on Monday.
China, the world's largest consumer of coal, has the worst coal mine safety record in the world, with nearly 2,000 workers killed last year in accidents. The country has been trying to improve its safety record, but safety rules are usually ignored, leading to a number of mining accidents in 2012, according to The Associated Press.
Labor rights groups told AFP that the number of those killed in mine accidents is actually much higher than government figures.
Government corruption, the mines' refusal to adhere to safety standards, and inefficiency are often blamed for the accidents.
In August, an explosion in Sichuan Province killed 44 people, the highest death toll in a coal mine in around three years. A gas explosion at a mine in Liaoning Province killed 22 people.
The Epoch Times publishes in 35 countries and in 19 languages. Subscribe to our e-newsletter.
Click www.ept.ms/ccp-crisis to read about the most recent developments in the ongoing crisis within the Chinese communist regime. In this special topic, we provide readers with the necessary context to understand the situation. Get the RSS feed. Who are the Major Players?