Archaeologists have uncovered a 2,500-year-old Egyptian mummy on live television.
"This is Discovery at its best–transporting fans into new worlds through awe-inspiring stories and immersive experiences. It doesn't get much more immersive than this," said Nancy Daniels, chief brand officer of Discovery, which aired "Expedition Unknown: Egypt Live."
The live event also detailed Egyptian antiques, including a wax head and other mummies.
On the show, archaeologists went inside underground tombs and explored a burial site called Al-Ghorifa in Middle Egypt, located some 165 miles south of Cairo, Egypt, according to Deadline Hollywood on April 8.
The team also found a "mysterious wax head" that is believed to be an exact cast of the 2,500-year-old mummy.

Posted by Newsweek on Monday, April 8, 2019
"This has been such an amazing experience," explorer Josh Gates said, according to Deadline Hollywood. "There aren't many people who can say they've gone down into unexplored ancient tombs, especially with a living legend like Dr. [Zahi] Hawass. We were able to document spectacular artifacts and mummies and bring viewers along in real time. It was the thrill of a lifetime."
According to Newsweek, one sarcophagus had inscriptions on it, revealing that the mummy contained within was once a singer in a temple.
The team also visited the sarcophagus of a high priest, described as a "Great of the Five Priest of Thoth." The coffin had artifacts and gold banding.
'Expedition Unknown: Egypt Live' Uncovers 2,500-Year-Old High Priest Mummy During Broadcast https://t.co/nMN9Ba5lUn pic.twitter.com/X8Og4UnPuc

— Deadline Hollywood (@DEADLINE) April 8, 2019
"Nineteen years ago, we opened the Valley of the Golden Mummies live on television. And now, almost 20 years later, Dr. Hawass called with another discovery of that magnitude that deserved another live broadcast. We're thrilled to be part of these two epic events here in Egypt," Leslie Greif, a producer of the show, told Newsweek.
Hawass also stated, "Never in my 50 years in archaeology have I experienced something on such a grand scale as this. The findings here are completely special and totally unique. This is what keeps me going. It is what keeps me feeling young and alive."
Before the show, Gates told Popculture.com that he had hoped to "find somebody really interesting in there that can tell us more about this period."
"It doesn't get much more real than this. We're going to be working hand in hand with some incredible Egyptologists and we're going to be going down into these burial shafts and chambers, hopefully," he added. "Opening a sarcophagus on live TV, and finding hopefully all sorts of interesting relics and remains that can tell us more about the people that are buried in these tombs."
A video of the team uncovering the high priest's sarcophagus can be seen below:
Burial Site of Fifty Mummies Discovered in Egypt
Egyptian archaeologists have uncovered an ancient burial site containing 50 mummies dating back to the Ptolemaic era in Minya, south of Cairo, the Ministry of Antiquities said on Feb. 2, Reuters reported.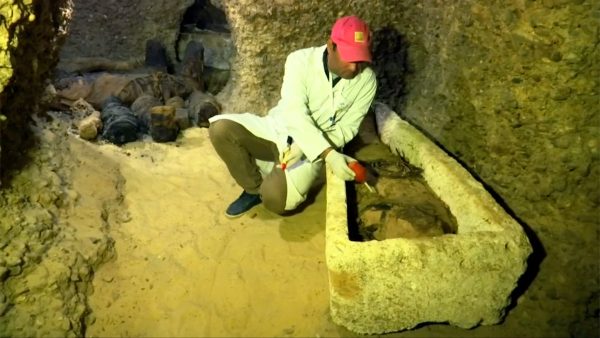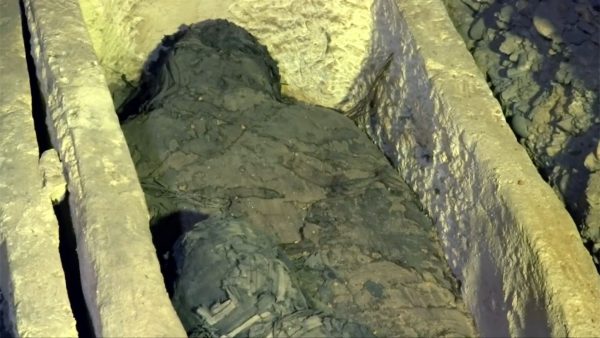 The identities of the mummies are still unknown, according to Secretary-General of the Supreme Council of Antiquities Mostafa Waziri.
Some of the mummies were found wrapped in linen, while others were placed in stone and wooden coffins or sarcophagi.
Reuters contributed to this report.